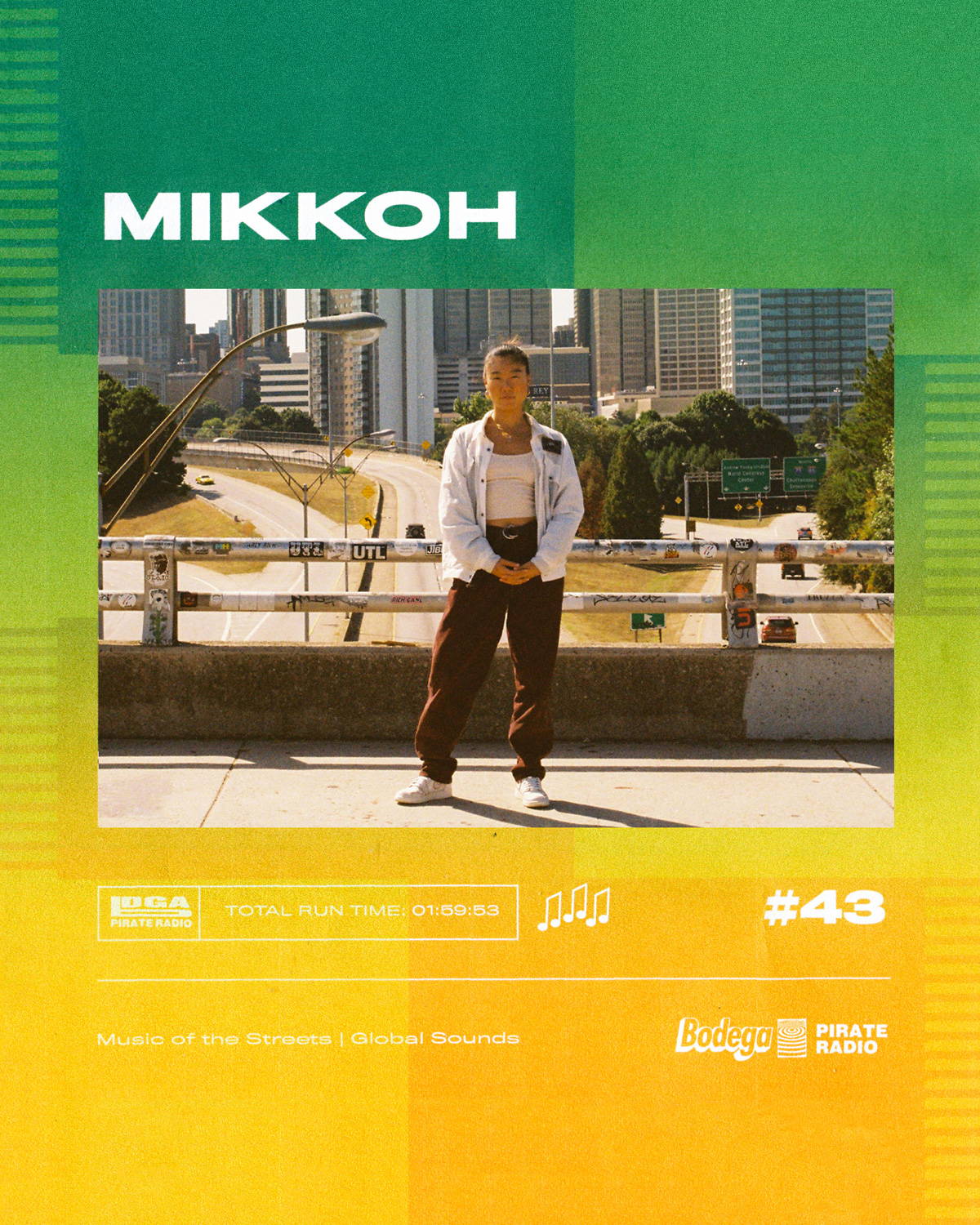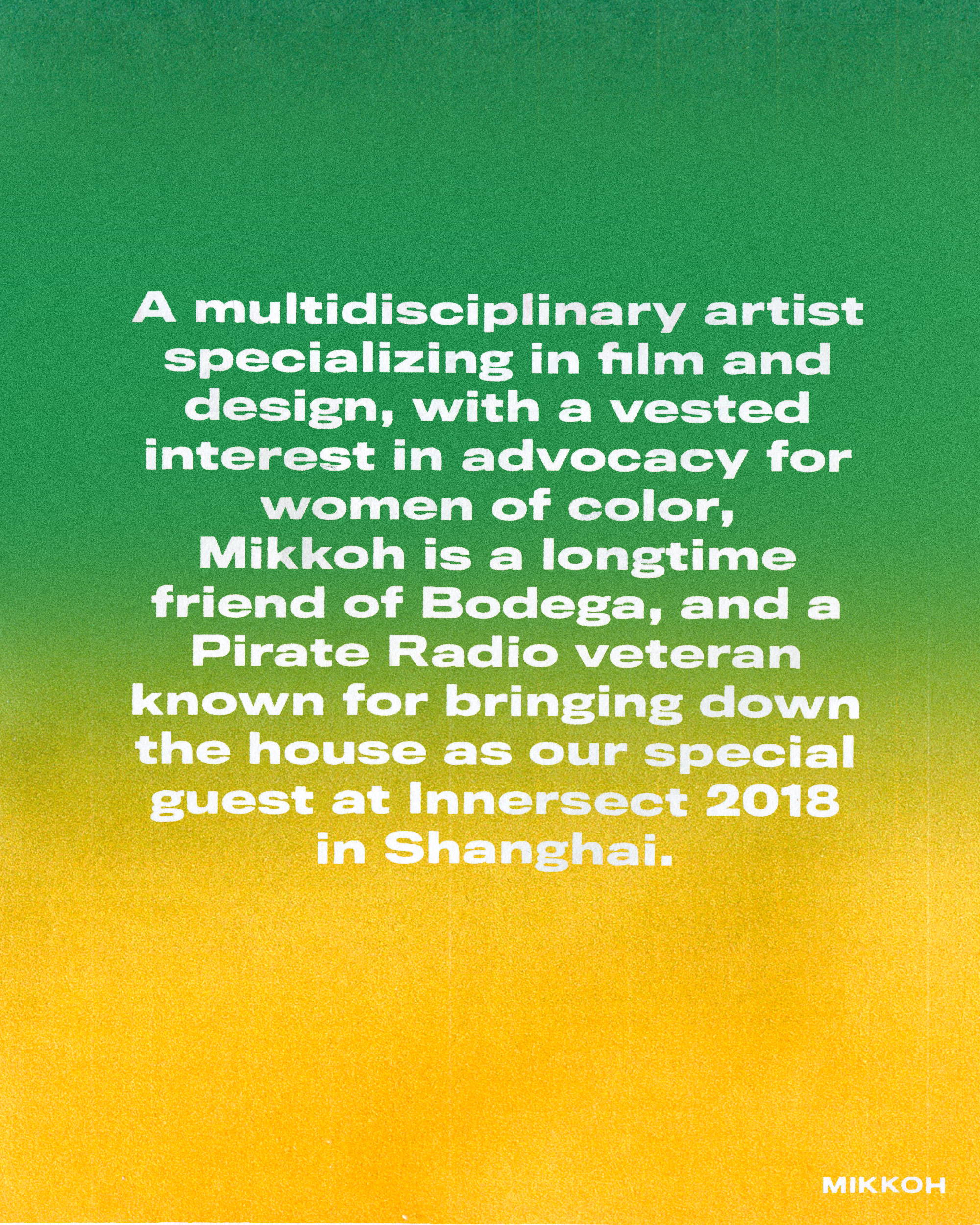 On Friday, May 1, Pirate Radio welcomed back Mikkoh for a live and self-quarantined set from her home in Atlanta. A multidisciplinary artist specializing in film and design, with a vested interest in advocacy for women of color, Mikkoh is a longtime friend of Bodega, and a Pirate Radio veteran known for bringing down the house as our special guest at Innersect 2018 in Shanghai. When music and film aren't sending her around the world, Mikkoh hosts a night called back home called "Down for Whatever." Together with DJ Hourglass, the party has become known as the place to get down in ATL. If you weren't around to witness last week's grooves, you can now relive her self-described "melting pot" of set now, and forever.
---
So, tell us, what has been going on since you last crossed paths with Bodega?
Music-wise, we just celebrated our 2-year anniversary for "Down For Whatever!" DFW is a party that I started in Atlanta with my good friend DJ Hourglass. It's been such an honor to grow with that community of music lovers, dancers, and creatives. On the other side, I'm still working in the film industry, as well as starting to work with more clients in design and branding. Our production company, Polly Visuals, got our first two film festival selections this year! It's been really rewarding to explore these other creative mediums just out of curiosity and for the sake of creativity and be recognized for it. Most people know me as a DJ, but I've always been a visual artist first.
How have you been keeping busy during the quarantine?
I've definitely been honing my knife skills in the kitchen! The "Quarantine 15" is coming for me, but cooking and baking have been such a comfort in these weird times. I also started a little quarantine garden, which has been a really fun project that my mom has been helping me with via FaceTime.
Do you have any advice for others during these times?
Just try to find even the smallest joy in the everyday mundane and take your time. This is probably our new normal, so we need to find ways to adapt. Bend, so you don't break.
You were asked to design a Nike? How did that come to be and how did you choose to design it?
Last year, I applied for this program, "Nike By You Workshop" and ended up getting chosen amongst 37 other creators across America to design my own Nike shoe. I really wanted to pull inspiration from my story of coming to America and sharing traditions between the two cultures I represent. Nike gave us the theme of 'give thanks,' so I drew inspiration from elements of Korean Thanksgiving, which we call Chuseok. The khaki green and sail white represent these rice cakes we make for Chuseok every year called 'songpyeon' that are steamed with fresh pine leaves. I also pulled inspiration from the pine tree, which is a common motif and a symbol of longevity and virtue in Korean culture.
How would you describe your DJ set?
A melting pot from around the world. No limits here!
Where have your DJ travels taken you lately, and how would you compare different cities to ATL when it comes to what people want to hear and how they get down?
I've had the privilege of being able to travel to countries all over Asia, Europe, and North America because of music, which is still mind blowing to me! It's honestly crazy to me how far Atlanta music has permeated. Whether I'm in Paris or Hong Kong or LA, the hip hop/trap influence is palpable. I definitely love crowds who are open to all genres though. I love playing anything and everything. That's what the premise of my party "Down For Whatever" is about. You have to be down for whatever. One time, I played an R&B remix of "Baby Shark" and people were actually getting down! Atlanta definitely has that underground music appreciation scene, despite the prevailing domination of trap music. The cities I've played in that have been the most down for unconventional music are Hamburg, Berlin, Seoul, and St. Louis. These crowds were definitely down for whatever.