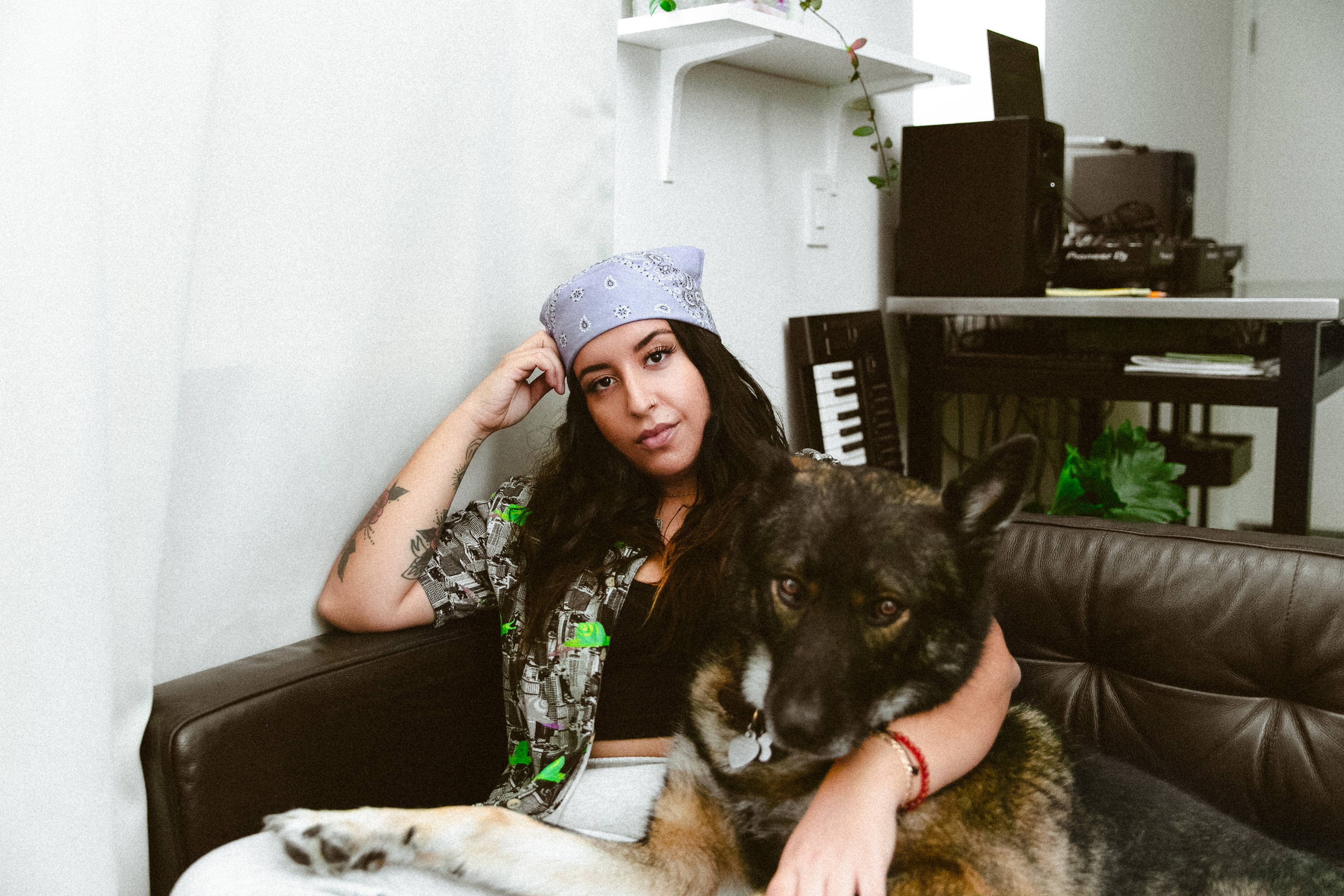 Sasha Marie doesn't use the word deejay very often when she refers to her craft. More so, she considers herself a musical curator, an architect of soundscapes and a sonic storyteller. As a core member of the artist collective, Soulection, Sasha Marie's special skill lies in her ability to seamlessly blend seemingly disparate musics and place them side by side in an eclectic mix. With an encyclopedic knowledge of music, Sasha Marie's playlists take you on a sonic safari with unexpected twists and turns provided by the variety of moods, tempos and genres. Her exclusive playlist for Bodega continues to follow suit as she strategically weaves together obscure deep cuts and crowd favorites. Beginning with the triumphant horns and reverbed drums of Dub master King Tubby and ending with the trap rap stylings of ICYTWAT, her selections know no boundaries. Bodega caught up with Sasha Marie to talk about her approach to the craft.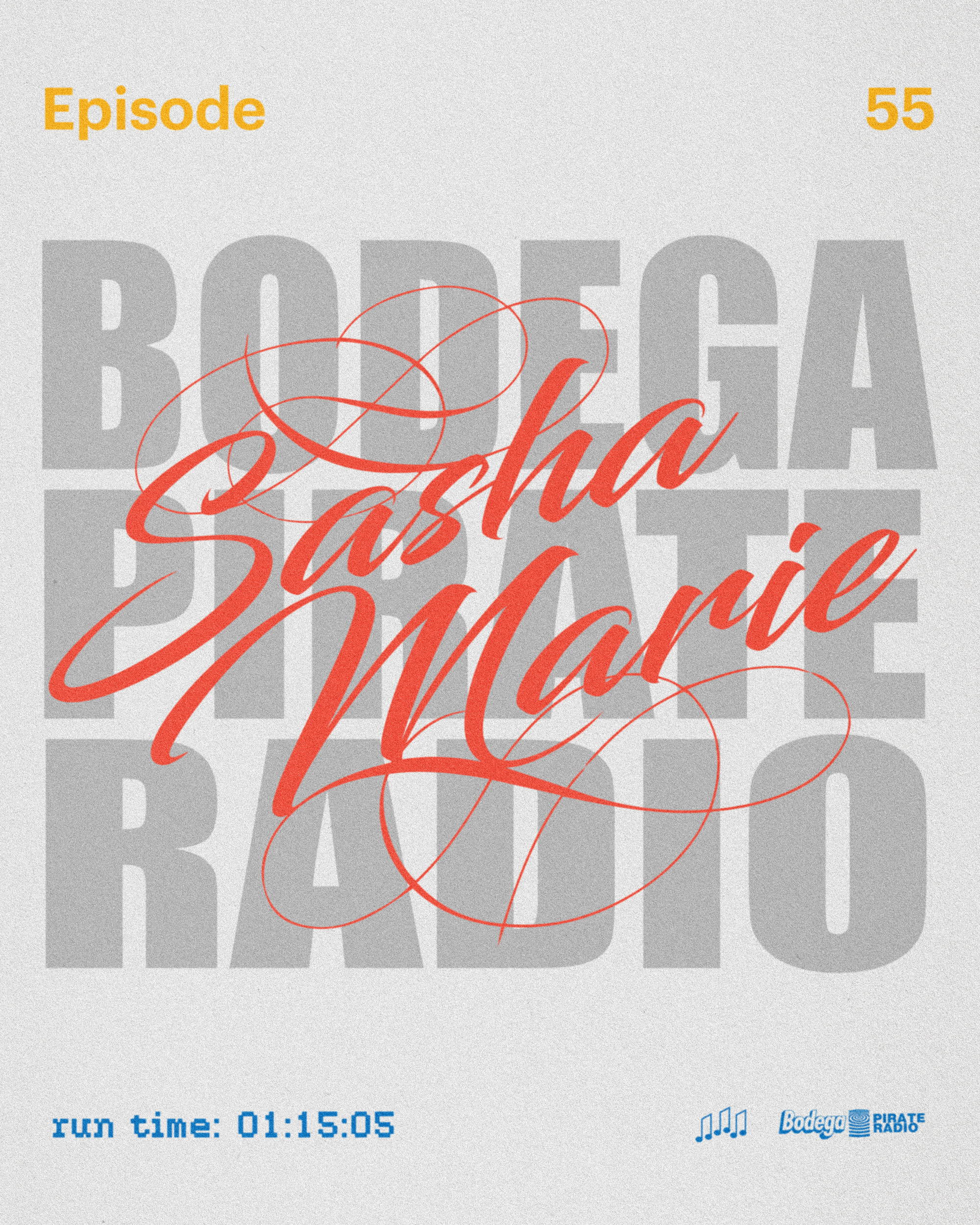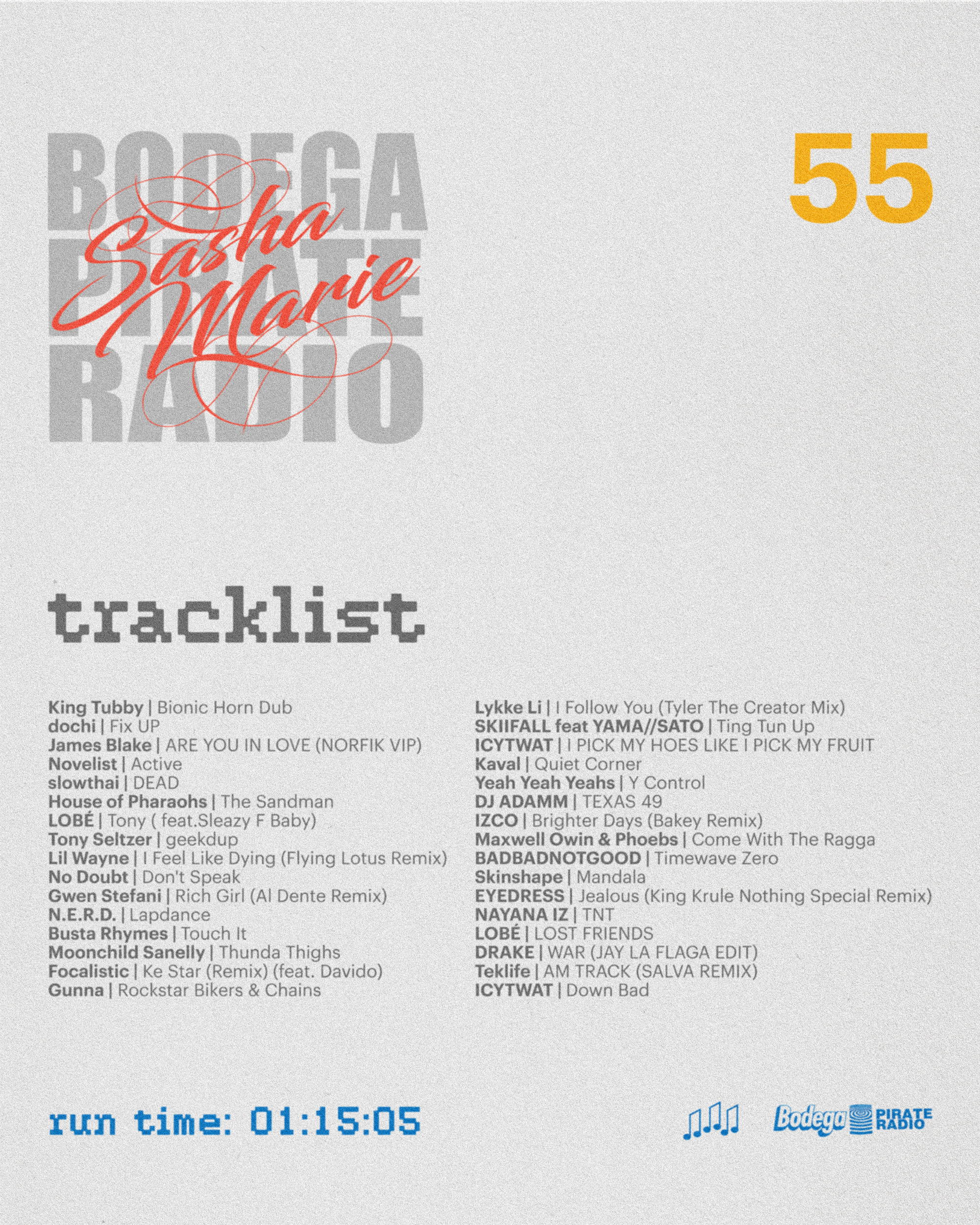 ---
Bodega: Please describe the set that you've provided.
Sasha Marie: The energy I put into this set was provided by two shots of espresso and inspiration from my last few days in LA. I reached into a lot of memories with this one. It's got everything from some of my favorite high school tracks ("Y Control" by the Yeah Yeah Yeahs) to recent ones in heavy rotation ("DEAD" by slowthai).
What is the optimum listening situation?
The optimum listening situation for this set would be in your car, alone, driving at night on a clear highway, thinking about your future and all the blessings that are about to come your way.
Is there a journey you want to take the listener on?
Definitely - I want my listeners to journey to wherever they feel like their best selves. I want to pump them up with some good energy. I want this set in the background while they are listing out all the goals they plan to accomplish this week.
Tell us about building soundscape vs deejaying.
For me, building soundscapes is about carefully curating mini worlds that people can visit and get lost in over and over again. I like to do this with my radio shows. Deejaying is about creating a special experience that people can share in real time, and it involves me feeding off the crowd's energy. You can't fully recreate those moments because every show is so unique.
For the uninitiated, describe Soulection's mission and purpose.
Soulection is a genre, a community and artist collective bringing visibility to meaningful music and curating memorable experiences.
Name 3-5 songs that your set can't live without.
Hmmm… for a live set I'd say these three tracks bring me a lot of joy:
Tom Tom Club - Genius of Love
Too Short - Blow the Whistle
Crystal Waters - Gypsy Woman
3-5 songs that describe you as a person.
The Jive Bombers - Bad Boy
Billie Holiday - Easy Living
Broadcast - Come On Let's Go
Amy Winehouse - October Song
Would you say that your playlists are more about educating people on music they may not know about, delivering crowd pleasing favorites, or a mix of both?
My playlists are more about sharing music that emotionally speaks to me. Of course, I love introducing new music to my listeners, and even bringing back music they may have forgotten about. I enjoy putting together music from the past and present. I'm always looking for the right sound to convey my own emotions at the moment, hoping and trusting that it will resonate with someone out there, too.
How has the pandemic changed your output? Has it changed the mood/purpose of your output?
I've definitely stayed consistent throughout this pandemic with my radio show, which goes out every other Sunday. There were points throughout 2020 where I felt like if I could at least offer my show that week, I could feel some type of accomplishment. So it kept me motivated, and it helped get me through some rough times. And my goal was to put it out there to get others through as well. Being able to create a sound journey that we can retreat to anytime we need it feels really healing.
How does this playlist differ from one you might have made pre-pandemic? Does it? Would you say there is a new purpose for music during these times (positive, healing, cathartic)?
My taste for music has always transitioned over time, and I can be all over the place with it. Personally, I do feel like a whole different human being than the one I was pre-pandemic. So in that sense, I'm sure subconsciously that energy has probably transferred over into my craft. However it's changed, I'm loving it.
What is the first thing you'll do when the limited social climate is over?
Oh my gosh, so many things… it's hard to choose just one. But the first thing that came to mind was just being able to see and hug all of my friends. It's the little things we took for granted pre-pandemic that I miss the most. Simple things like a warm embrace from a friend would feel like pure gold right now.