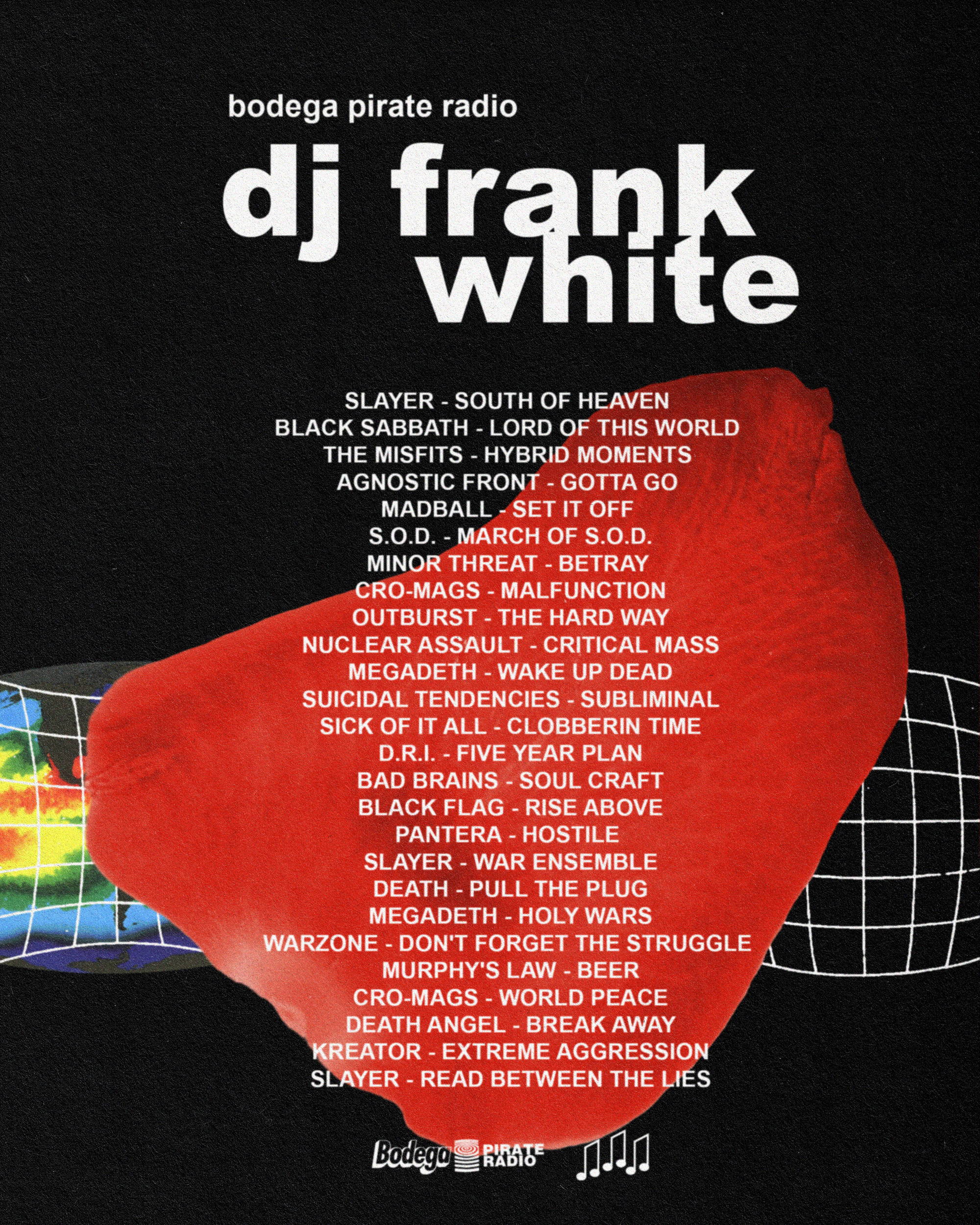 Bodega's Pirate Radio is kicking off 2021 with an exclusive, intensive mix of metal/hardcore/punk provided by the great DJ Frank White. A key figure in the Boston club scene for over two decades, Frank White is known for his versatility and an extensive knowledge of music that spans across all genres. Not only has he opened for Kendrick Lamar, Snoop Dogg and the Roots, but he's also shared bills with Linkin Park, Vampire Weekend and Madball. Head to one of his many weekly club dates and there's a good chance you might just hear Pantera close out a night of hip hop and dance. The winner of five Boston Music Awards and a longtime friend of Bodega, DJ Frank White takes Pirate Radio us on decibel-pushing, headbanging journey that may be its hardest, fastest and heaviest installment to date. Turn it up.
---
So, how does one approach mixing metal and punk as opposed to hip hop? I assume you have to look at it with a totally different mentality.
My approach on mixing metal, or any kind of rock music, is you have to find other creative ways to transition in and out of songs. You can't go in and think every song is going to seamlessly blend into the next like a hip-hop-dance set.
What would you say is the ideal situation for listening to this mix?
Cleaning your room!  
You've made a name for yourself around town through your extensive hip hop and dance sets, but I get the sense that this set of metal/punk/hardcore is especially personal to you. How would you say your personal tastes differ from what you play out?
I'd say when I'm playing anything metal I'm playing 100% music I personally love. When I'm playing in a club setting, my personal preferences are thrown out the window and I'm playing to the people in the room.
Have you ever been able to play a set like this out?
Yeah I've done a lot of rock shows over the years opening up for everyone from Linkin park to Madball to local groups like the band Waltham.
How would you say your deejaying style has changed over the years?
I'd say over the years I've noticed myself playing more genres and taking more chances with songs that are kind of "curve balls" in my sets.
How has the pandemic been treating your craft?
It's been great with all the free time to create new stuff and practice. Prior to this I was deejaying 4-5 times in 4 days, so having that free time now has been awesome for me!
What's the first thing you will do once the pandemic is over? Personally and professionally?
Hangout with friends more and continue to put out more music projects.
I have a feeling that people are going to dance harder, more often, and show a bit more emotion once this thing is over... like they will no longer take for granted the opportunity to let loose. Thoughts?
Yeah I've already seen it a little in the past few months while deejaying here & there. It's gonna be different in a good way!
List 3-5 songs that define you as a person (or a deejay).
Sister Nancy- "Bam Bam"
Cro Mags - "Malfunction"
Frankie Valli & The Four Seasons - "Beggin"
A$AP Ferg & Big Sean - "Bezerk"
Led Zeppelin - "The Girl I Love She Got Long Black Hair"
3-5 songs your set can't live without?
Queen - "We Will Rock You"
50 Cent - "In da Club"
Drake - "Nonstop"
Koffee - "Toast"
Jackson 5 - "I Want You Back"
****Honorable mention - Natasha Bedingfield - "Unwritten" ...There's nothing funnier than seeing an entire room of females screaming this song while everyone else is mortified. Plus this song is a guilty pleasure of mine.