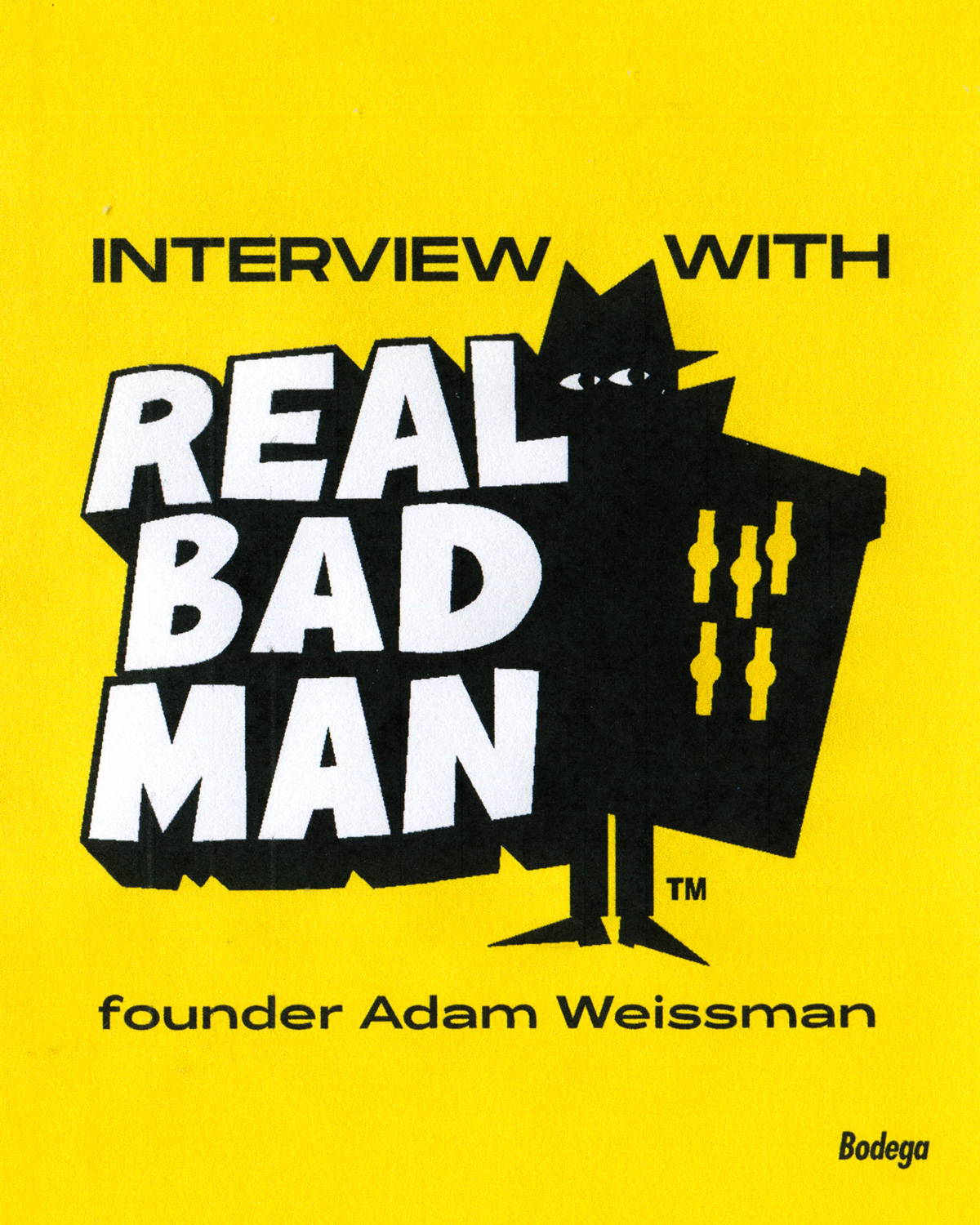 From their early days making bootleg merch for bands that didn't have any, to their own legitimized label that samples, remixes and juxtaposes their primal passions onto fashionable, esoteric apparel, Real Bad Man is a label steeped in California cool and immediately reminiscent of streetwear's origins and historic heyday. Founded by Adam Weissman (art director for Stüssy, Union and Undefeated) together with artist Noah Butkis, RBM has always used music as its inherent inspirational backbone. Besides the evidence in their own offerings, RBM has produced official merch for the Alchemist and Sleater-Kinney, and their seasonal 7-inches that once celebrated the release of their collections has quickly grown into an official record imprint distributed by Italy's premiere hip-hop purveyors, Tuff Kong. With 5 EPs expected this year, the compilations feature an all star cast of MCs including Boldy James, Willie the Kid, Flee Lord, Eto, Elcamino, Blu, Lojii, Inspectah Deck, Plug One, Masta Ace, Kool Keith, AG, Sadat X, Maxo and Pink Siifu, with beats largely produced by Adam himself. With the clothing labels and record imprint growing side-by-side, Real Bad Man has become a multi-faceted name to know. Look for that intriguingly mischievous cartoon character logo, and you know you've found what you're looking for. Ladies and gentlemen, Mr. Adam Weisman...
Tell us about the beginnings of Real Bad Man.
I think it was about two and a half years ago. I know why I started it. I had been an Art Director pretty much my whole career, but it was always working for other brands. Stüssy, Undefeated, Union to name a few. I would do stuff in graphics and artist collaborations, I've directed content and videos for Nike and Levi's and Marvel. I've always done stuff for other people and I just really wanted to do something where no one could tell me 'no.' I could go and do whatever the fuck i wanted. If I wanted to make tie-dye shirts with graphics all over them, it wouldn't have to go through a panel discussion. That was the inspiration. I know what I'm doing in this world, and I always did it for other brands, but this is my way of doing it myself with nobody telling me 'no.' It was sort of an artistic expression of that. I've always done music also. I had a band called Pollyn. We put out a few records and we had done shows, and we did everything we were supposed to do, but it never really connected, so I decided I wasn't going to do music anymore. And I continued on in my career as an art director. I still work for a ton of brands doing art direction, but Real Bad Man is my fun, artistic project where I can do whatever I want.
I read that RBM was started between friends, yet some other places say it's an artist collective. Is it one or the other? Or both?
It hasn't expanded to people outside of our immediate circle. Everyone associated with Real Bad Man has been around since the beginning. In a way, we are all artists. We deejay, we make music, we illustrate. We're a little bit of a crew and we all work together. I'm a big fan of Noah's art. Noah is my graphic design partner who illustrates everything. We've known and worked with each other for 15 years now, so it made sense for us to start this brand together. He does all the illustrations and I do all the design and concepts and direction. He and I have a really good way of working together and bouncing something back and forth. If i struggle and feel like we're missing something in the zone, he'll go and find it and be like "how about this." We'll riff on things. We are all creatives in some way and Real Bad Man is where we all meet. The only thing about it is someone has to lead, so I guess I'm the leader of Real Bad Man. Look at Shawn Stussy or James at Supreme. At the end of the day, there has to be a guy who makes the final decision if we can't all agree on something. I've been lucky that people like what I do, so there are very few disagreements in what we create.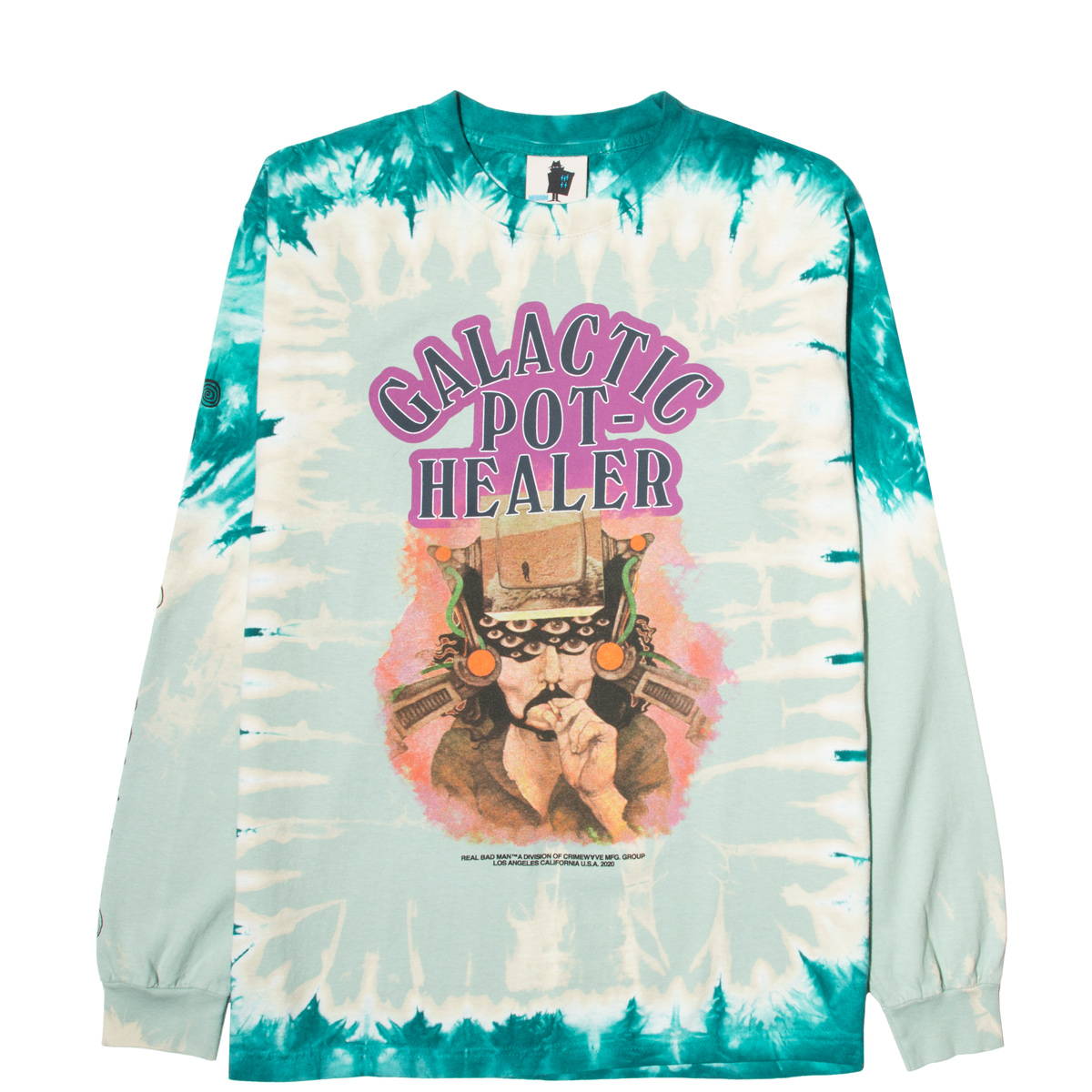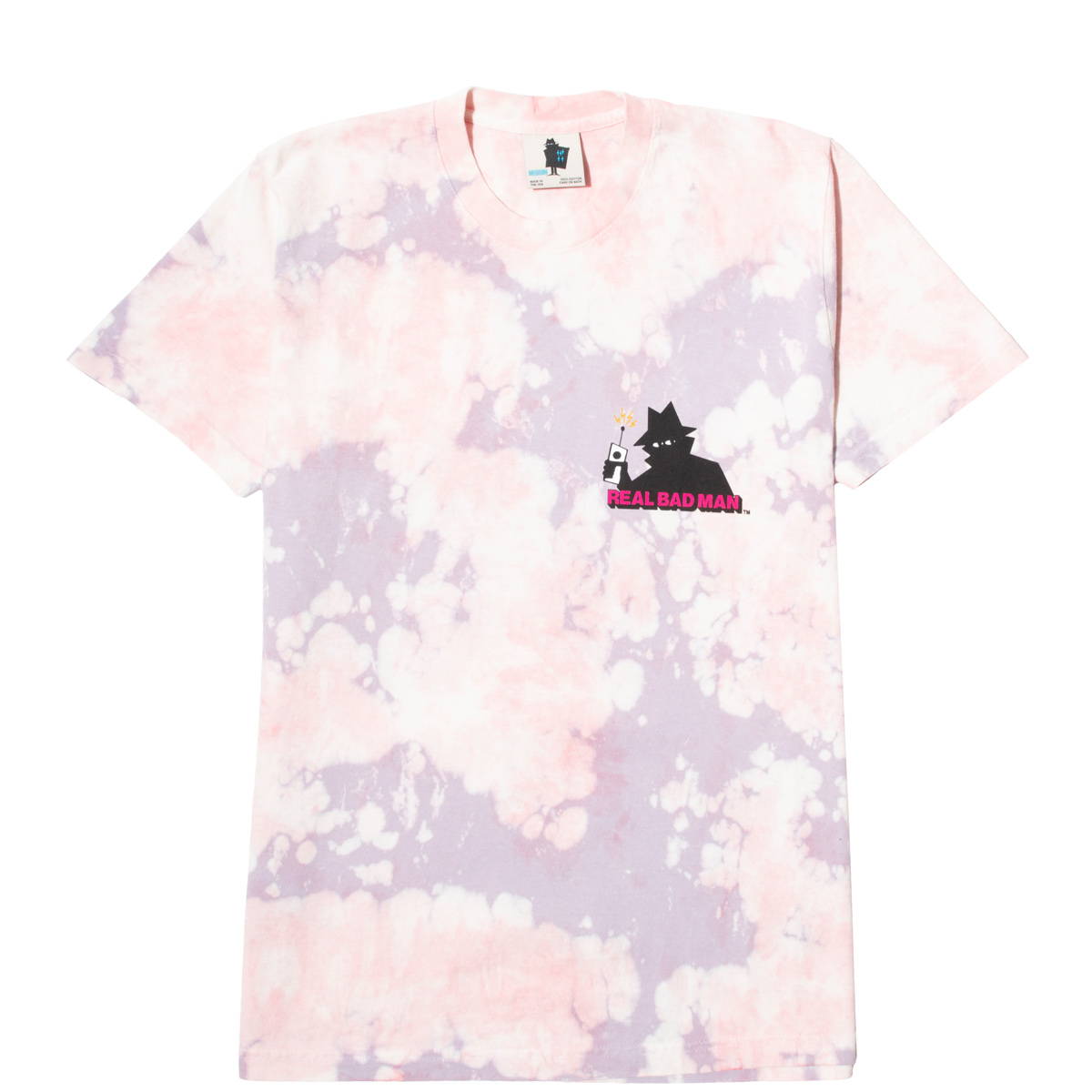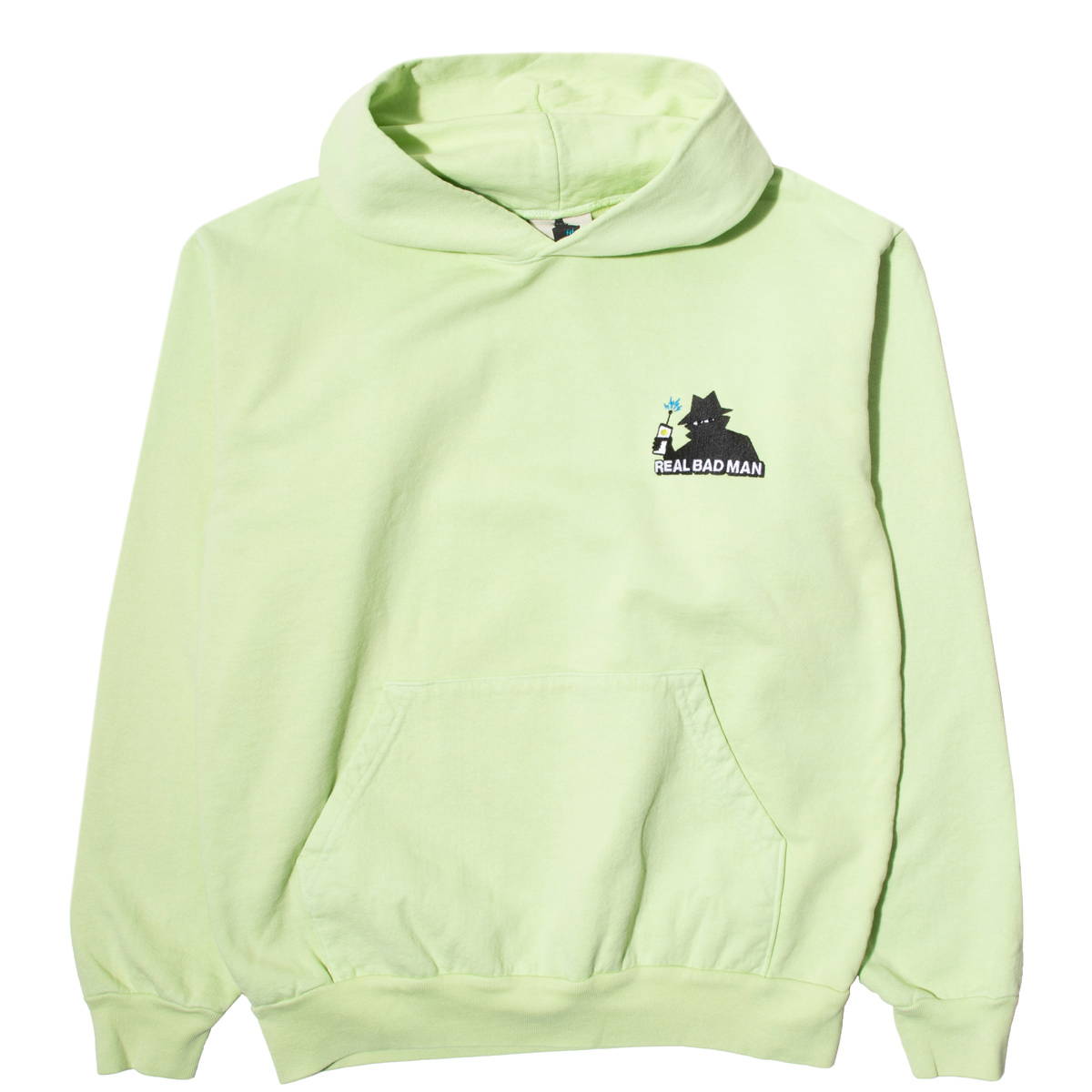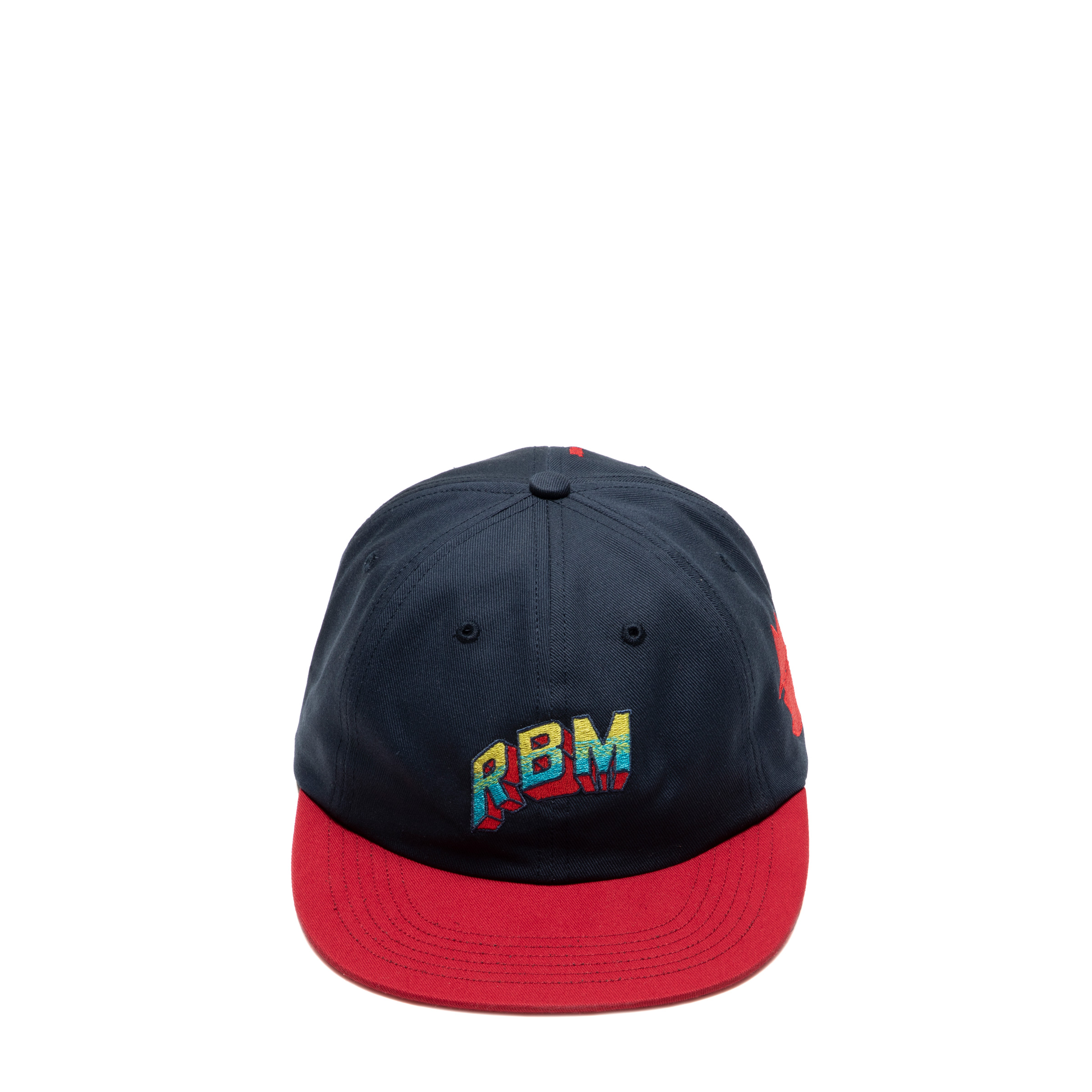 Is there anything you picked up from those other brands besides knowing you don't want to work for anybody?
It's not that I don't want to work for them. I just want to be able to do something for myself as well. I learned everything from working for people. All the brands that I've worked for are like family to me. I mean, without Stussy, I would not exist. Stussy and hip-hop are the two biggest influences in my life. So without them, we wouldn't even be talking. Yes, as much as I learned, it's much different starting your own your own brand. I thought I knew everything. When you do it yourself, you realize "oh, that's why they would always say no!" It's a waste of money, or this isn't going to sell. Now that i get to see both sides of it, I feel like it's made me a better designer when i work for other brands. Everyone who does what I do should start their own brand, with their own money, so they can learn about the whole process. Designers always think they have some dope shit, and wonder why it won't sell or why it isn't hitting right, or it's too popular. There are all these outcomes, but once it's your own, you can really see it in every positive and negative way. I learned infrastructure, I learned organization. I learned all that stuff from working for other brands. I went to film school before I was a designer. At film school you are forced to be able to communicate your ideas to everyone so that they can see your vision as a director. I think it's the same as a creative director, or an art director, you have to be able to communicate what's in your head. A lot of people throw the word creative director around, but in 2020, you're not shit unless you can fix the problem and make it better. It's very easy to say "I don't like it."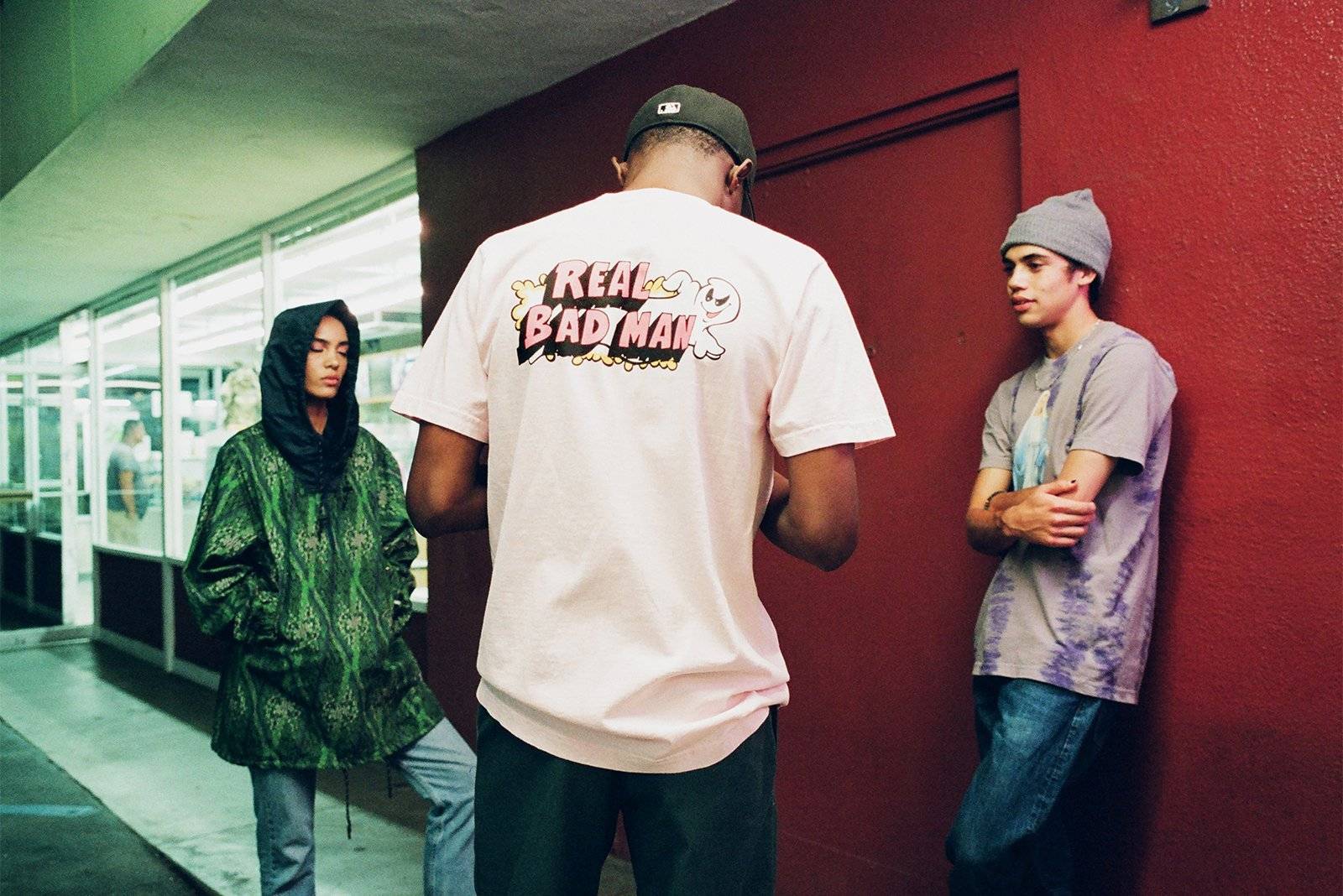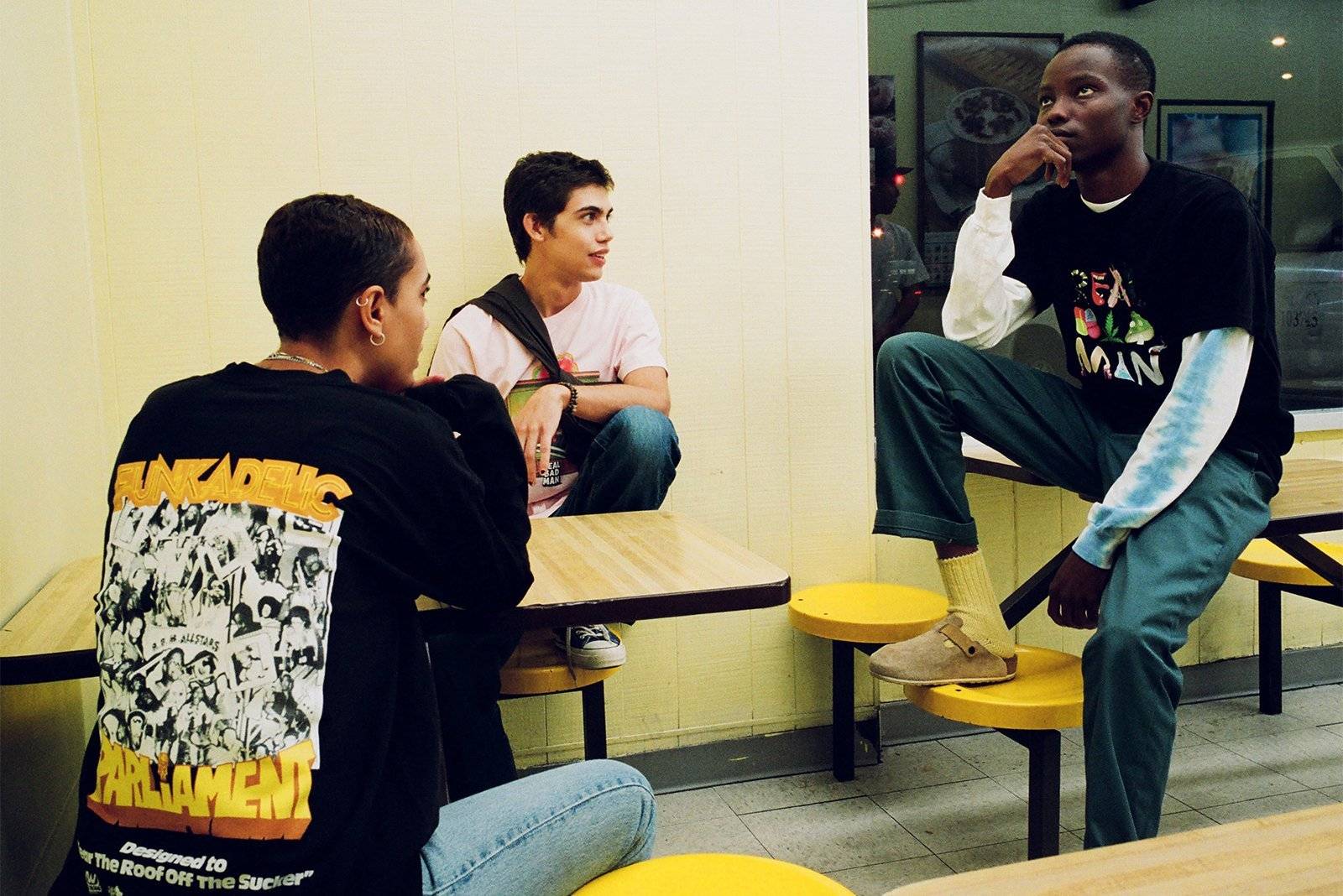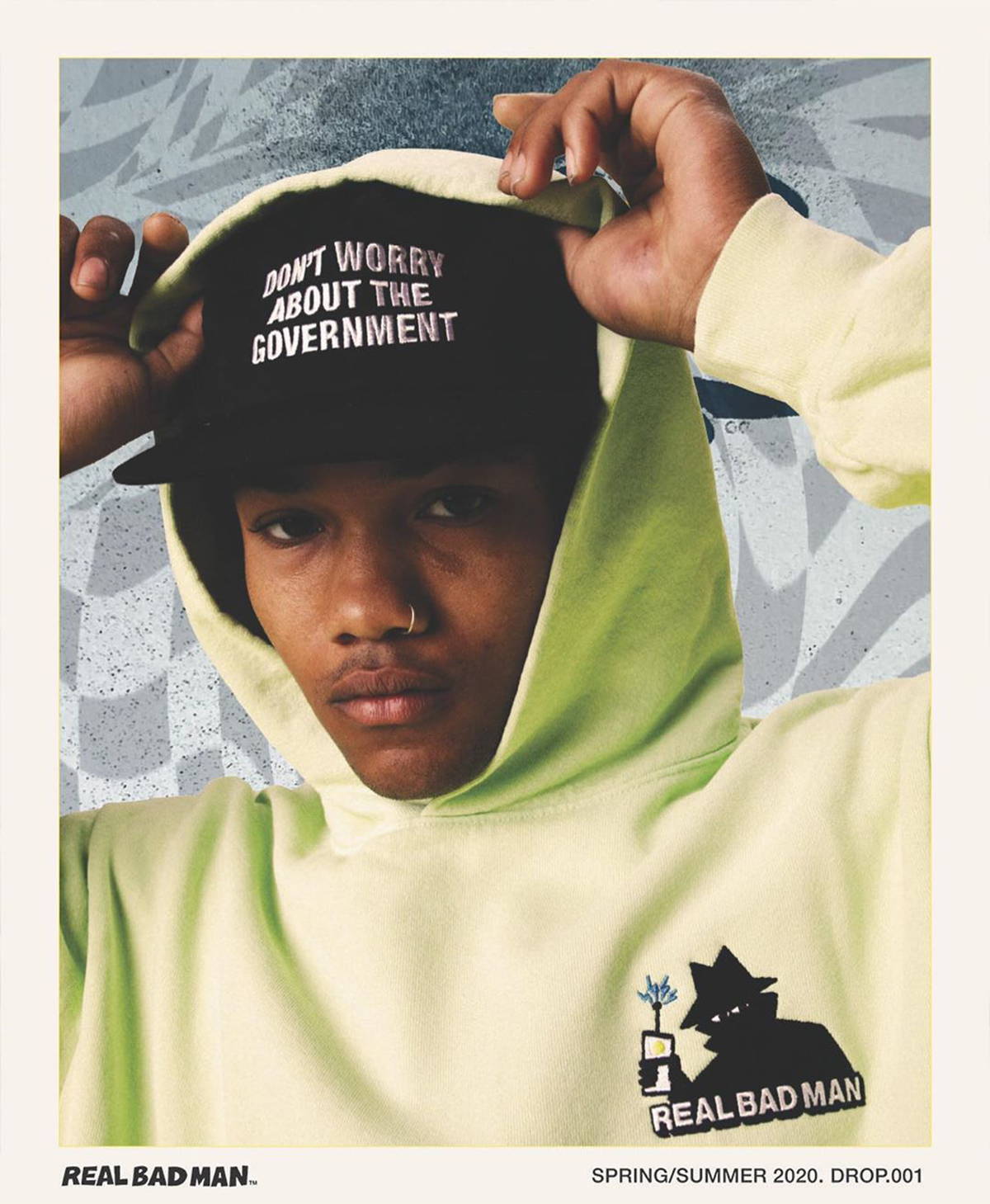 Word on the streets is that RBM began by making merch for bands that didn't have any. Is there any truth to that?
When Real Bad Man started, that was the plan. You wanted a shirt from this band, but they either didn't exist or it's a t-shirt from the early 60s or 70s and it's not going to fit right. The printing capabilities have gotten way better, so i thought it would be really fun to take that as a concept. We still kind of do that today, but we can't be as blatant as taking bands that are well known and making merch. I think we were able to do that in the beginning and get away with it. But now I've gotten that all out of my system, people like us, we're sold in stores, we need to be careful about what we do publicly. But, even more so, being that I've always made music and made beats, there's always the idea of sampling which was inherent in a lot of what Shawn Stüssy did back in the days. That's essentially what streetwear is— it's taking all these things and sampling from all these different places and putting them together. The idea of sampling artwork from record covers and the labels on the vinyl and old advertisements— having all that to pull from and repurposing it, is really what we do for Real Bad Man. That's what the logo is supposed to be. It's this sort of criminal who is trying to sell watches.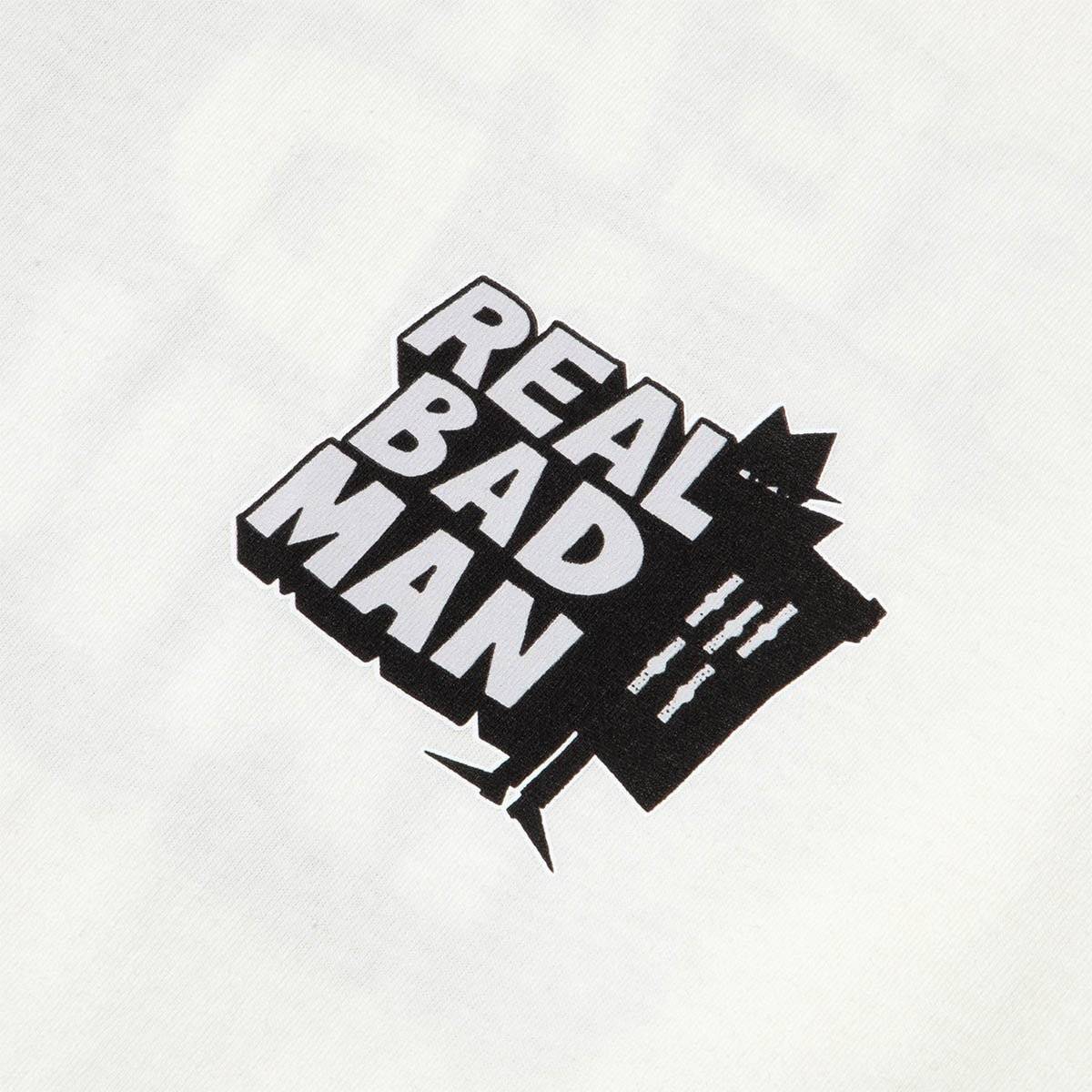 We always saw that as "we're stealing art that exists in the world and we're turning that into something else and trying to sell it." That's why it's a criminal; it's a play on what we are doing as something "bad." Bad is a very subjective word, but we're taking art and repurposing it and turning it into something new. And yeah, we're bad guys, but we're worse than that, we're REAL bad. It has nothing to do with reggae. I know there's a bit of a reggae connotation to it, but our initial thoughts had nothing to do with that. It just sort of stuck. We had the logo and it all made sense, so we went with it from there. It's all connected with sampling and taking something that doesn't exist on clothing, or taking a little piece of a poster, we're not taking the whole thing. It's more like, what if we take something like that and flip it a little bit. There's this really cool logo on this album sleeve, let's redo it so it relates to RBM. I'm a bit of an encyclopedia when it comes to music and movies, so that's what i pull from. Noah is the same way. We cross on some of the stuff. He goes hardcore/straightedge/skate, I go a little more hip-hop/deejay culture. Then we meet somewhere in the middle with comedy, movies, drug shit. With that stuff, we're dead in the middle.
Initially your seasonal collections were linked thematically. What do we need to know about this one?
It was like an exercise. Alright, we're going to do 'drugs, comedy, krautrock' and get it out of our system and move on. We knew we would eventually run out of themes that we really wanted to touch, so then we were going to mix all of those things together. It wasn't really intentional, but I knew that we would eventually run out of themes. So now we're figuring out that we're a little bit of everything. This season is definitely a little more sci-fi inspired. From science-fiction literature to old 70s sci-fi movies. There's still some krautrock in there, there's still some obscure music references. So yeah, sci-fi and music, with some drug references that all go together. We all like genres. We're into subcultures... the genres... the sub-genres. It helps focus things a little more.