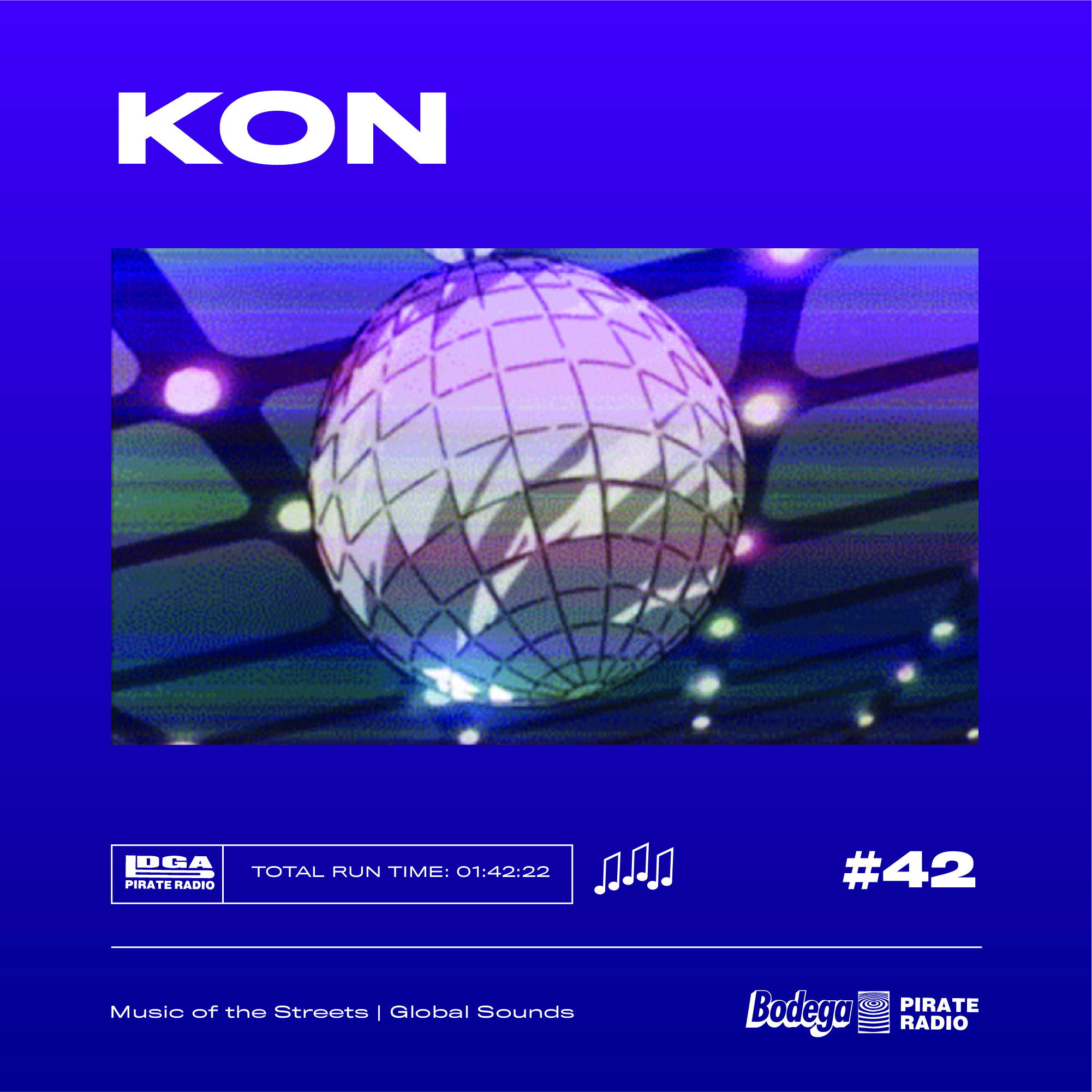 ---
On April 24, 2020, Bodega hosted a truly epic set of Pirate Radio Live from the world-renowned Kon. Skillfully executed from self-quarantine over IG Live, Kon masterfully controlled the tunes and elevated the mood, proving neither the distance dictated by the health department, nor the added detachment of watching from our devices could take away from the good-time grooves and positive vibes he brought to the table(s).
Boston-based, but revered all over the globe, Kon has been at it since 85. Consistently called the "King of Edits" and hailed as "The World's Best Disco DJ," he is also one-half of the esteemed duo, Kon and Amir, known for their critically acclaimed "On Track" and "Off Track" records. But there's more to it than that. Truly a "deejay's deejay," Kon's work has been championed by the biggest names to ever grace the decks. Ask anyone around here with any chops and they'll be quick to tell you that it was Kon who put (and kept) Boston on the map. Honestly, it would be hard to imagine any respectable nightlife culture in Boston without his presence and dedication. You can see and hear it all right here for yourself. Beginning with a cappella outtakes of Prince's "Let's Go Crazy" to the moment his phone died, ending his set nearly two hours later, the momentum never faltered.
---
---
---
---
Tell me, has it been hard to carry this city on your shoulders for so long?
I have been doing this for quite some time, but I'm not sure if I would go as far as saying I carry the Boston… I certainly represent Boston worldwide.
Tell us about how you got into deejaying? I assume it began with getting into records.
Both of my parents were very young when they had me, both were heavy into music. My pops was a drummer at the time, he had a band in Dorchester. There was a lot of weed smoke and music in the air in my household as well— that gives you some insight. My pops had the reel-to-reel set up with a turntable and tape deck. So, he had a lot of records and I started drumming about 4 years old and was listening to records that adults were listening to. That said, music chose me and it became a very big part of my life.
Are you still able to discover new things from yesteryear that you weren't aware of? What's the most recent find?
Yes. Digging in one's own collection is the best because over time our taste evolves and the song you liked on an LP 15 years ago may not be the one that hits you today. DJ Rogers "Think I'll make it."
What would today's Kon say to Kon as a beginner? Were you always Kon?
Dj-ing today is not what it was when I started out in the 80's. I did this because I loved the music— not money or fame— and if that is the basis of wanting to become a dj, your art will truly suffer. Don't deprive yourself of buying a record just because it's a reissue and not an original pressing. Originals are great, but have nothing to do with the actual music. Collecting records is only one aspect of the culture. Stay true to yourself and don't follow trends, they are short-lived.
You are definitely one of the greats, and you got started early, but who did you look up to?
Thank you. They say you are only as good as your influences, so... Mr. Magic, Marley Marl & Red Alert. I had family in Queens, NY, and would visit in the late 70s and early and mid 80s and would tape their shows and come back to Boston with all of the newest hottest jams. In Boston, Cosmo Wyatt and the dj's on WILD 1090. Around 85-86 there were some incredible dj's like Jesse Jess McGhee who had a radio show here. He was murdered in '88, ironically, by a high school acquaintance of mine. There were also djs like M&M who did these dope 4-track mega mixes. T. Clark was also a monster. Def Jef aka Jeff2x from RSO/Made men was rockin and early 90's Nestle Quick from Orchard Park was, and still is nasty. Ninja B and Dj Shame, Shame was the first dj I ever heard do an original sample mix. That inspired the Kon & Amir " On Track" series.
Do you remember the first time you witnessed a deejay in person?
My Mother used to take me to Spinoff in 1979 on Landsdowne Street, which is now Jillian's. I was 7 years old and the only little boy at the club on a Saturday night. Those nights were so special, I got to experience hearing Michael Jackson's "Off the Wall" and Prince, "I Wanna Be Your Lover," and so many more classic songs when they were brand new in a club. The impact of that was everlasting.
Tell me about the best years and venues to be a deejay (or a member of the audience) in Boston? 
I had a lot of fun doing loft parties in the South End, late 80's. It's now gentrified and called SOWA market. Early 90's Boston had a thriving house scene with Bruno & Armand Van Helden at The Loft. I used to rock with Mighty Mi at Barmuda triangle in Fenway and those nights are memorable to this day.
In your mind, how do you view the change in what people play to get things moving today? 
I have seen so many djs come and go. Today, there are so many djs and it became much harder to stand out from the crowd. Not to say there aren't great up-and-coming djs, but I hear less identity now. Djs are so inclined to stick to a script, not willing to risk it as often, showcasing their range and knowledge of amazing music that is lesser known. Breaking records both new and old. Back in the day, you could associate djs with particular styles and certain records they were known for playing, along with the ability of telling a story, rather than just play hits all night. I'm hoping the pandemic is a reset for many. Djs now are taking to livestream and we are seeing who is who.
What was your first honor? Tell me about the first time you felt like, yup I can do this.
The very first official show I did was in 91' with Gangstarr & KMD (for those that don't know, MF DOOM's first group). What a night! Before that it was high school talent shows and after hours parties.
How many records do you reckon you have?
Not as many as some…maybe 12-13k. But It's not about how many— it's quality vs quantiy.
How has the way you approach your set changed over time?
It depends where and what I am doing. Locally, I understand that pedestrian crowds may have no clue who I am or any of that. My objective is to create good energy in the room and try to get as many folks on the same page and reading the room. Golden rule within that context has always been to make sure you have about 10 of the hottest records out, and throughout the rest of the night, I try to maintain a balance of playing songs they love but forgot about, as well as risks. Internationally or out of state I am booked as a headliner and usually that is based off of the remixes and records I have put out. This allows me to get as deep as I want without having to worry about holding the room and really programming, there is no resistance as they want to go on the ride with me
3-5 songs that define you.
There are far too many records in my brain. This isn't fair. I always try to make sure I play James Brown. James is one of the main reasons why music exists as it does today. He put the "one" on the map. Any songs off of Chic's 1st lp, or I want your love. Boston's own Donna Summer, my hood is next to hers. Any songs from ATCQ 1st 3 and for good measure. Roy Ayers, who has such a vast catalog but, "Everybody Loves the Sunshine."
You've been called "The World's Best Disco DJ." Disco is a polarizing thing. Tell the kids why it's important?
That is humbling, but I am not the best. As far as hip hop and dance music is concerned, all roads lead to disco. In the 70's disco became a term but, it really was just uptempo r&b music being played at "discotheques." The Philly sound was massive and that four-on-the-floor backbeat and tempo is the same as your heartbeat. The first hip hop records were disco records and the MC part came from Jamaica by way of NYC. House and techno music came shortly after that and house was the disco's revenge, stripped down without the camp. Once you get to disco, you'll discover may how dope it is, it combined classical music, as well as jazz, blues, African polyrhythms, funk, rock… Disco incorporated all of this and it also was being sang by folks who came up in the church. And disco is sexy af.
How do you approach technology and it has changed to the game over time? Good ? Bad? 
I am a purist at heart but it's all about how we use it, adapt or get left behind. I only care about skillset and song selection, I don't care what method you use to display those two, if you're trash, I can tell no matter what you play on.