On Saturday October 30, Bodega LA will be hosting a release party to celebrate the first ever collaboration between thisisneverthat and Converse. In addition to food, entertainment and a free customization booth, patrons will have the opportunity to buy the new releases at the store (while supplies last) or online from our website starting at 10am EST. With a Poseidon/Black One Star Ox and a cream-colored Chuck Taylor, South Korea streetwear stalwarts have produced two classic, "new vintage-" inspired designs heavily rooted in the casual cool, well-worn look of the 1990s. And, as it turns out, the brand derives a lot of their aesthetic and attitude from 1990s culture.
Creating a playlist for Bodega's Pirate Radio, the brand takes us on a journey through some of their favorite tracks, almost all of which are American hip hop classics from this golden era. Telling the story of the brand through a curated playlist provided the perfect unspoken insight into one of our favorite brands We followed up thisisneverthat's SJ Park for some more of the story behind the brand, their inspiration, their love for hip-hop, and what went into their upcoming collaboration with Converse.
Remember to swing through this Saturday or check online. These beauties won't be available anywhere else in the world until November 4.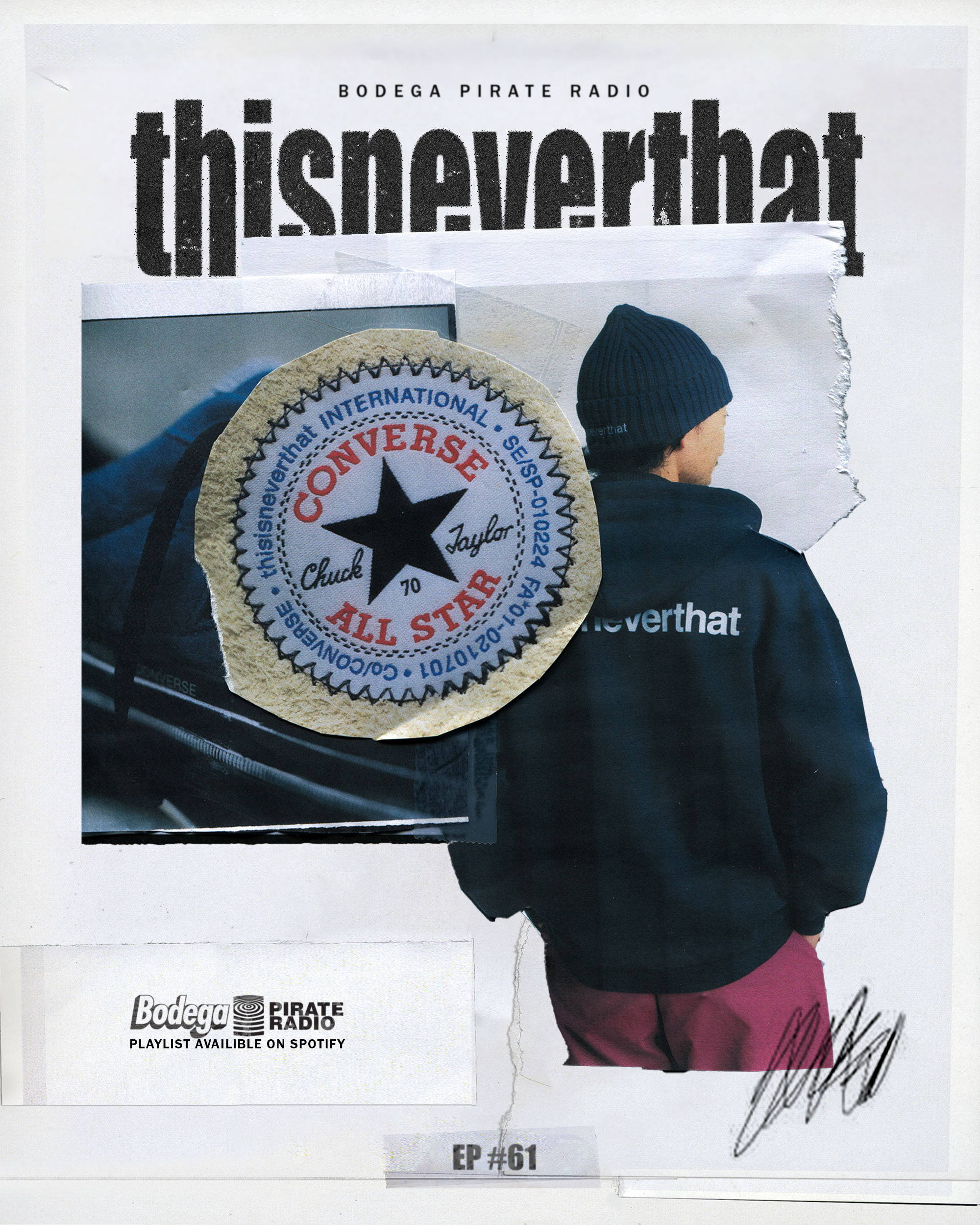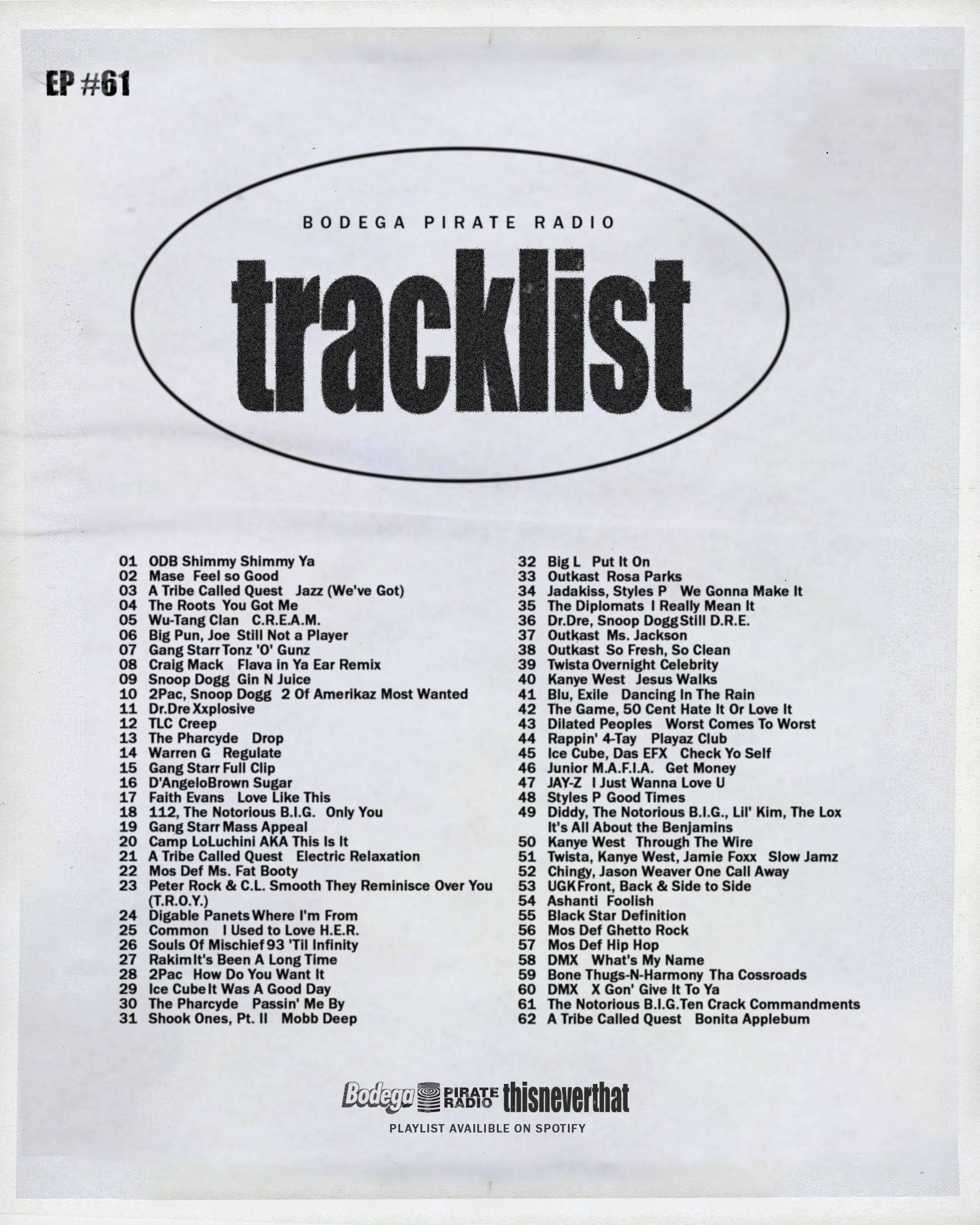 Who was involved in the creation of this playlist. What can you tell us about it?
This playlist is the combination of tracks that have been played in our previous offline events. thisisneverthat was heavily inspired by 90s subculture and the music from the era is probably the biggest inspiration. Also, we all love hip-hop and R&B.
What is it about American hip hop from these eras that is so appealing?
It started in the late 90s and early 00s, we got into American cultures such as skateboarding, music, magazines, etc. via the internet. All these new subcultures from the states blew Korean teenagers' minds back then. From music to fashion, it changed the whole youth culture in Korea.
How do these songs relate to thisisneverthat's vision and attitude? Would you say that the atmosphere surrounding those sounds and the styles and attitude of the times are represented in thisisneverthat's style?
Yes. We are always trying to recreate the original with our style.These songs are not just a single music track. It contains all the fashion, vibe, authenticity of that time. What we are trying to do with thisisneverthat is the inspiration from these songs and the era where the songs are from.
Were these songs big at home when they came out? Were they in the mainstream or did you have to seek them out? Is there anywhere you would hear songs like this (like the radio or in clubs)?
I don't think it was in the mainstream. We needed to dig at the local record stores. Sometimes, we had to download the songs online and burn the bootleg CDs. You can easily hear all this hip-hop music on the radio, street, and in clubs but it was totally an underground thing back then.
Tell us about Korean hip hop. We are always looking for recommendations and inside knowledge, are there artists we should look out for and listen to?
There are good artists in Korea. I remember Keith Ape was HUGE a few years ago with his big hit song 'IT G MA'. E SENS is one of the GOAT in Korean hip hop.
E SENS, Uneducated Kid, Okasian, and Beenzino are my recommendations.
How would you say Korean hip hop differs from American hip hop?
Well, I don't see much difference between the two. But I would say we don't talk about drugs, gangs, money, and hoes too much in Korean hip hop. Haha.
We noticed you didn't put any K-pop on here. Do tell…
K-pop is dope as hell. But I just felt like as a brand, our inspiration is most likely from the states.
Tell us about this Converse collaboration. What design elements went into it. What was the inspiration behind the look?
'NEW VINTAGE' is the main concept of the collaboration. We researched old Converse archives and got the inspiration. Converse has been in this culture from day 1 and there are so many iconic styles from Converse. We wanted to bring it back to the present but not only retro it but tried to put our own style to rebuild it to the new fresh vintage.