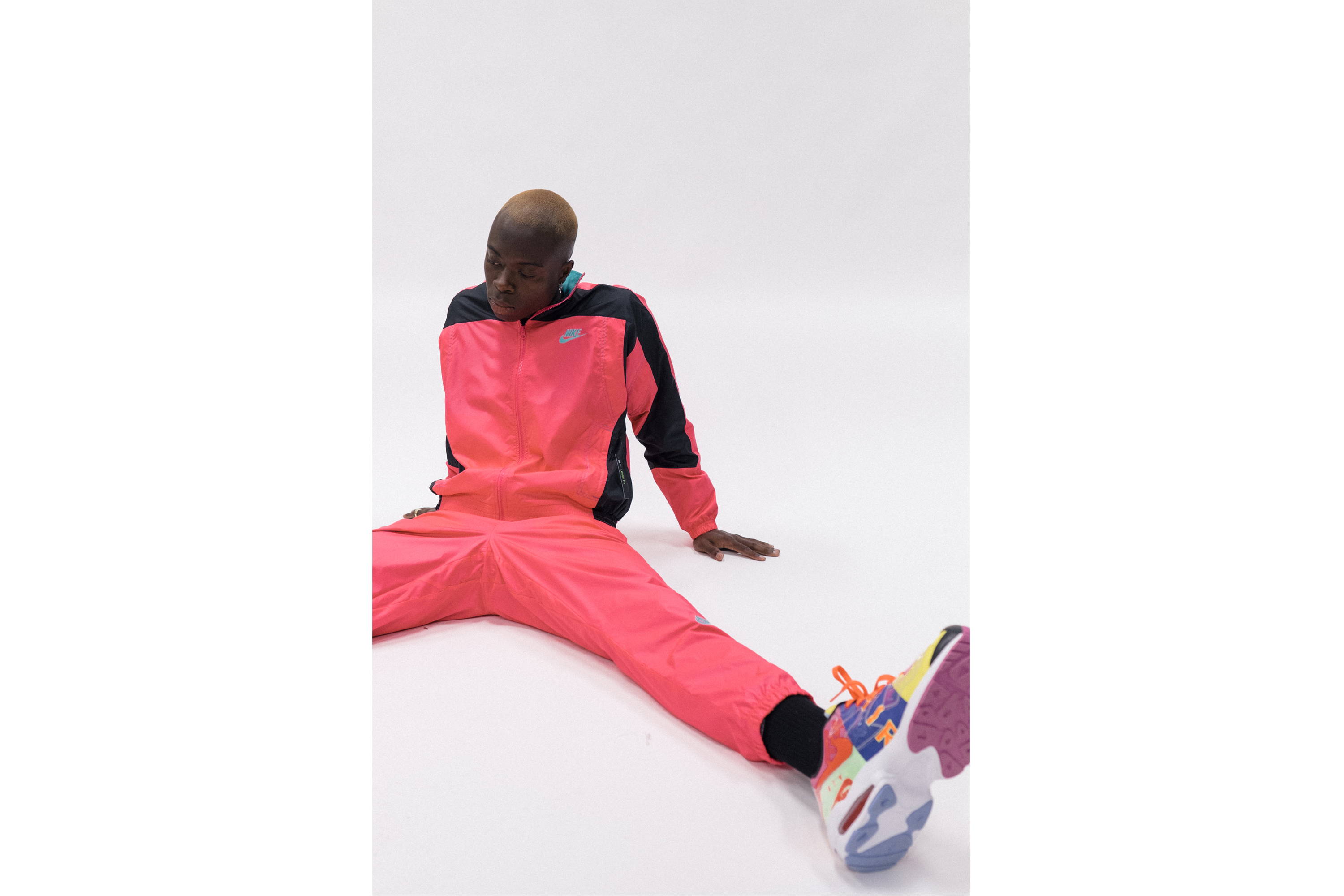 In the present day, someone paying a four figure price for sneakers is an everyday occurrence. It might prompt some philosophical head shaking about the state of culture, but that's about it; it's just too commonplace to bother getting worked up about. Twenty-something years ago, the notion of someone shelling out that much cash for sneakers was noteworthy enough to make the pages of a major news outlet like the Chicago Tribune.
An October 1996 piece on the high prices of vintage Nikes on the Japanese collector's market makes pretty familiar reading for anyone familiar with streetwear, but there is one thing that stands out. One of the rationalizations offered for the high priced vintage craze is an explanation of how mainstream sneaker retailing operated: Nike releases new models several times a year, and almost never releases them once the season ends. It's why the culture of vintage collecting is so often couched in language seemingly more suited to sustenance hunting, archeology and antiquity dealing. Getting your hands on this stuff used to be difficult enough to qualify as, if not an accomplishment, at least a genuine cause to celebrate your good fortune.  
In a time when the large scale, public use of the internet was in its infancy, distinct, geographical variations of a global popular culture movement still existed. Old Air Force 1s, for example, were languishing on discount shelves in the U.S., but fetched big money in Japan, simply because they were not readily available. Another aspect, lost in the present day is that the comparative lack of widely released retro product allowed this logic to filter down to an individual level. Wearing vintage pieces was an expression of supreme good taste and personal style. A major part of the appeal was that you knew that you weren't going to see the specific vintage gem you hunted down on every third person walking down the street.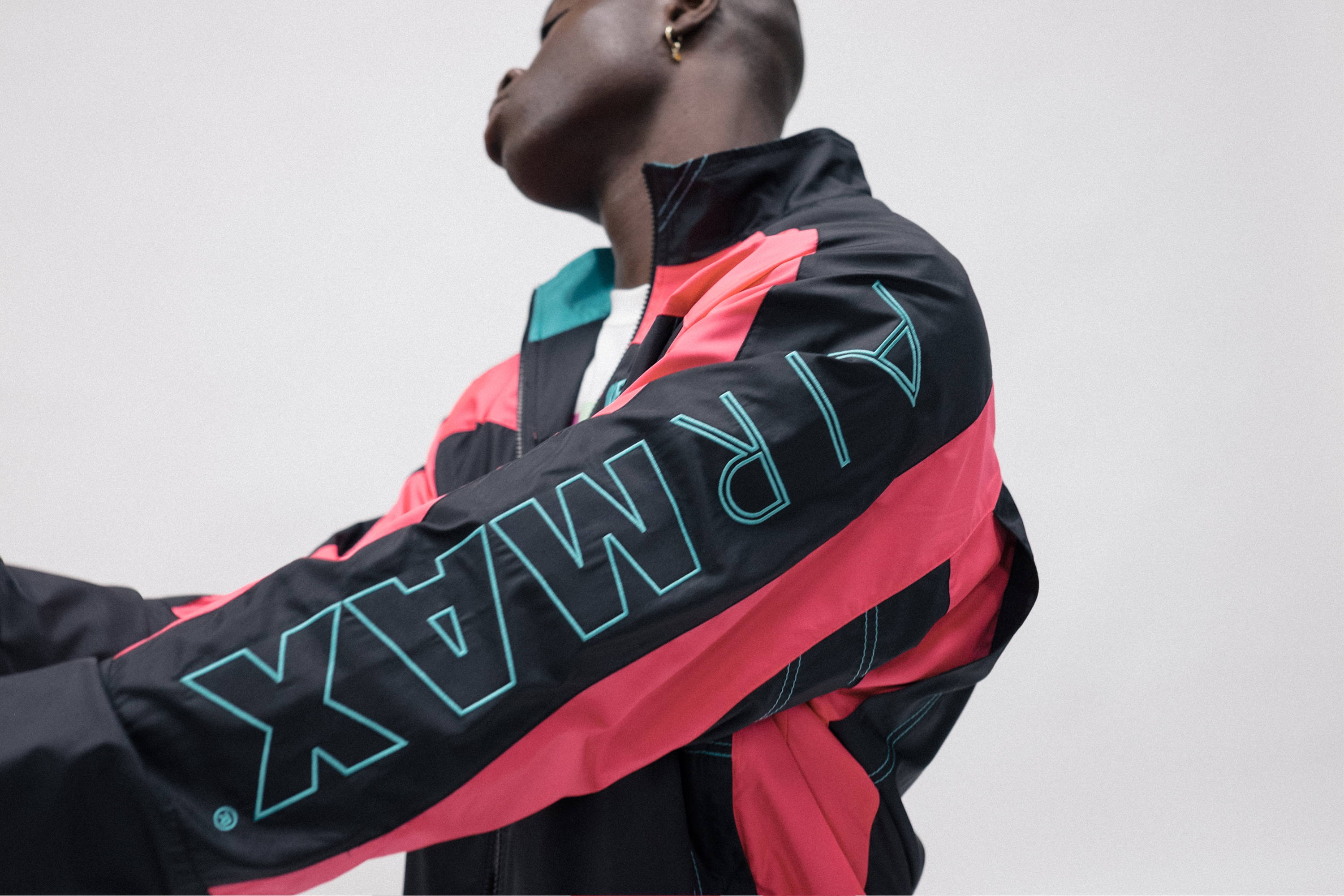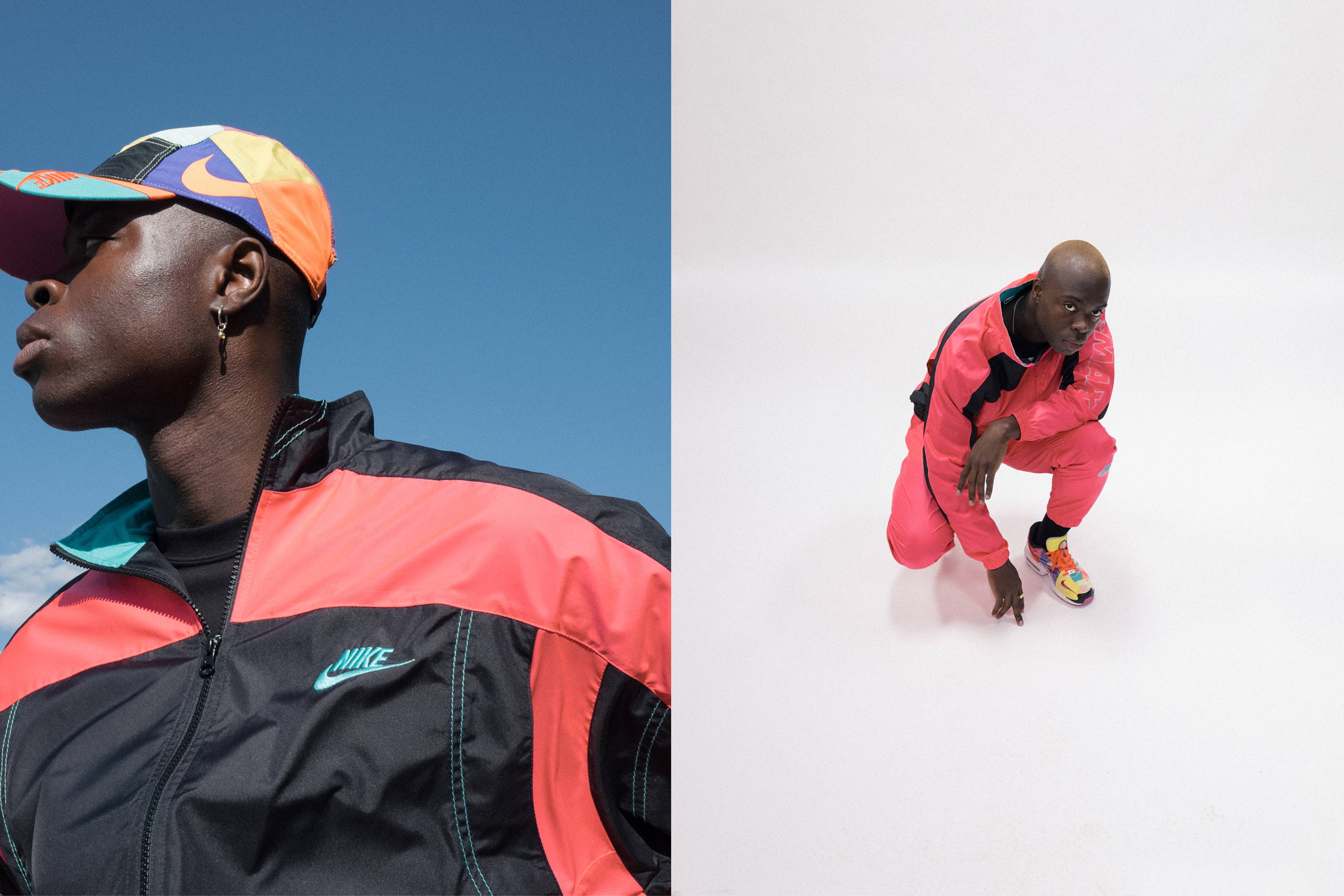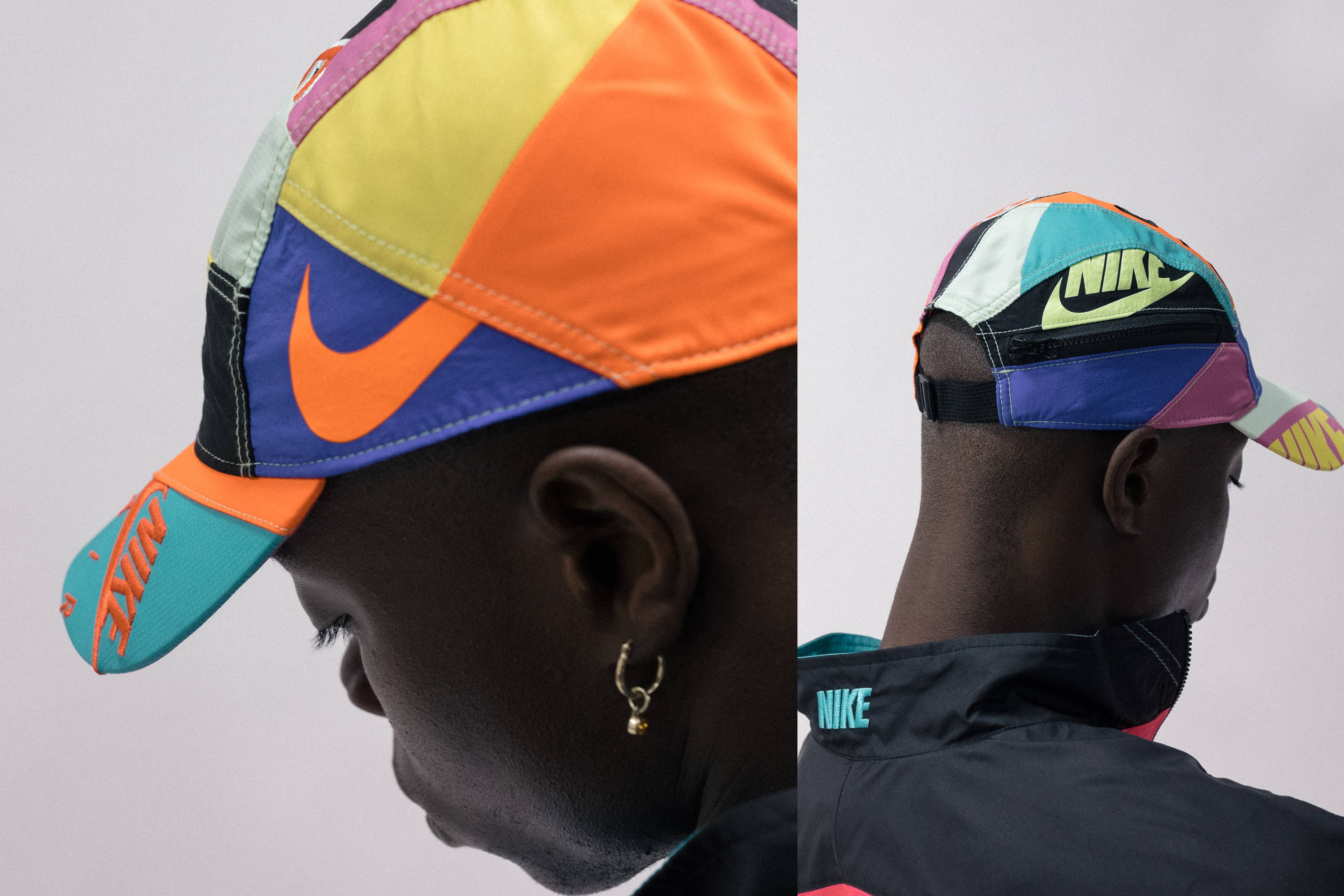 Nike's latest collaborative endeavor with legendary Tokyo boutique atmos rekindles this aspect of retro style, with an authentic vintage inspired take on the 1990s throwback aesthetic that currently dominates the contemporary fashion landscape.
The recently rereleased cult classic, the Air Max2 Light, outfits the Tuned Air debuting model in a patchwork construction made from vintage, 1990s Nike apparel. The aggressively bright colors and prominent branding that characterized the era's design converges into a single, extra bold shoe, with swoosh or Nike Air branding on each, individual patchwork segment, and a clear, plastic overlay allowing this vivid collage to shine, uninhibitedly, and accentuating the appreciation of each individual vintage piece.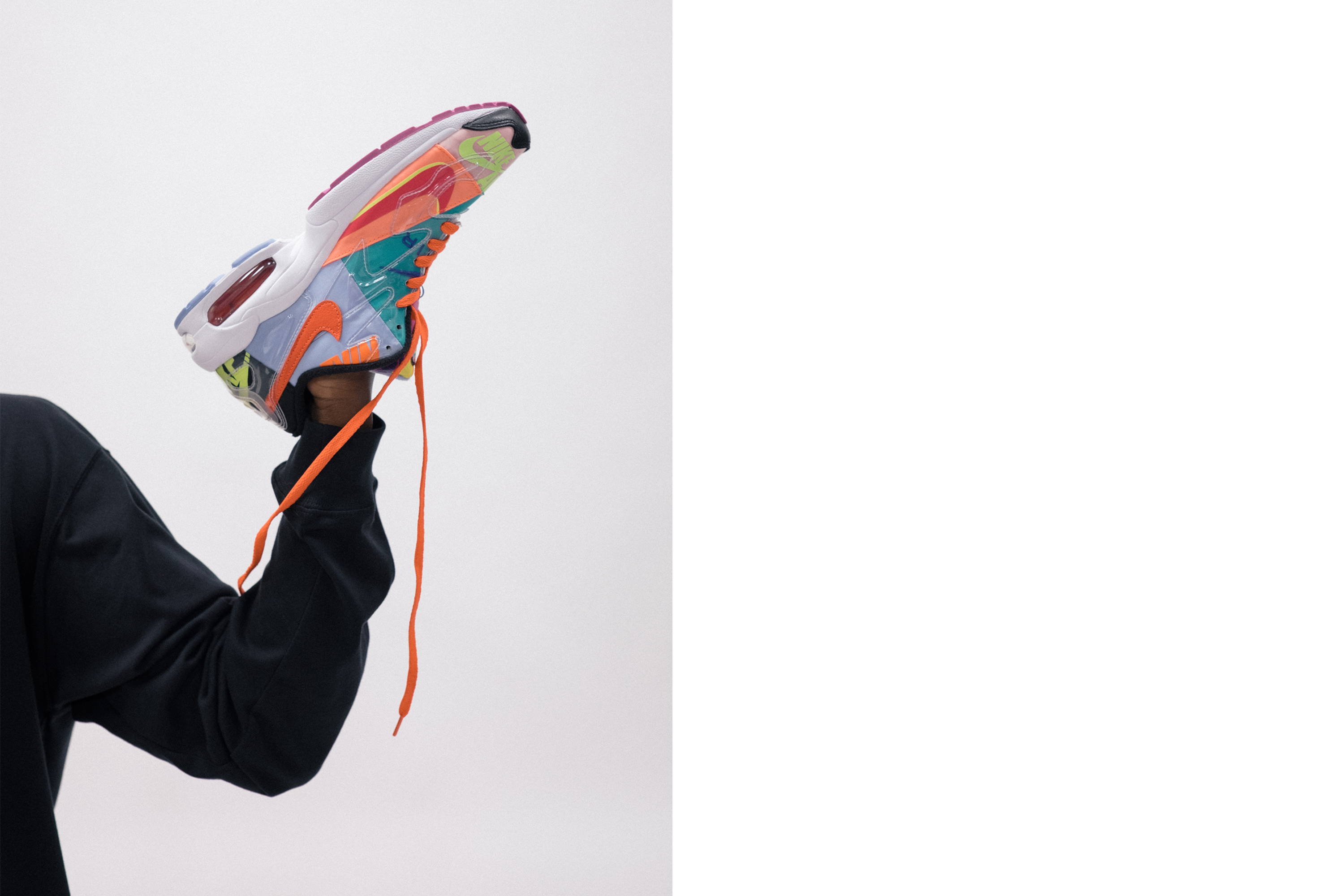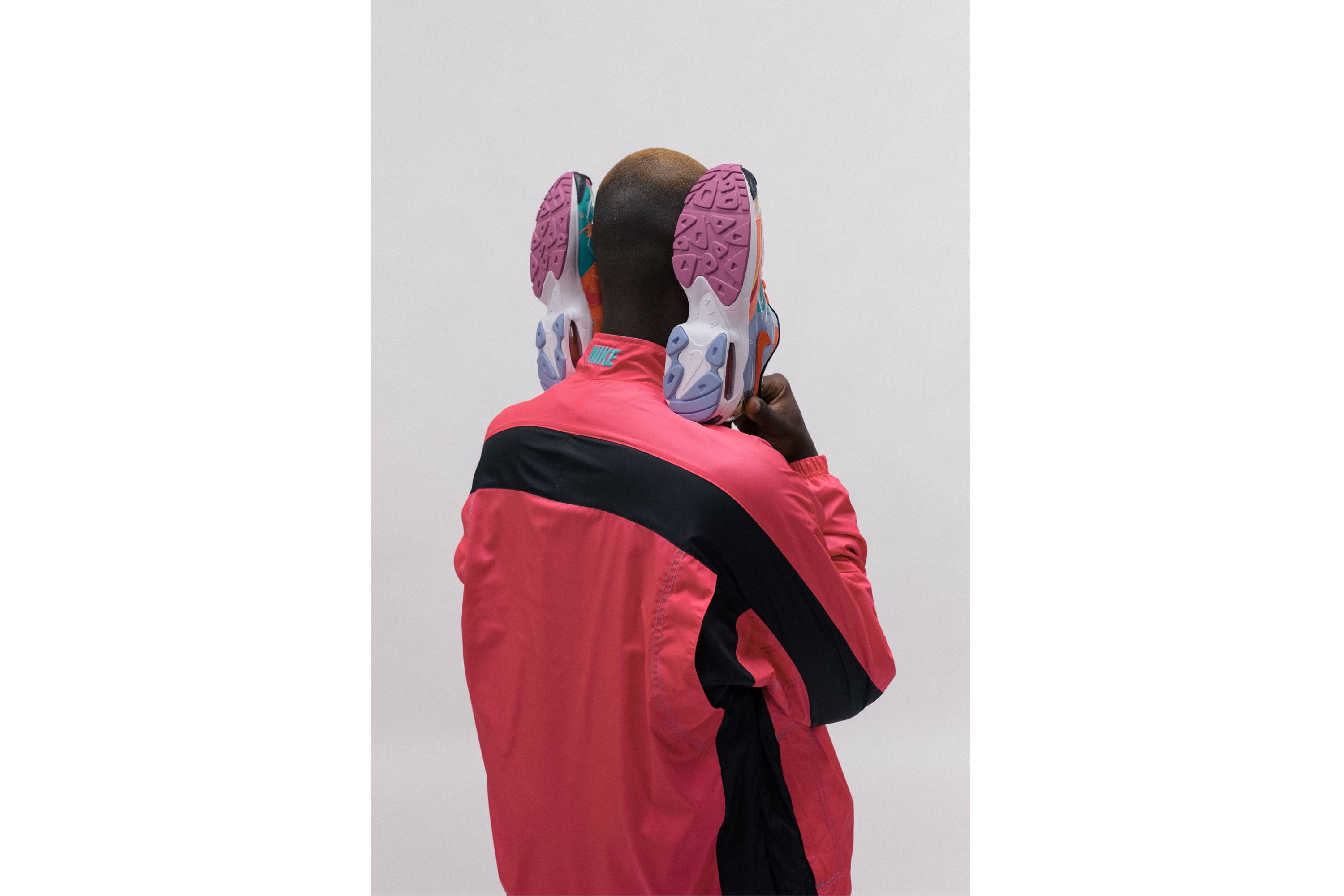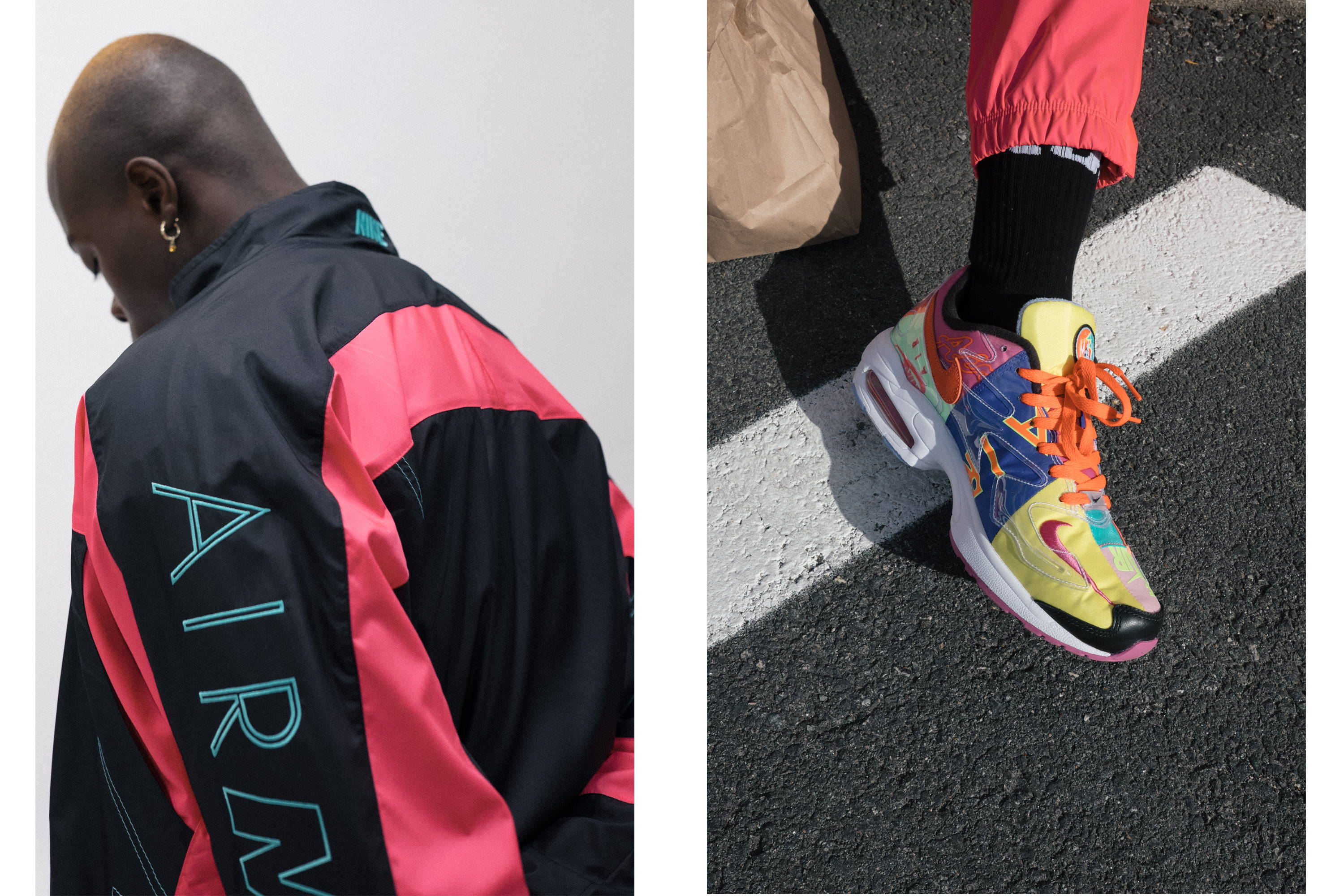 Launching alongside the Air Max2 Light is a range of co-branded apparel and accessories. The 90s inspired aesthetic is applied across a range of graphic tees, retro inspired track tops and bottoms, and a patchwork version of the AW84 cap, for a comprehensive overall look.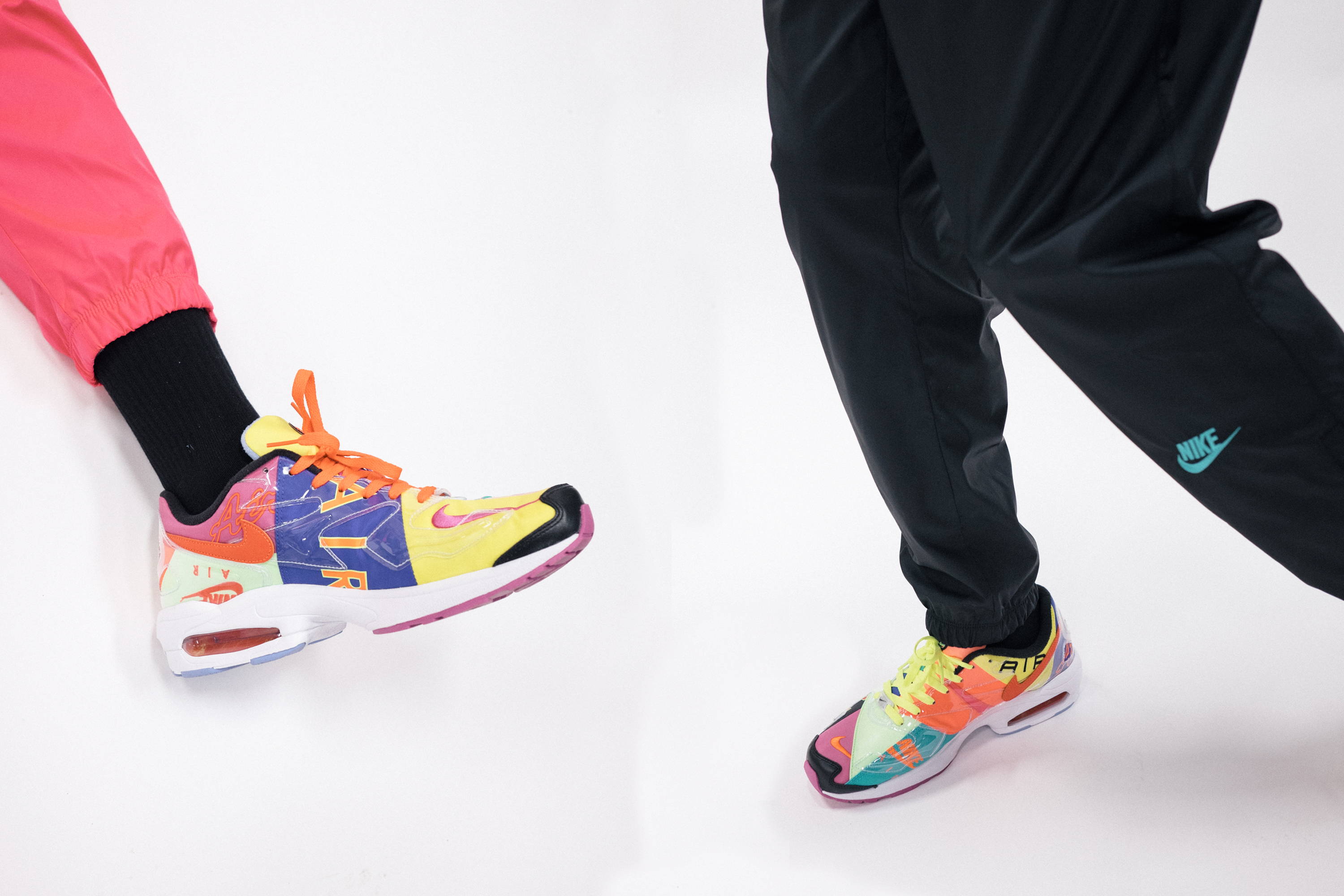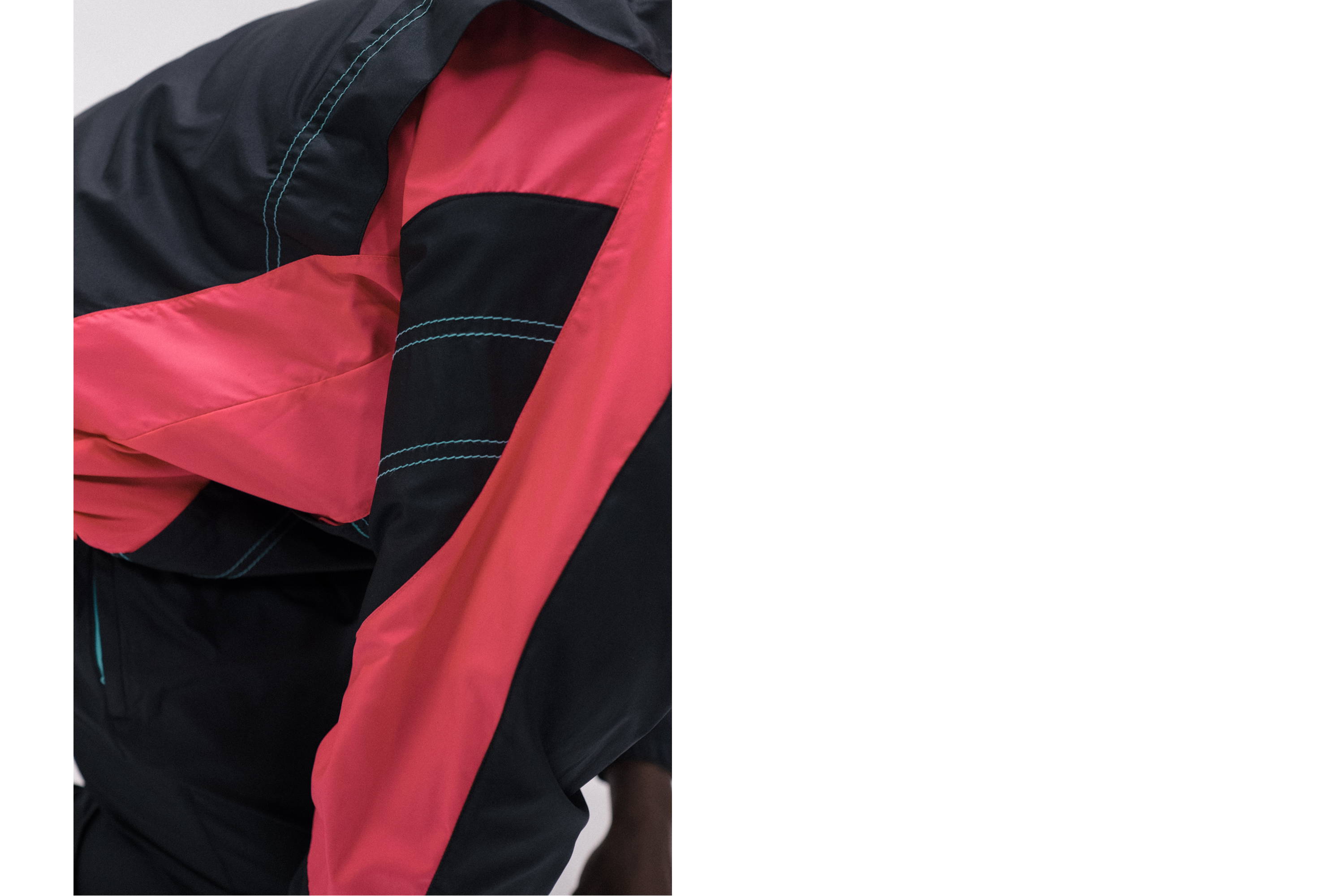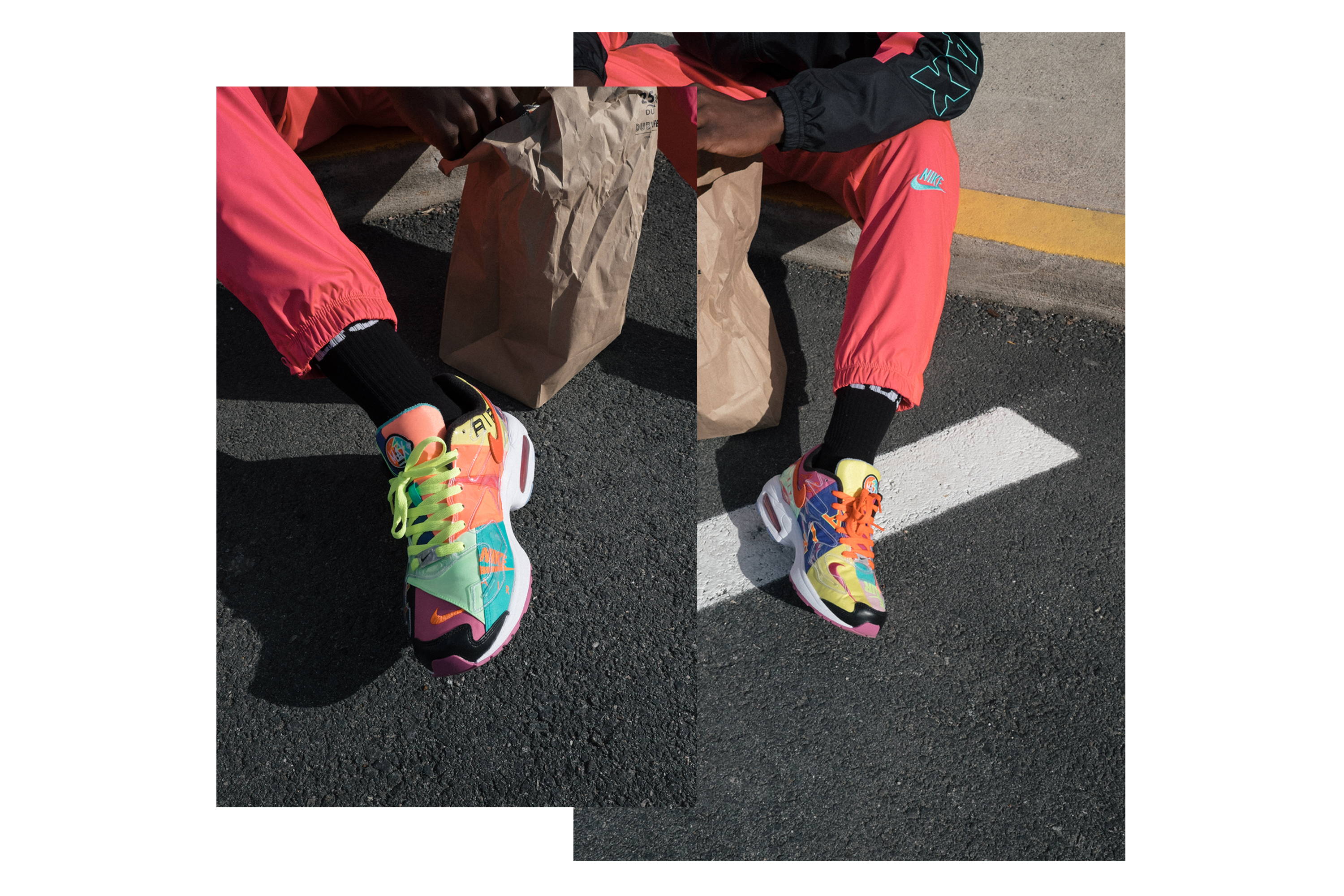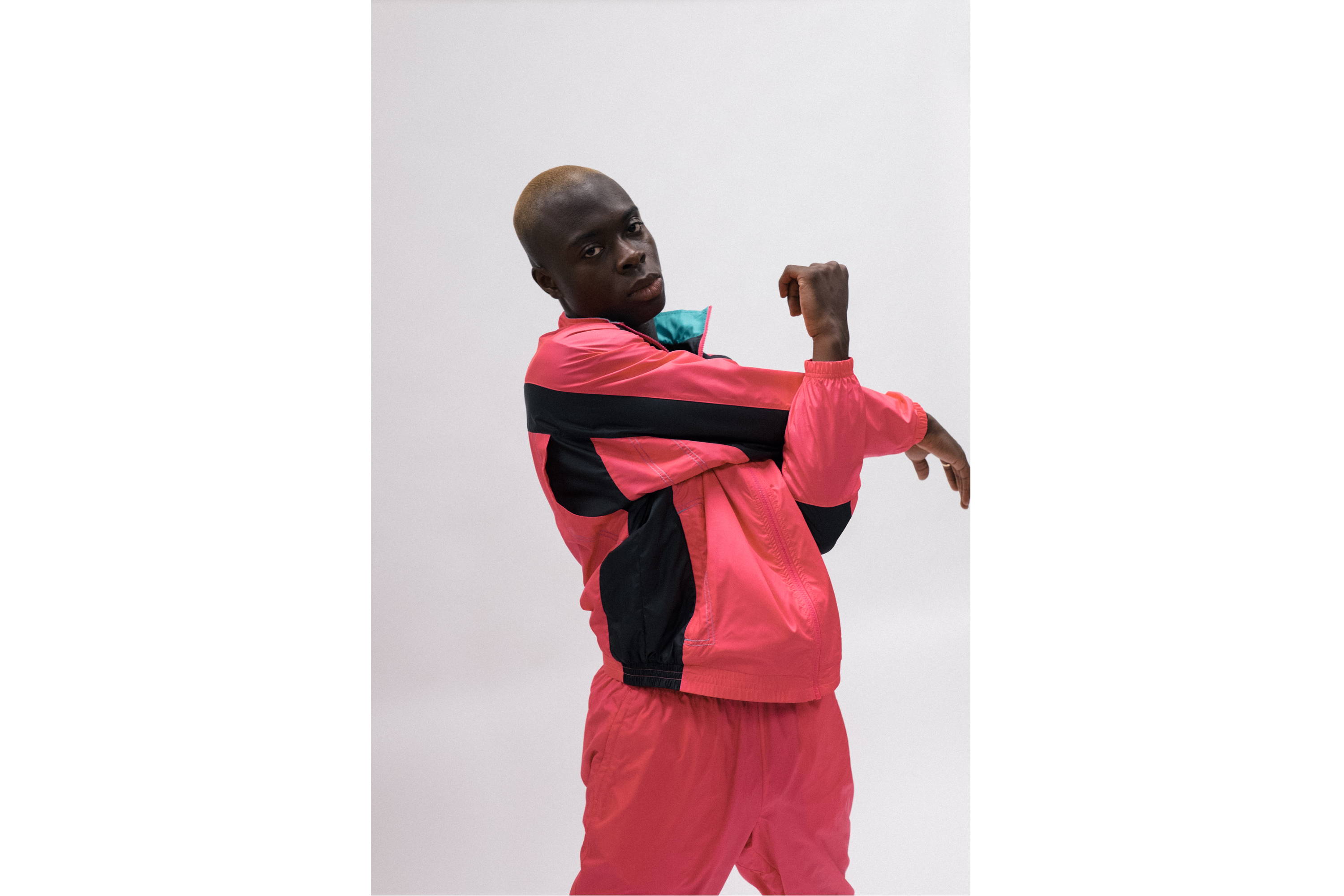 Nike and atmos don't just recreate a look; they recreate a feeling, a higher plane of throwback existence.