When something or someone achieves a certain level of accomplishment and recognition, it becomes redundant to explain exactly who someone or what something is, in every single instance having to do with that person or thing. Obviously, Nike is one of these entities. Every new Nike product is not preceded with a recounting of Nike's historical origins. The same level of status and recognition applies to one of the most important innovations ever developed under the Swoosh banner, Air Max.
While iconic Air Max models like the 1, 90, 95 and 97 are essentials in any sneaker rotation, their histories and their many manifestations as legendarily coveted special editions and releases are things that most sneaker enthusiasts can recount from memory. There are actually so many Air Maxes that are integral to the history of sneakers as fashion, that it can be easy to glide over the performance roots of the technology. Air Max revolutionized athletic shoe design during a time when foam cushioning was still a relatively novel idea. With Air Max tech established as a running game changer immediately upon its release, the idea spread to specialized footwear for the myriad of other athletic pursuits that Nike equipped. Of course, with so many footwear models in Nike's archives, there are some shoes that are mostly lost to history. On that note, we thought that we would do something a bit different to celebrate the legacy of Air Max this year by highlighting some of these archival performance classics. We scoured the pages of sporting goods catalogs past to find Air Max models that scored more points than photo shoots.
1995 Air Max Racer:
If you only had a photograph to go on, you would be forgiven for not guessing the year of the Air Max Racer's original release. By the design standards of the era, the Air Max Racer appears positively slight. A low cut silhouette, a slimmed down version of the 270 degree Visible Air unit that was introduced by the Air Max 93 and a breathable mesh upper with minimally applied overlays made up a streamlined design meant to be worn as a race day counterpart to the traditional Air Max training shoes. Unfortunately, for the sake of its own historical posterity, the Air Max trainer that the Racer released alongside was the Air Max 95. But with the success of the contemporary Air Max 270 silhouette, a renewed appreciation of the Air Max Racer's ahead of it's time design is overdue. The 270 degree, biggest ever Visible Air unit and angular shape can be traced back to the Air Max 93 and the Air Max 180, but this lightweight, streamlined take on the Air Max also serves as a spiritual successor to the ahead of its time design of the Air Max Racer.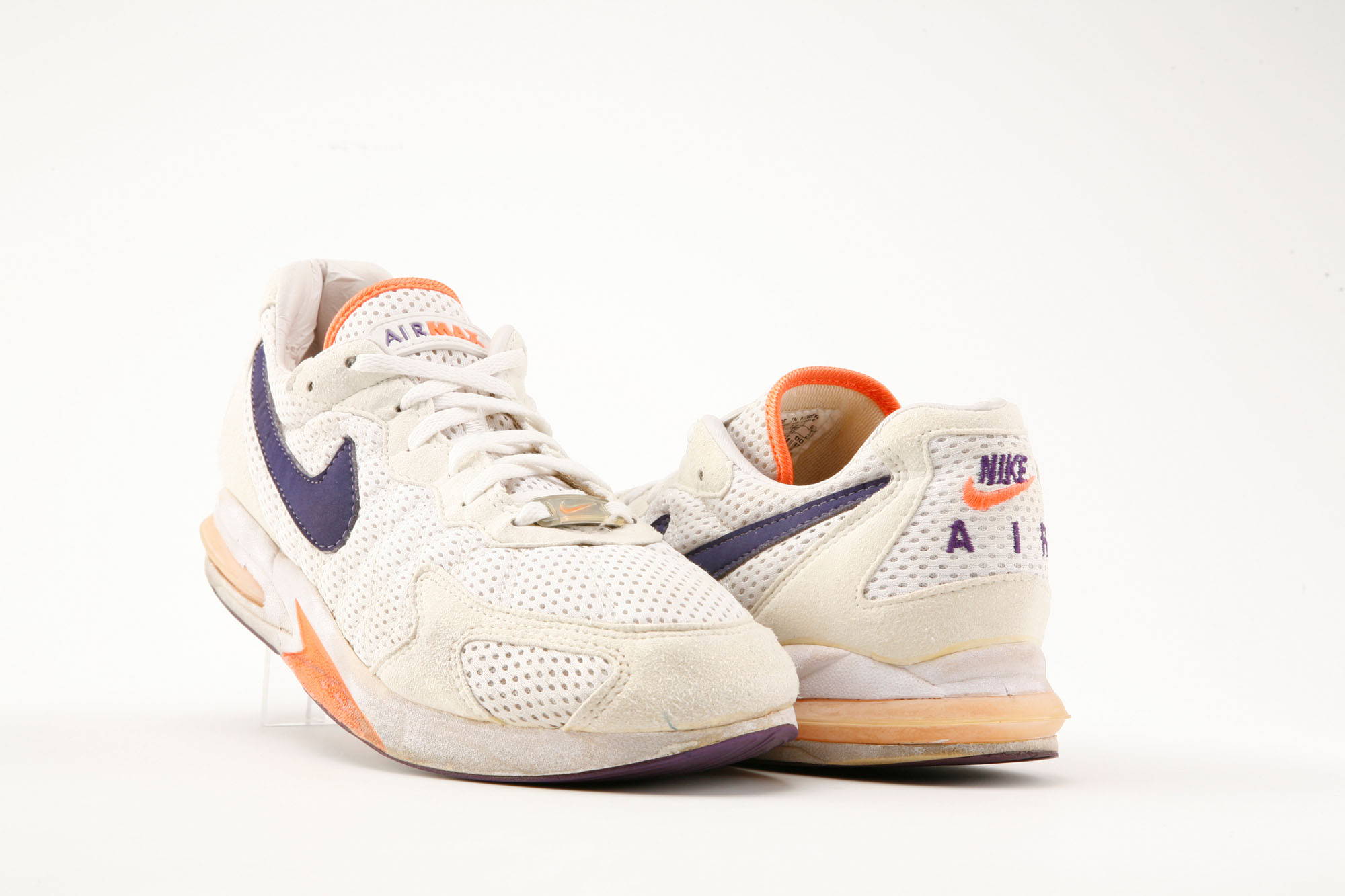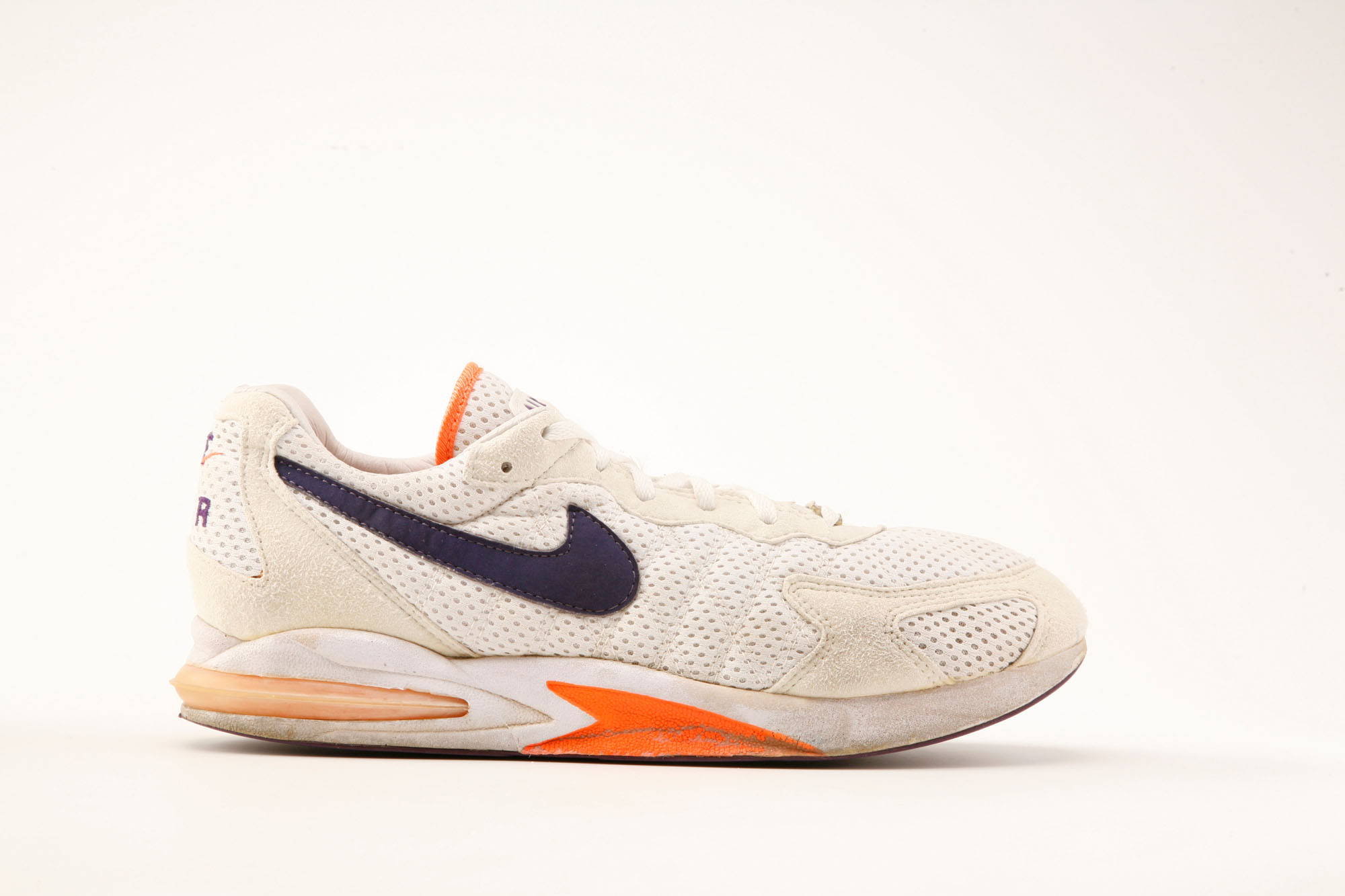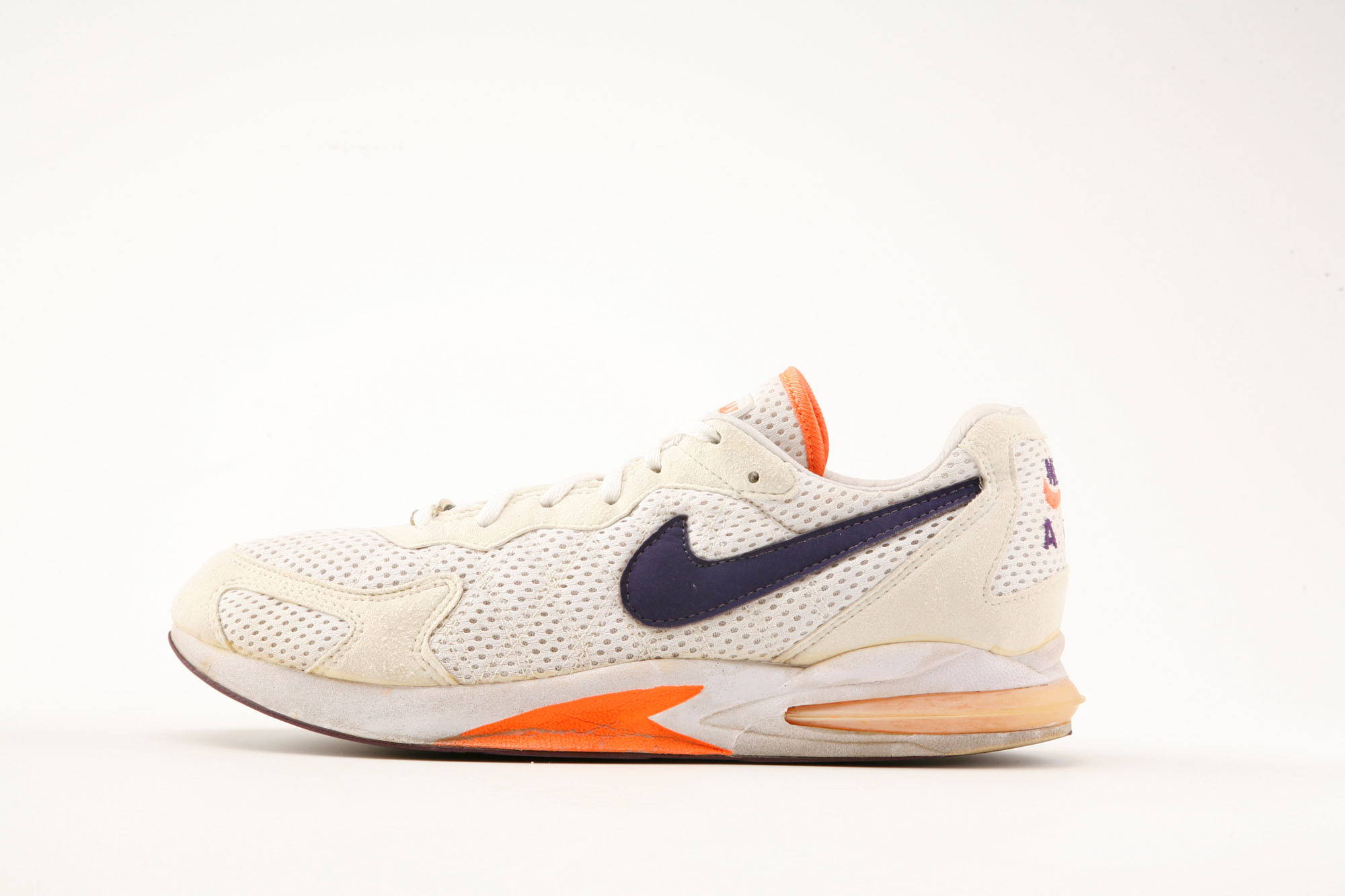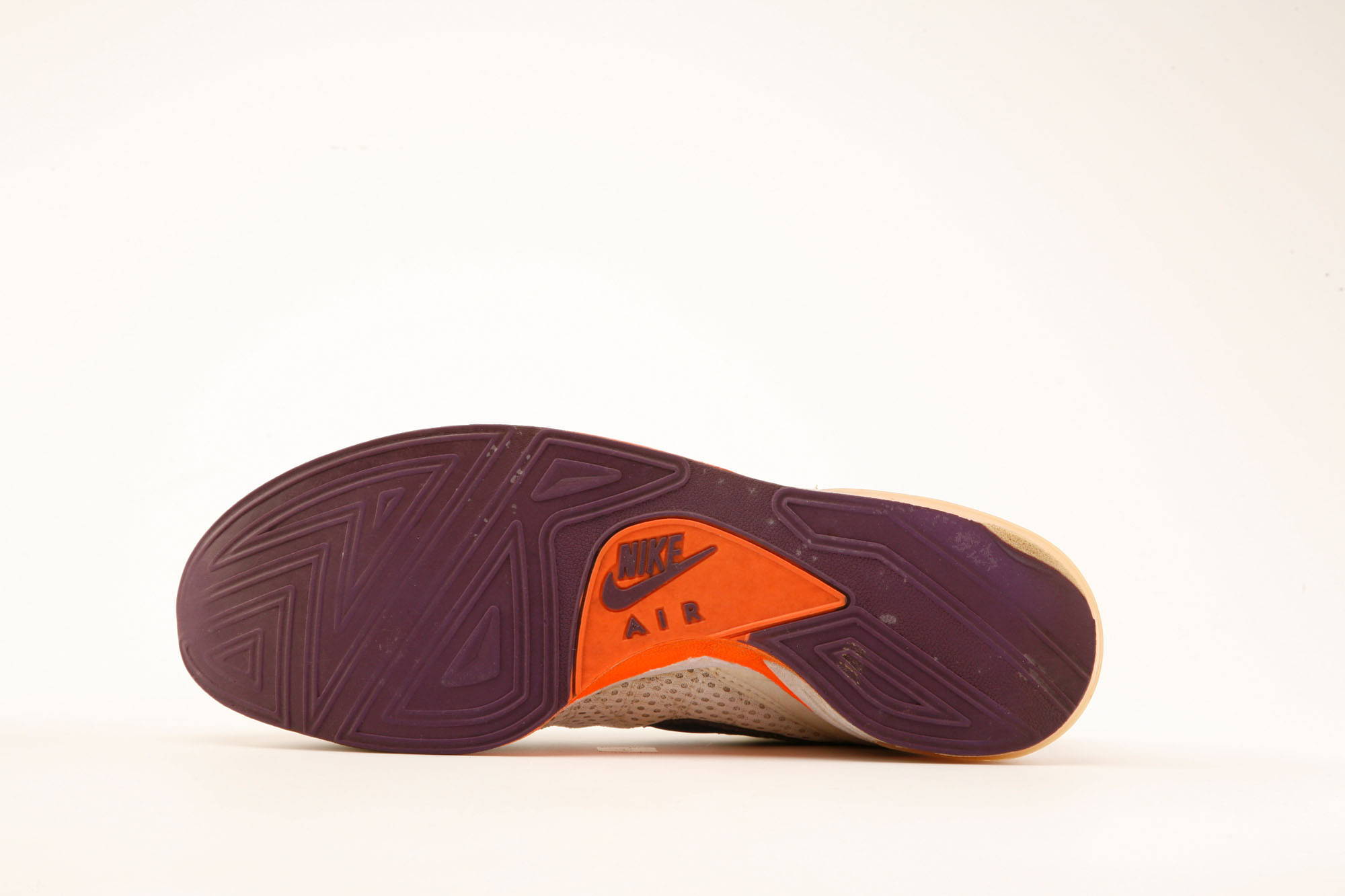 ---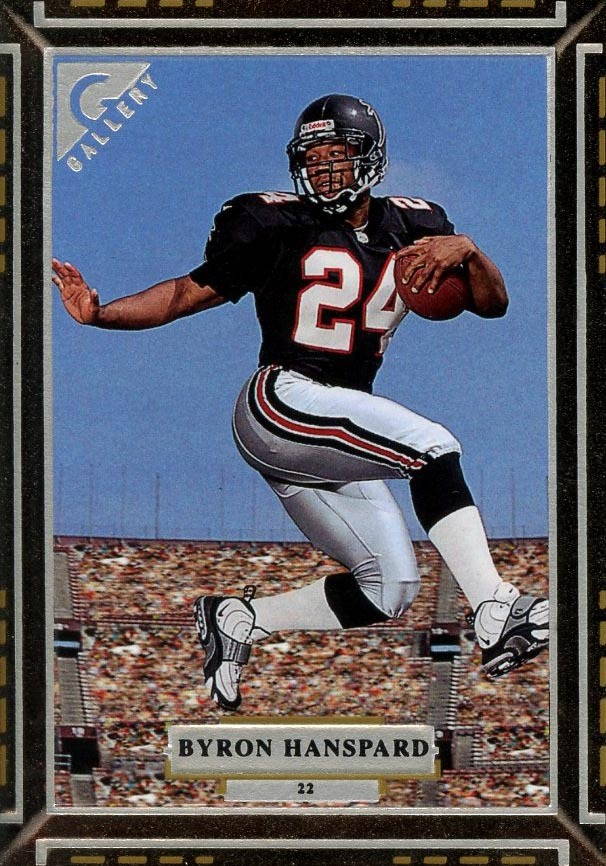 1996 Pro Streak Max:
The NFL was a different place in 1996, particularly when it came to the quality of artificial playing surfaces. Locales like Three Rivers, Giants Stadium, Riverfront,the Metrodome, Rich Stadium and the Astrodome employed AstroTurf. Although some were considered worse than others, with the ligament shredding turf at Veterans Stadium enjoying a special infamy, the general assessment of the stuff was that of asphalt painted green. The Pro Streak Max was designed to navigate this very literal precarious ground. A physically substantial high top design housed a Max Air heel, a partial fiber plate shank for responsiveness and a lockdown strap for extra stability and protection while cutting made this model a favorite among high speed skill position players like wide receivers and defensive backs. It would probably take a special kind of individualistic fashion boldness to take this aggressive design off the field.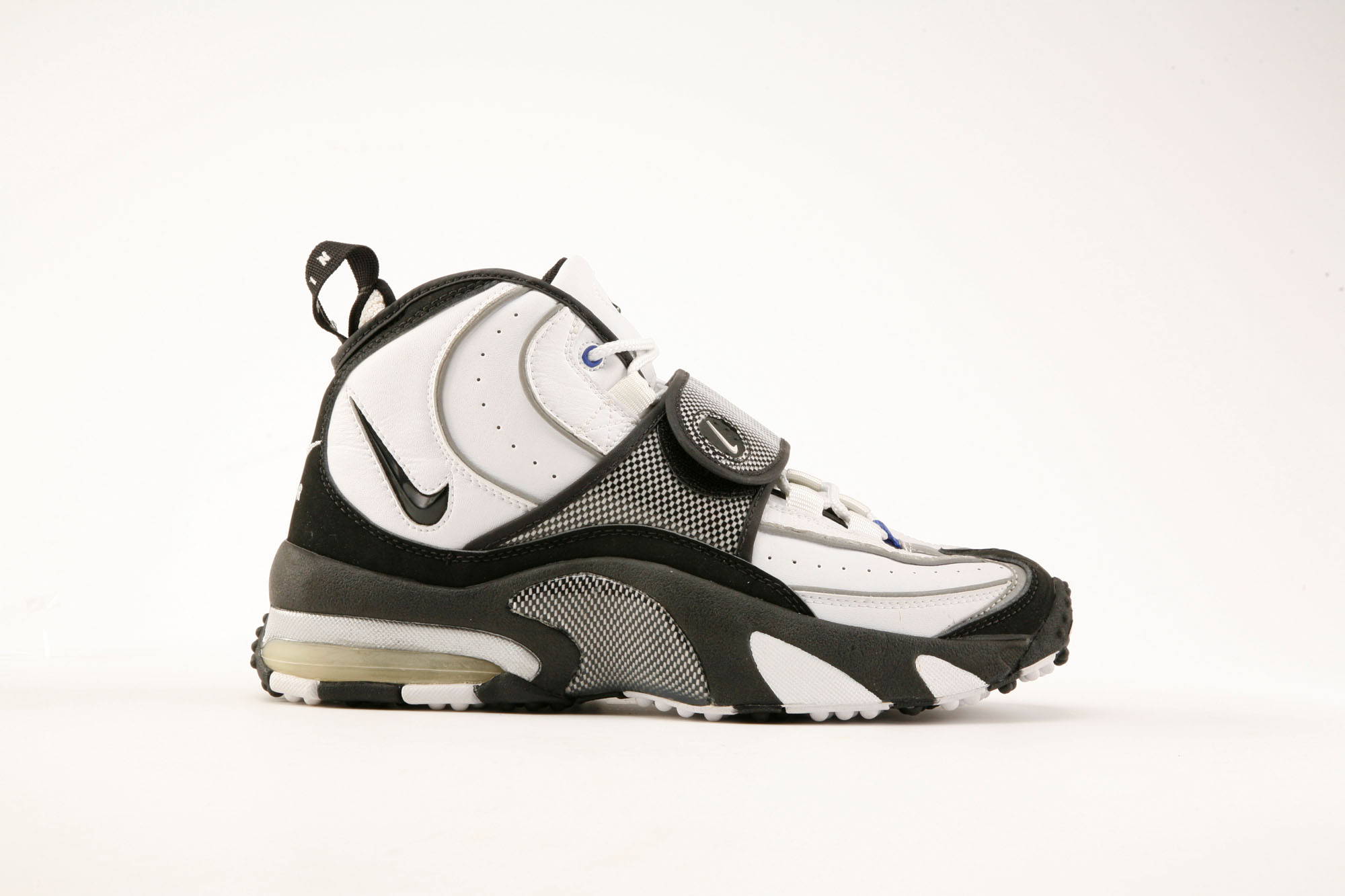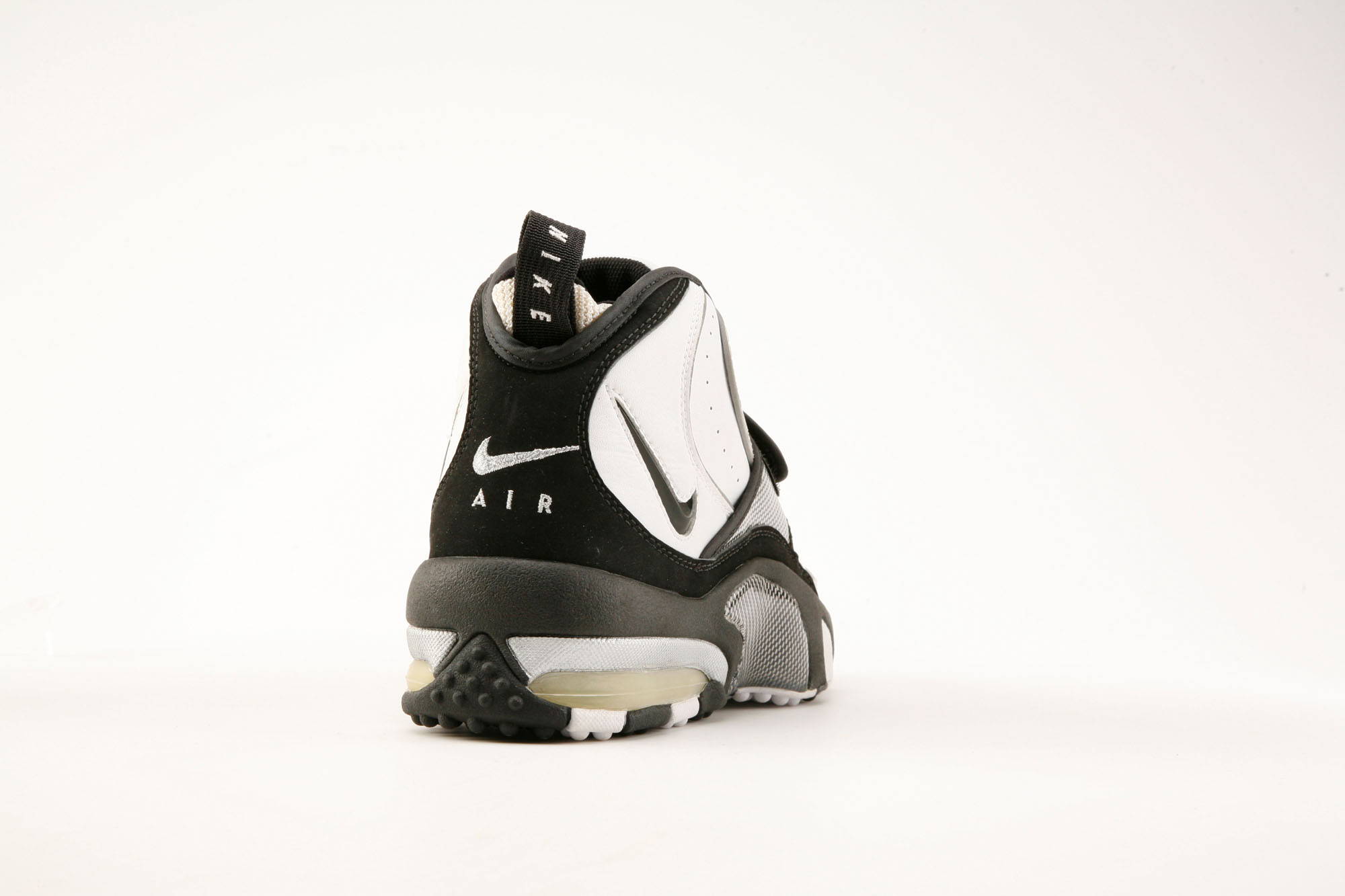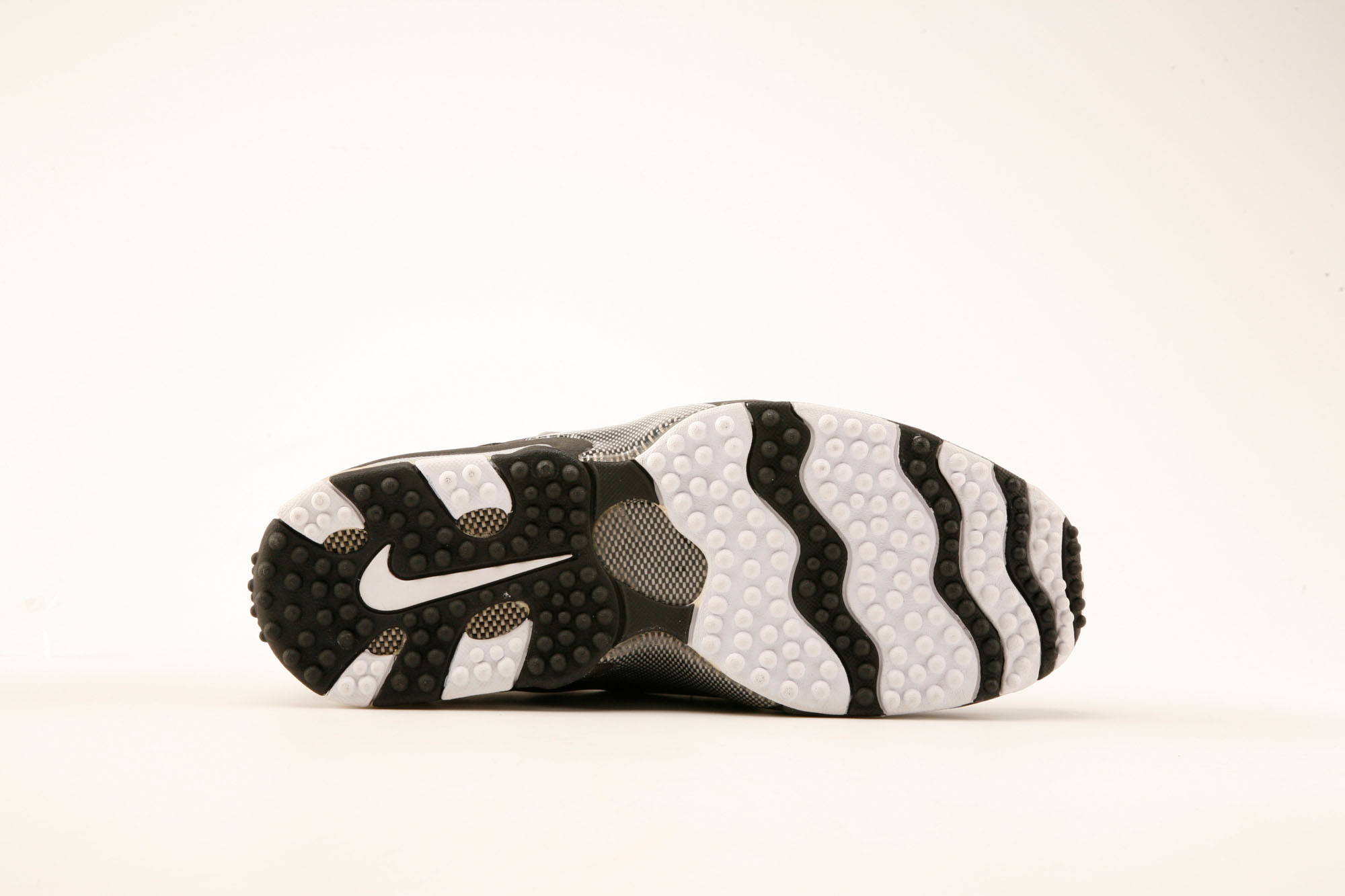 ---
1997 Air Cover Max:
The high top, lockdown strap design was utilized on more than one artificial turf shoe. Tinker Hatfield himself applied these elements to 1997's Air Cover Max, which combined the durability of synthetic leather, the breathability of mesh and the support of a midfoot strap with Max Air cushioning. The dynamic performance qualities were backed with a rugged yet fashion forward design, with multiple Visible Air windows standing out as a highlight.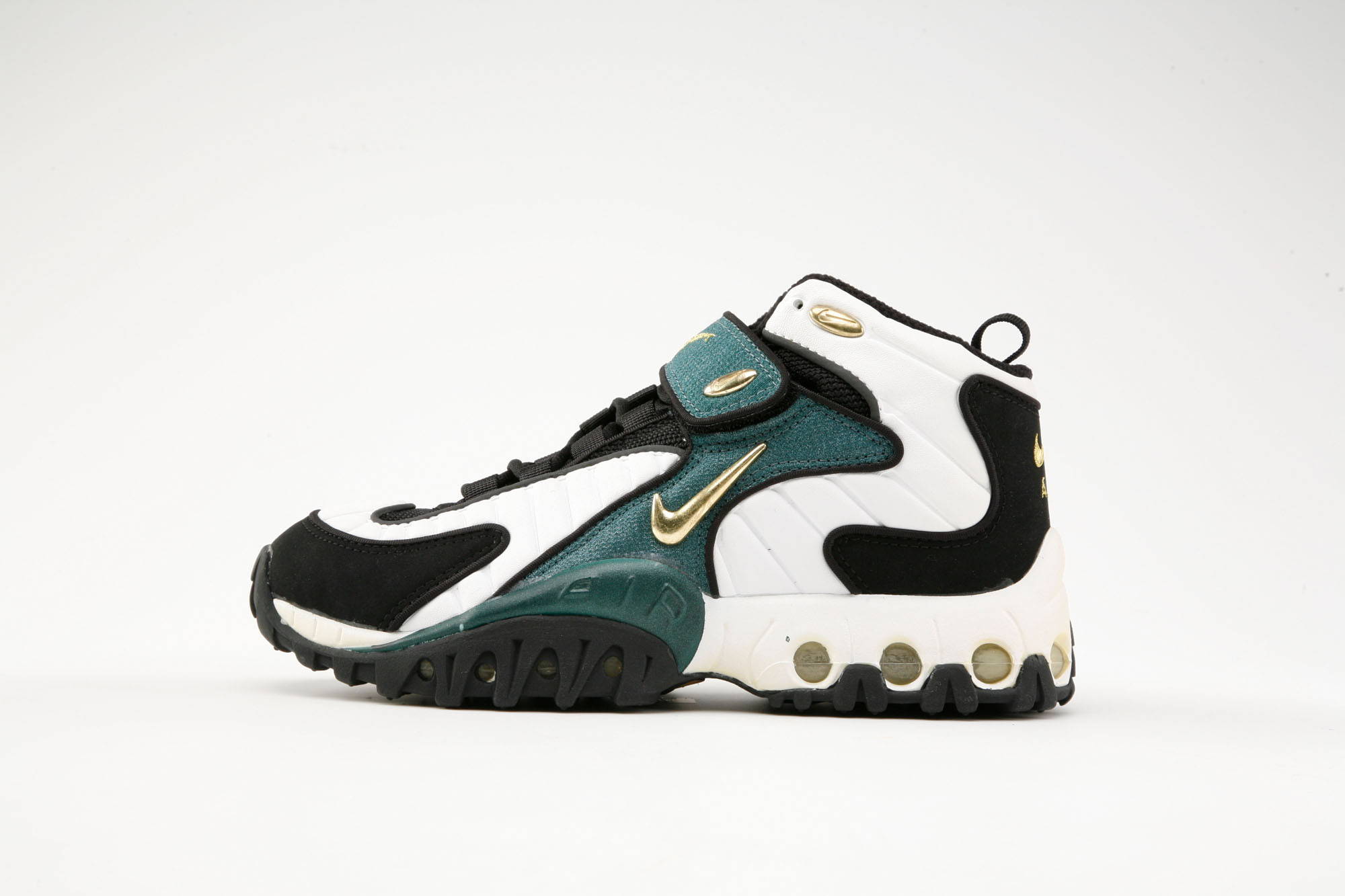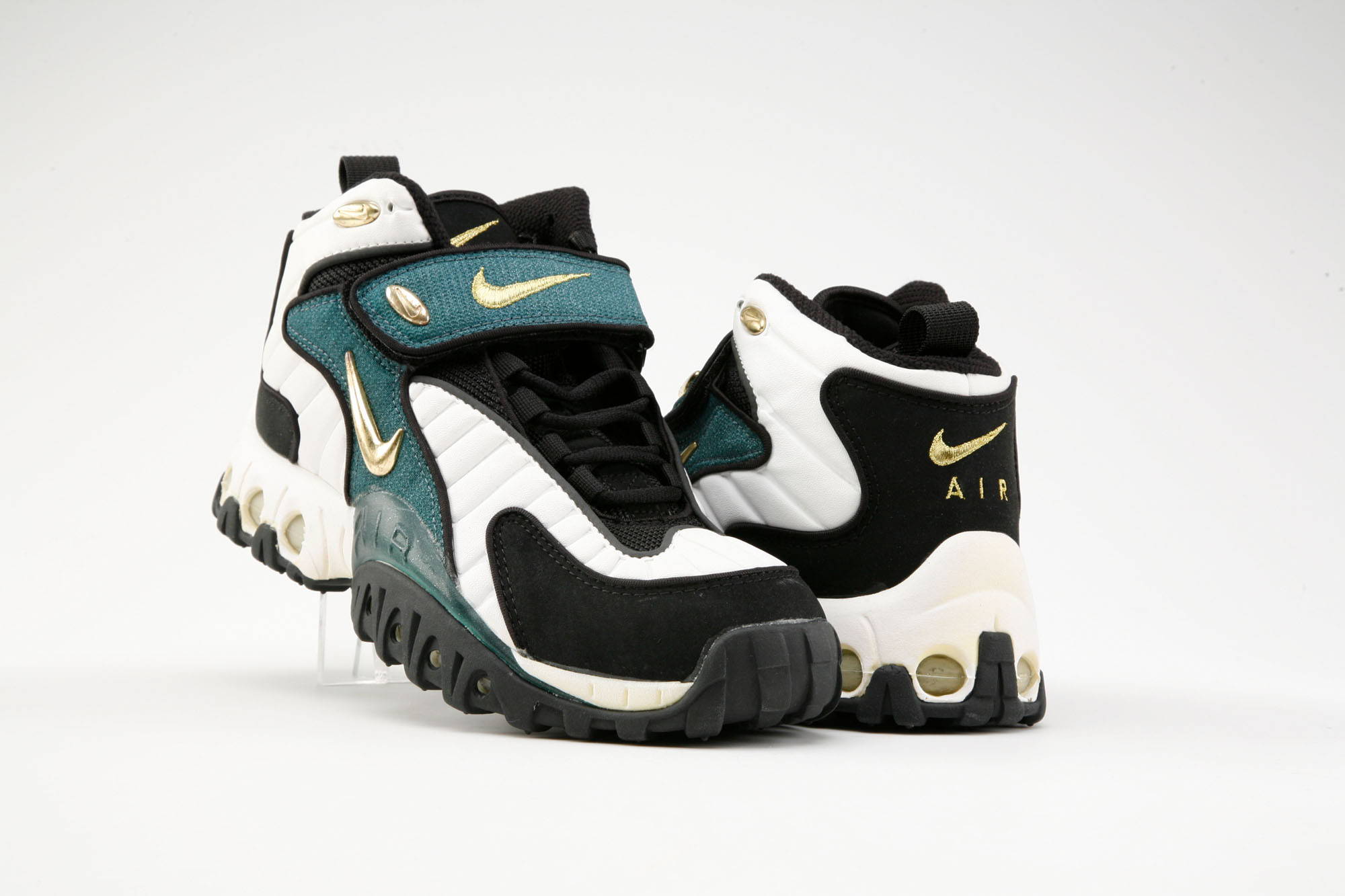 ---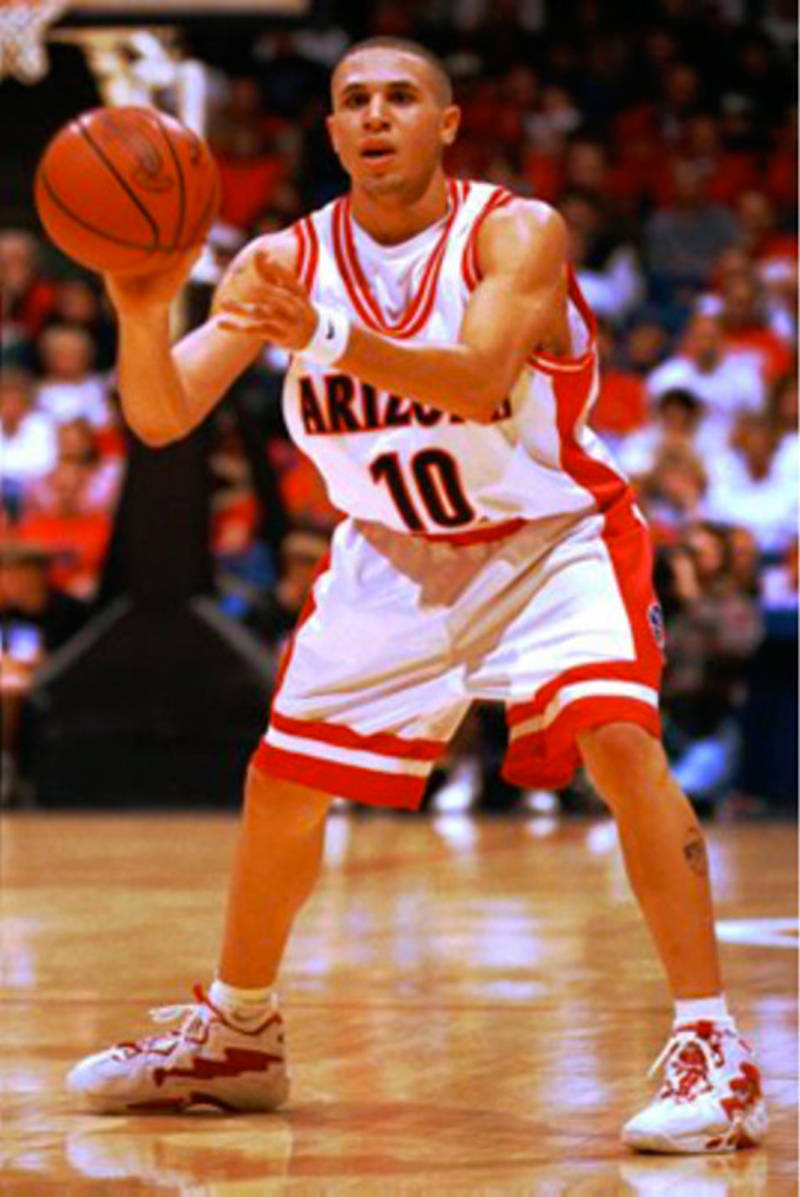 1997 Air Flight Max:
Of all the Air Max models that have remained archival, 1997's Air Flight Max has to rank amongst the most surprising. Boasting Air Max units in the heel and forefoot, the shoe was worn by Kevin Garnett during his rookie NBA season and by Mike Bibby as he led the University of Arizona to an NCAA title. The on-court performance of the shoe was equaled by a striking design. A suede upper, quintessentially mid-'90s, aerodynamically rounded bulk and fashionably wavy overlays, the Air Flight Max fits in alongside contemporary favorites like the Uptempo, Air Pippen and the Air Shakendestruct.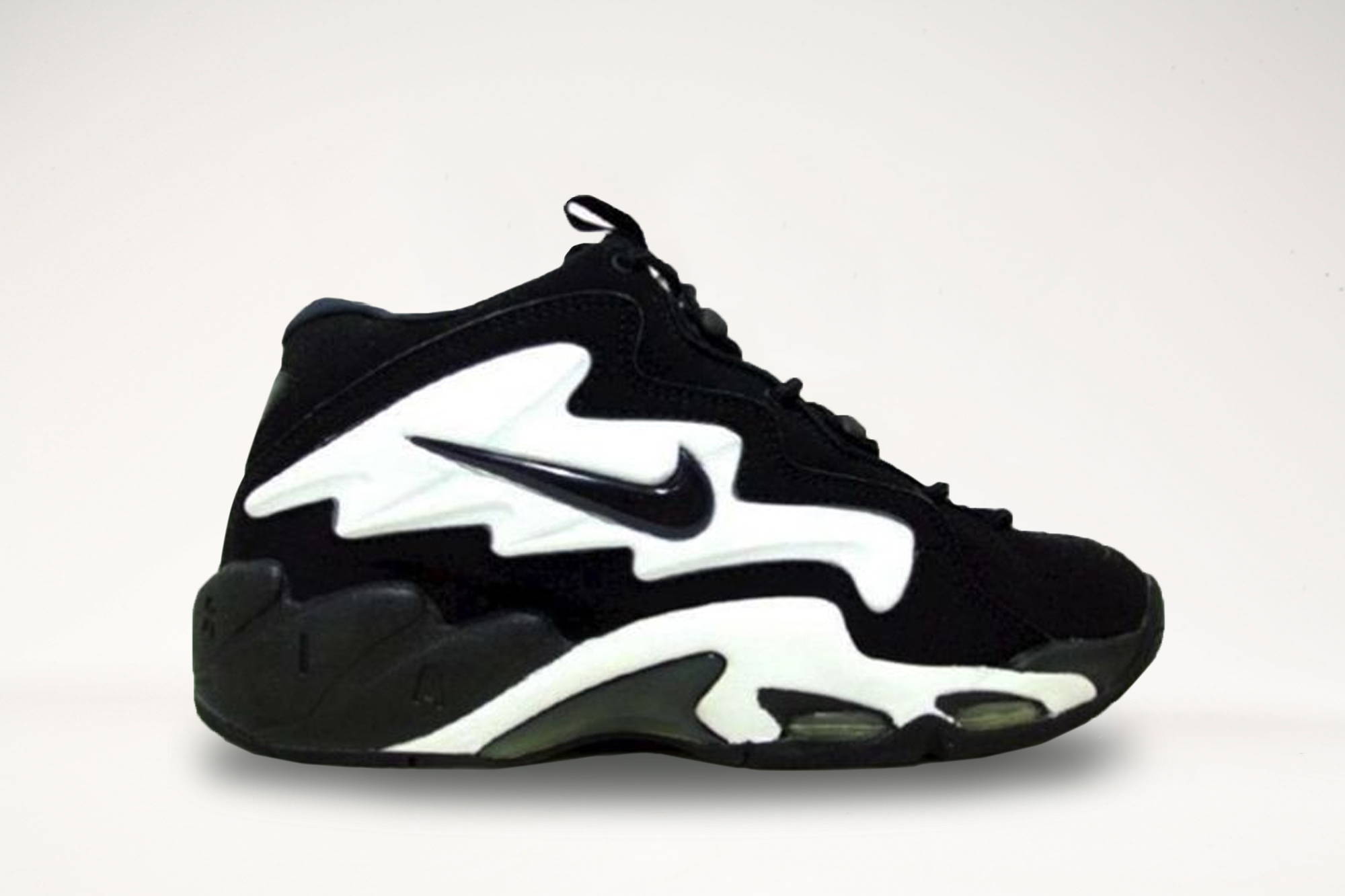 ---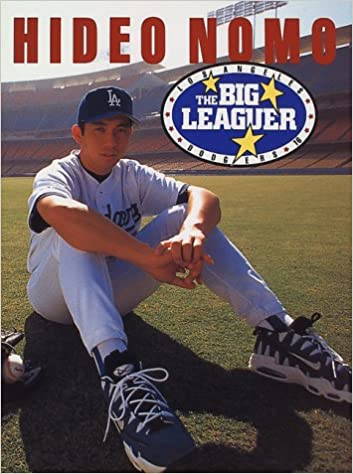 1997 Air Nomo Max 1:
It's difficult to overstate the impact that Hideo Nomo made on baseball, on both sides of the Pacific. Nomo left the Osaka based Kintetsu Buffaloes under contentious circumstances by retiring as an active player, to escape the reserve clause contract system. After paving the way for more NPB players to make the jump to America, Nomo signed with the Dodgers in February 1995, and arrived in the United States to a game in disarray. The labor dispute and subsequent players' strike that cancelled the 1994 World Series had left a large number of fans embittered and cynical. Nomo's rapid ascent in the major leagues was probably the first wholly positive attention paid to baseball by the general public since the strike. These dominating performances resulted in Hideo Nomo becoming the first Japanese athlete to receive a Nike signature model.
Nomo's unorthodox, corkscrew pitching windup was an integral part of his mystique, and this aggressively radical approach simply had to be reflected in the design of his signature shoe. Equipped with Max Air in the heel and forefoot, the Air Nomo Max featured prominent Visible Air windows of varying sizes and a mesh upper overlaid with leather. The futuristic design actually has been reissued once, as the Air Max NM in 2011, but with another decade gone since then, the Air Nomo Max 1 is once again tantalizingly out of reach.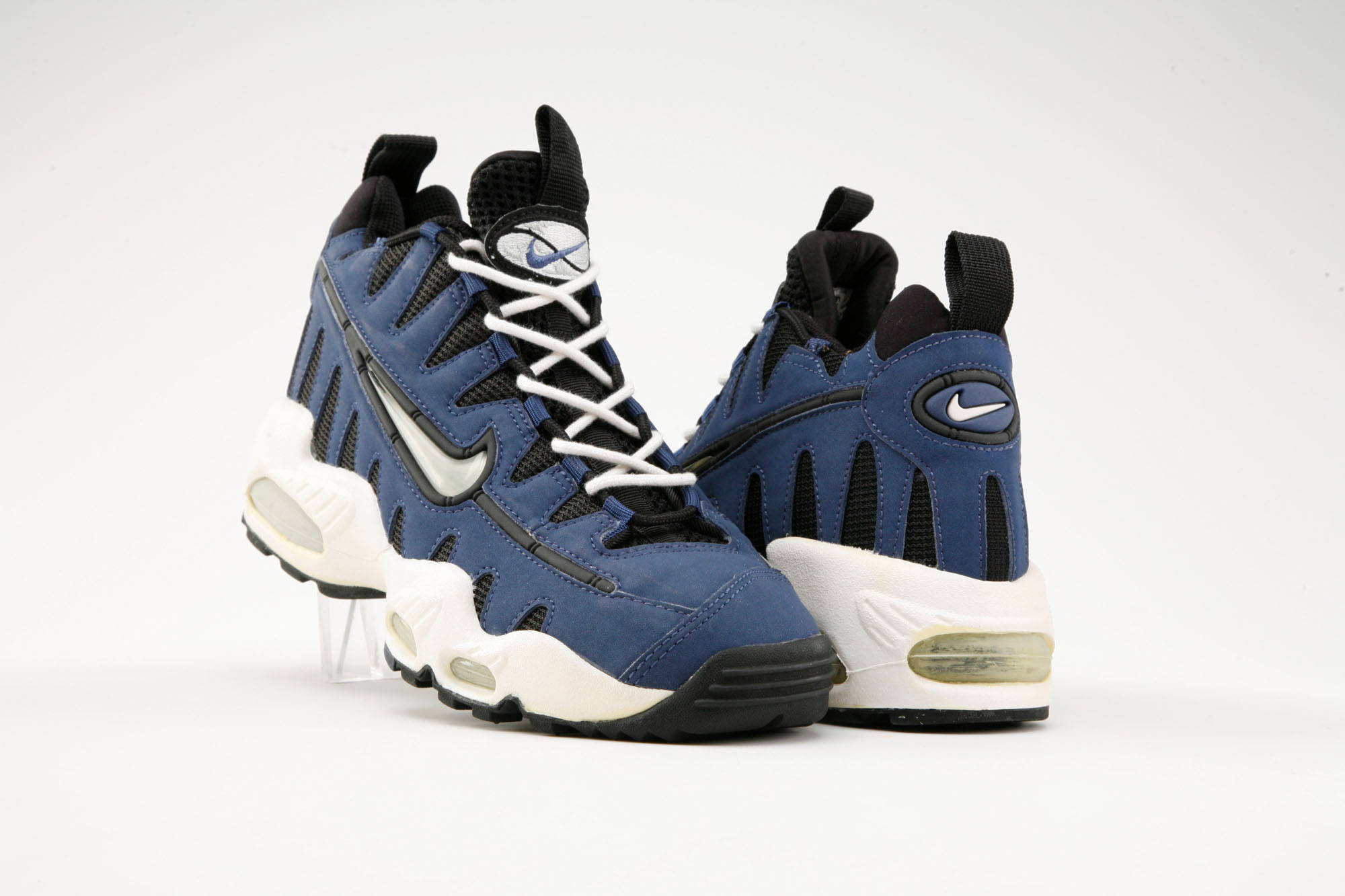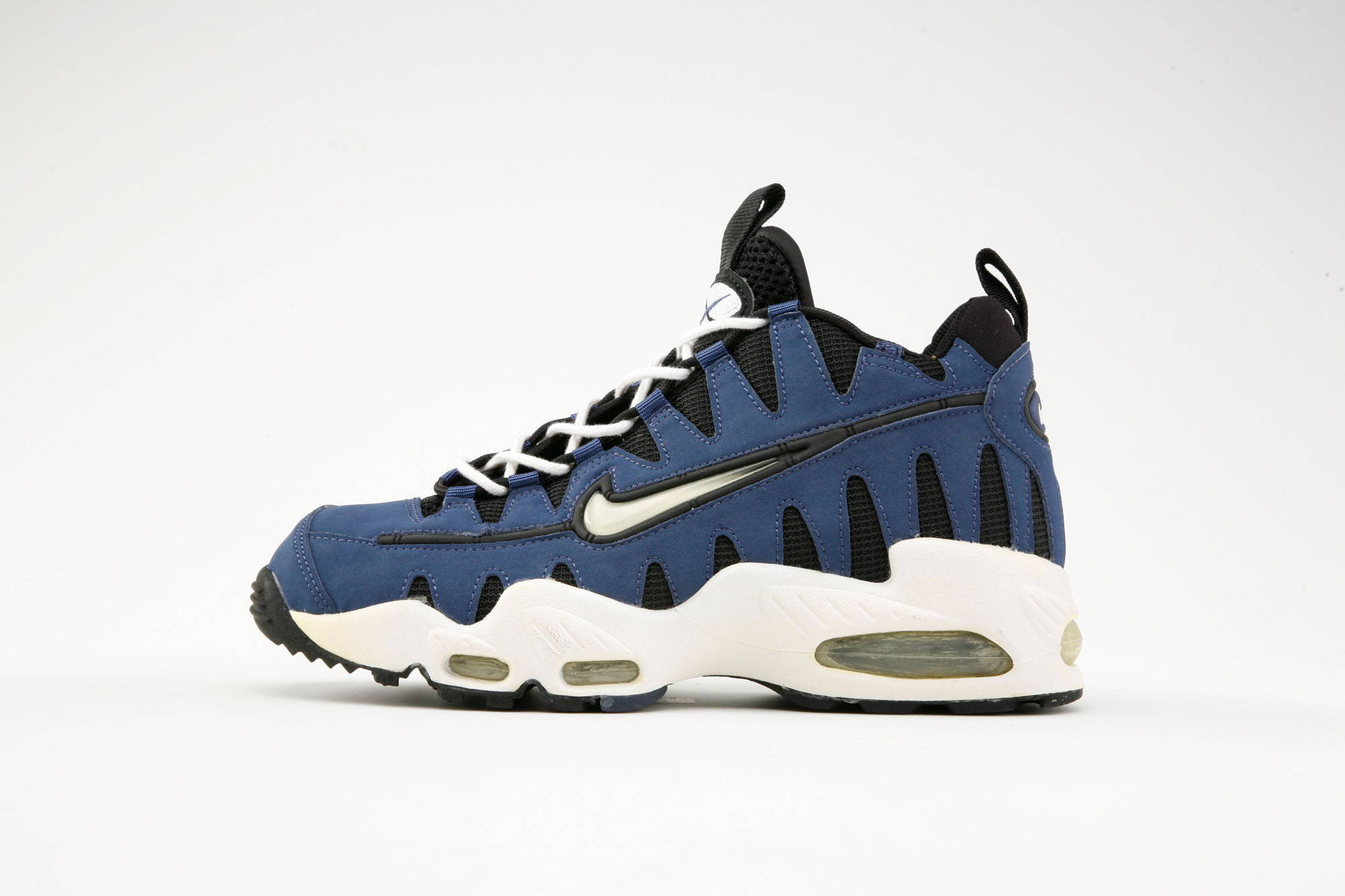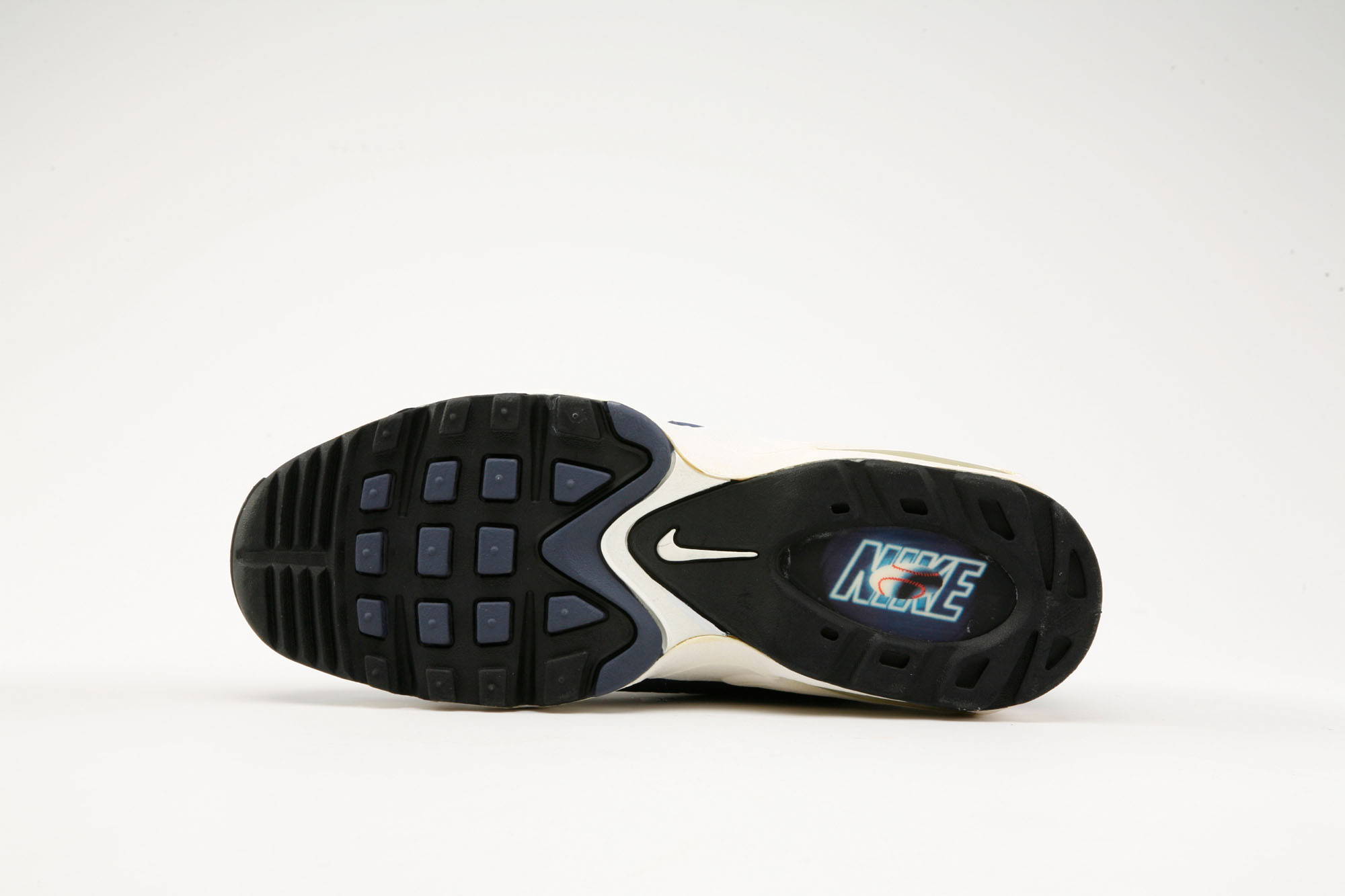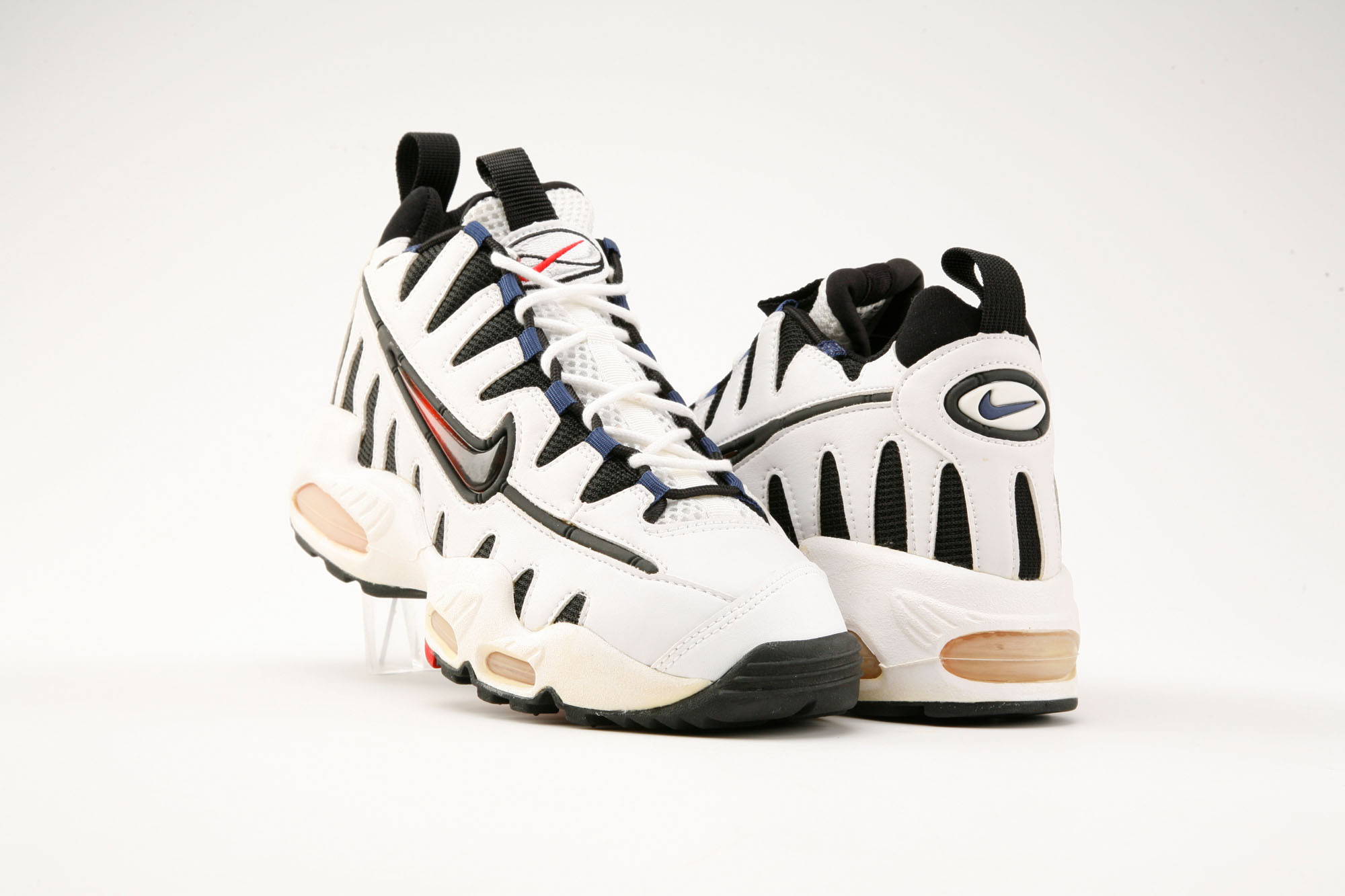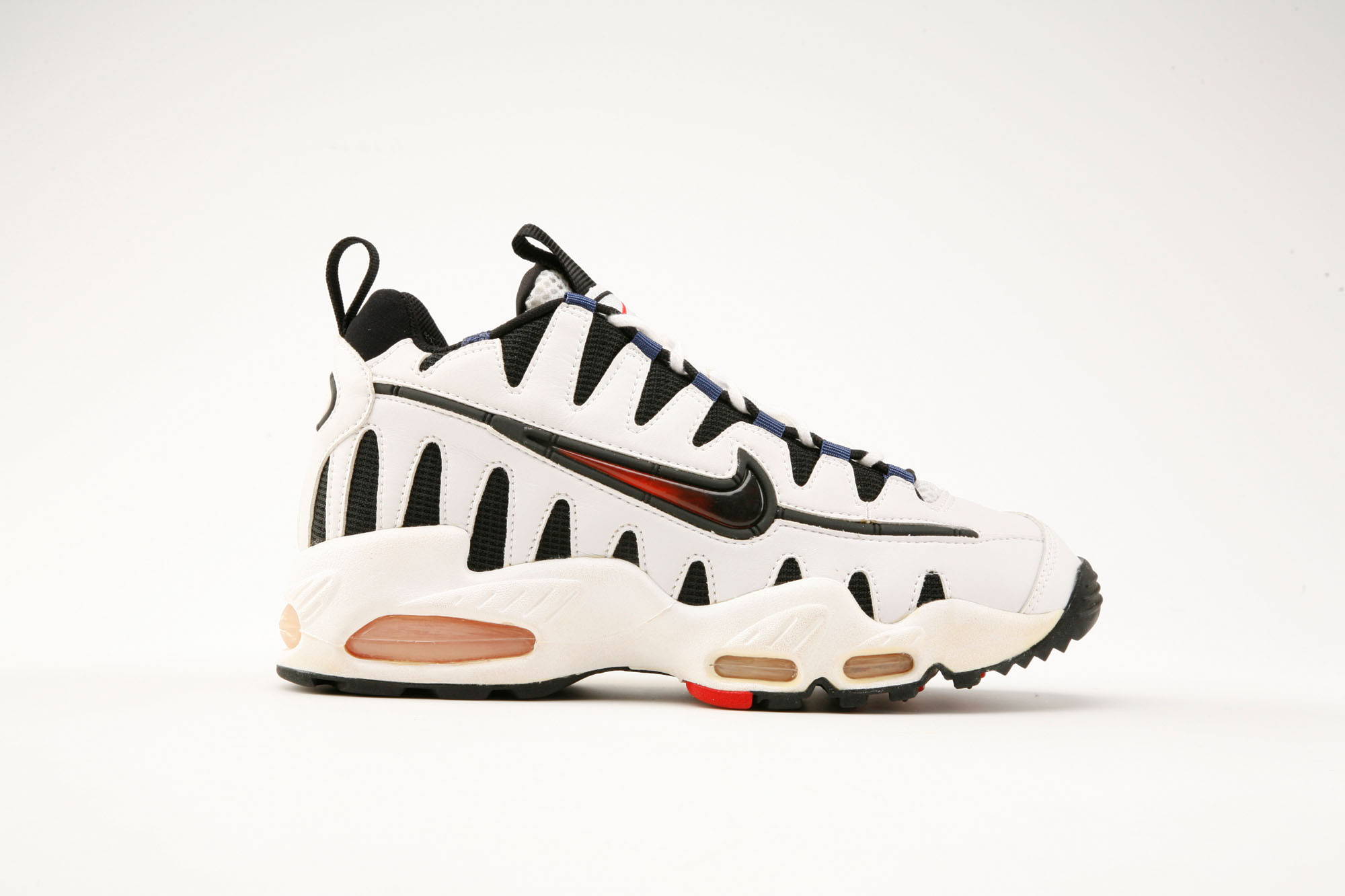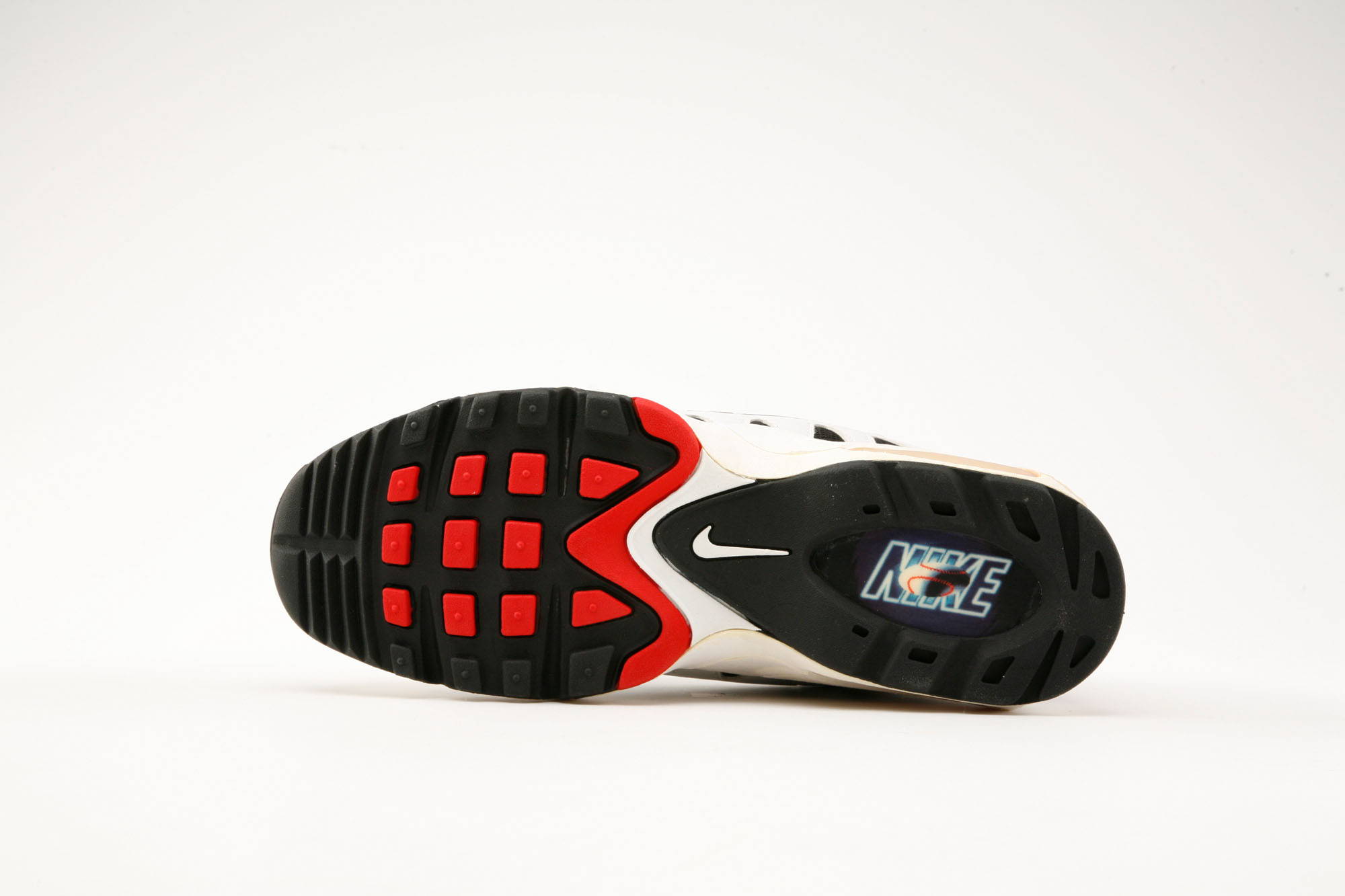 ---
1997 Air Diamond Turf IV:
The fourth Nike signature model for hall of fame cornerback Deion Sanders, the Air Diamond Turf IV was practically a real life comic book team up. That's because the high top turf model was designed by Air Max 95 designer Sergio Lozano. The standard football ready elements like a midfoot strap, high, ankle supportive cut and Air Max cushioned heel were applied to a design more than worthy of Deion's 'Prime Time' persona. Subdued Nike branding at the sides contrasted the boldness of the ankle and strap branding, which featured oval elements, containing the Nike Swoosh against a lightning bolt background. With turn of the millennium fashion coming back around, there are probably a number of white track suits that wouldn't mind being paired up with Deion's high stepping shoes.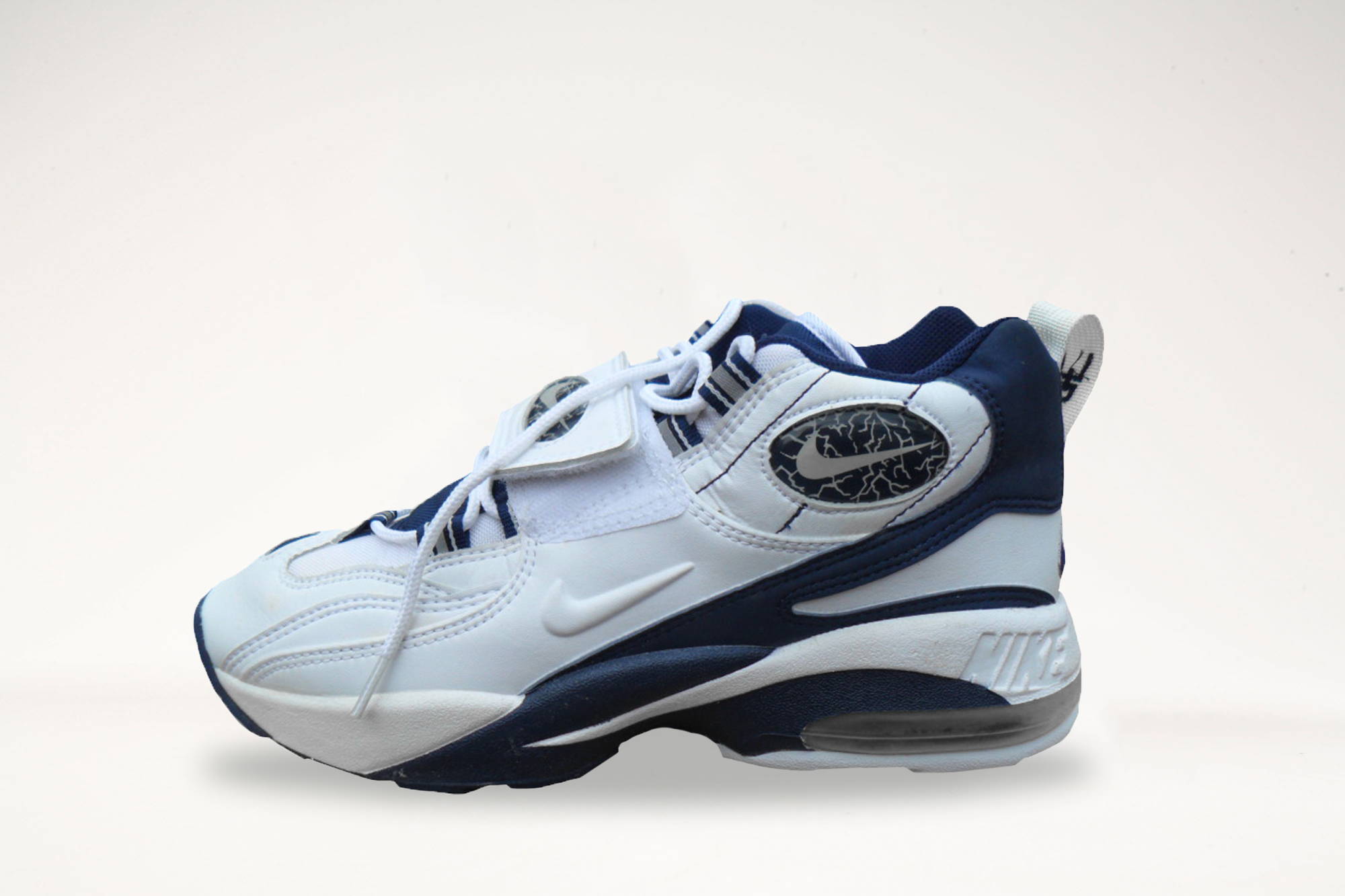 ---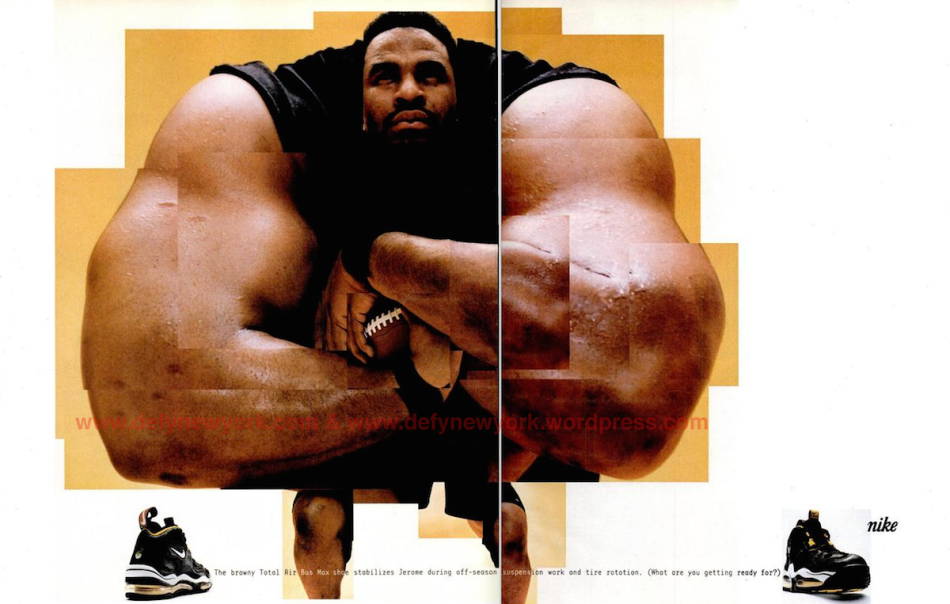 1998 Total Air Max Bus:
As you may have guessed from the name, 1998's Total Air Max Bus was the signature model of Steelers legend Jerome Bettis. Like the mode of transport that inspired his nickname, Bettis was not necessarily the most glamorous mode of transportation out there, but could always be relied upon to reach its destination. There was one major difference between football's Bus and the regular bus, however. Bettis combined imposing bulk with maneuverable speed and agility. The Total Air Bus Max was designed to support the former without impeding the latter. A rugged, thick leather upper housed an inner bootie, for a fully snug and controlled feeling fit, while a full length Air unit provided for lightweight, downfield run ready cushioning.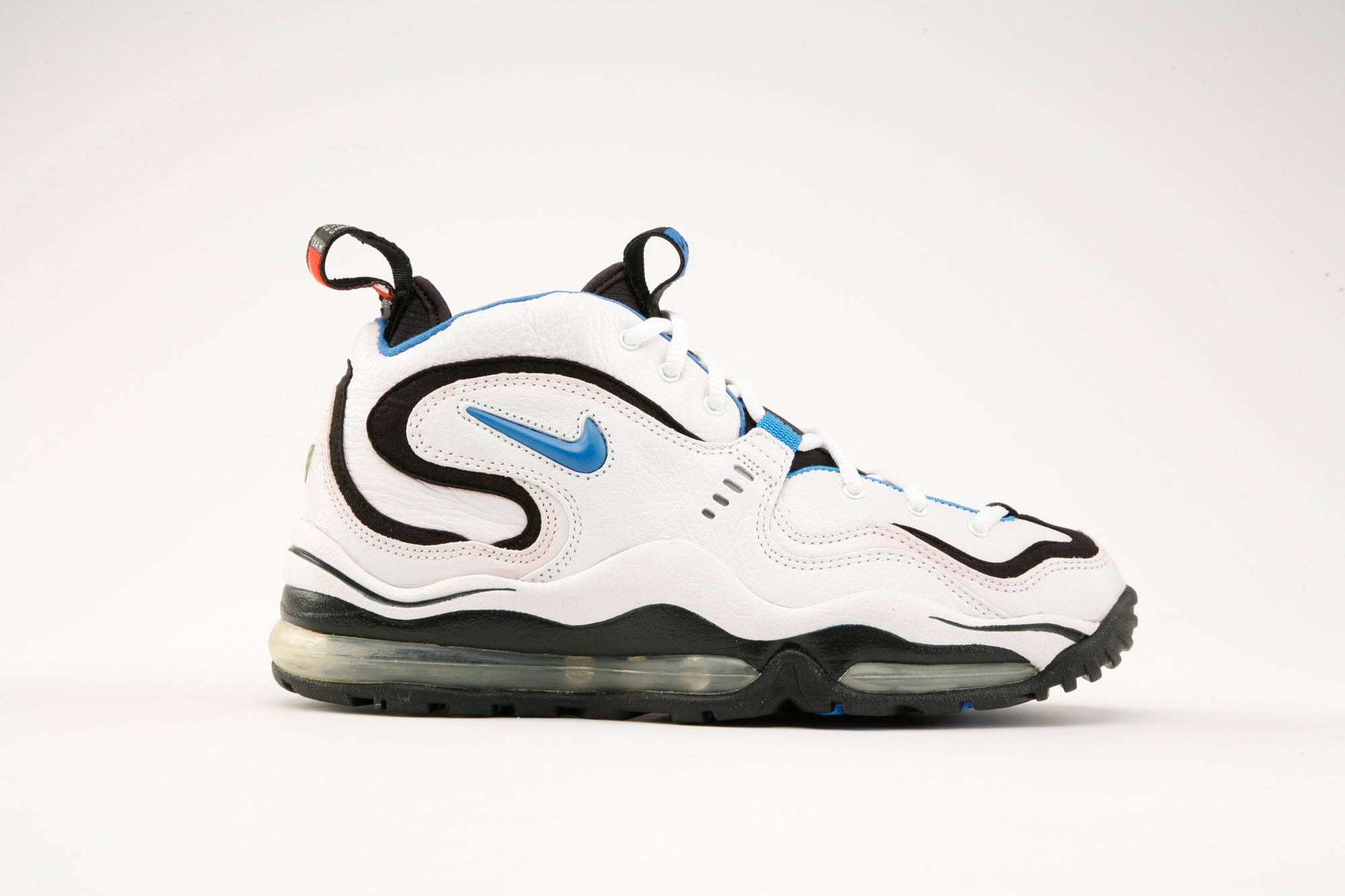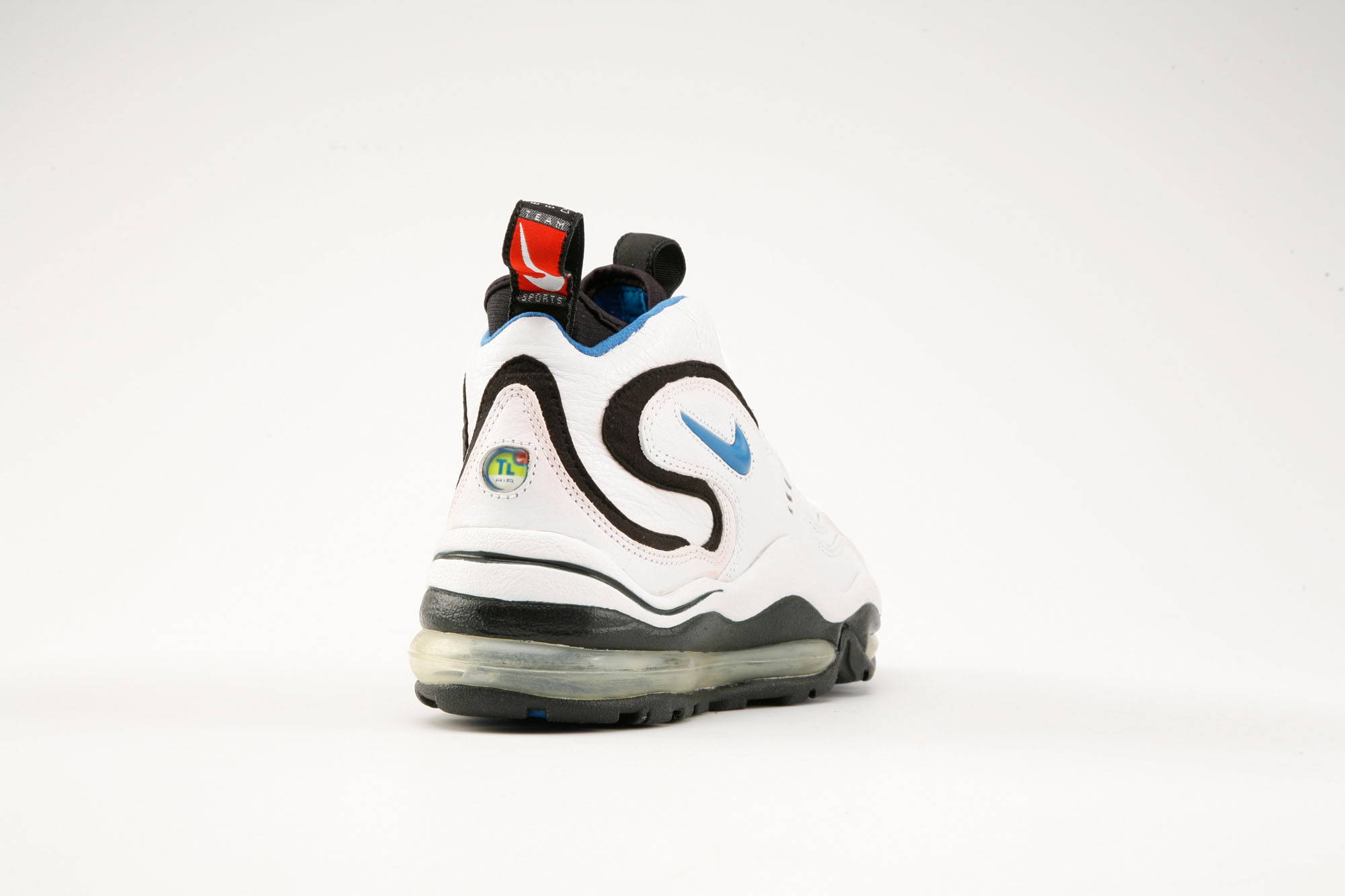 ---
1998 Air Max Battle Force:
A name like Air Max Battle Force is quite a promise to live up to. Designed for the punishment dished out to footwear and anatomy by basketball's big men, the Air Max Battle Force was a supportive high top featuring premium leather and a contrasting, neon, full-length Air sole. Appropriately enough, the Battle Force was debuted by the Admiral, David Robinson of the San Antonio Spurs. The upper's ribbed texture leather and a wavy midsole design are elements that wouldn't look out of place on an ACG hiker. They wouldn't look out of place in a contemporary fashion context either.