Born and raised in South Gate, California, Alejandro and Vicente Perez are a set of twins turning their love of art and their upbringing immersed in LA's Low Rider culture into a passionate painting practice.
With subject matter focusing on low-rider car shows, their work often documents hydraulics in motion, as tricked-out vintage sedans and coupes achieve a higher vertical than the average NBA player. When they aren't hopping, the cars are seen stationary or mid-stride, always featuring immaculate paint jobs, chrome detailing, and reflections so realistic, you'd think they were photographs.
Often populated by crowds of onlookers, you realize the Perez brothers don't deal in glamor shots but slices of life. Pure documentation of the environment they grew up in, suspended by time with their knack for freeze frames and accentuated by stark white backgrounds. And it's this signature style and what it represents that had us stoked to sit down with the dynamic duo for a Creative Community feature. From hearing about the low rider to art pipeline to their inspirations over the years - which include Mister Cartoon and the Hardy Boyz - we get into it all.
So without further adieu: The Perez Brothers!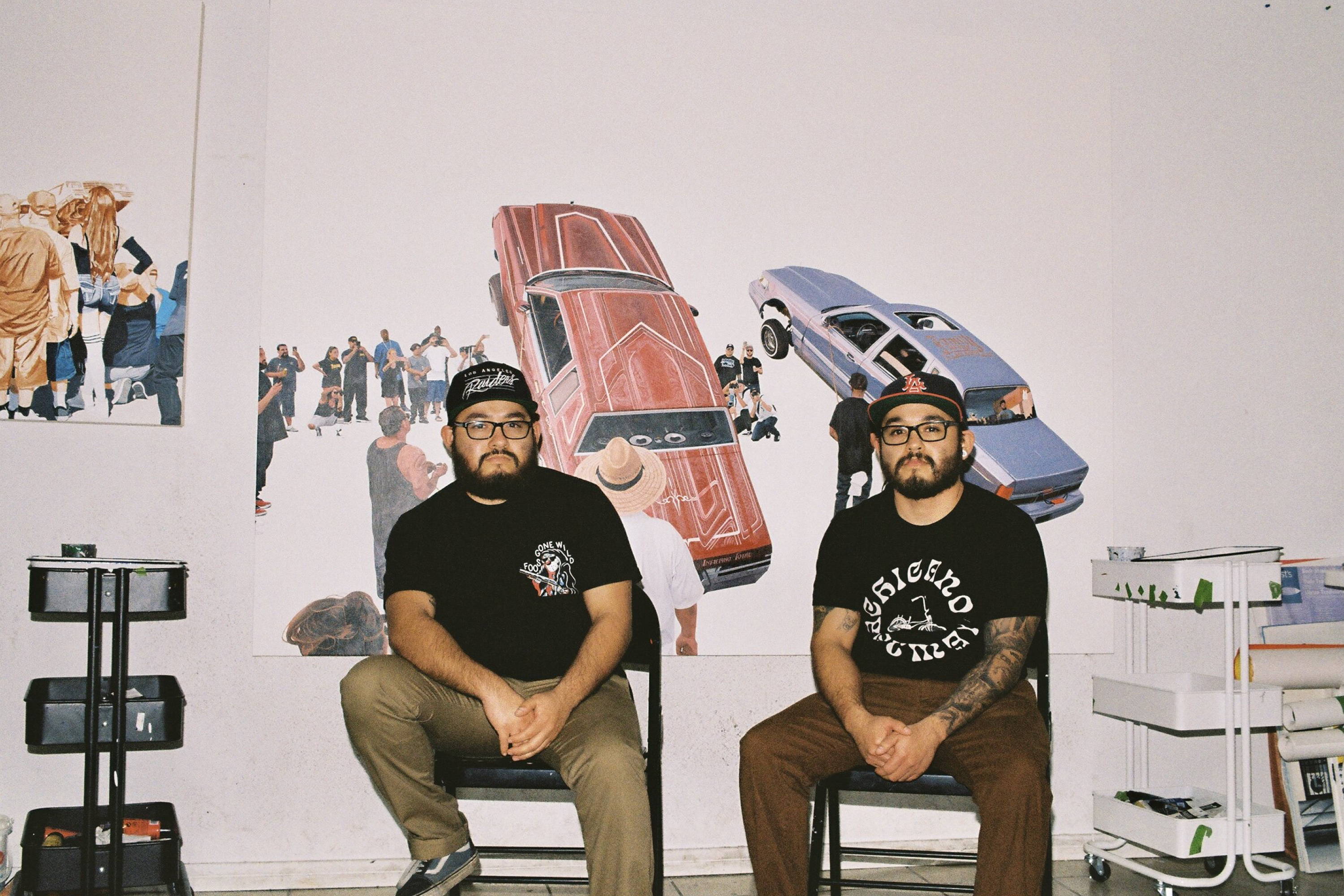 Q: What were your introductions to art and how did you foster it growing up?  
As far back as we can remember, we would always be drawing. We remember having drawing sessions with our uncle, we would draw comic book characters. We fostered it by just continuing to draw. We would make sure to take an art class in school every year.
Q: While growing up in South Gate, CA did you have friends on the block or in school who were into drawing/ painting as well?
We knew a lot of people that did graffiti, but at the time we saw it as gang related so we never got into it. By the time we were seniors in high school, we had a few friends that were into painting as much as we were, and we'd always try to be better than them.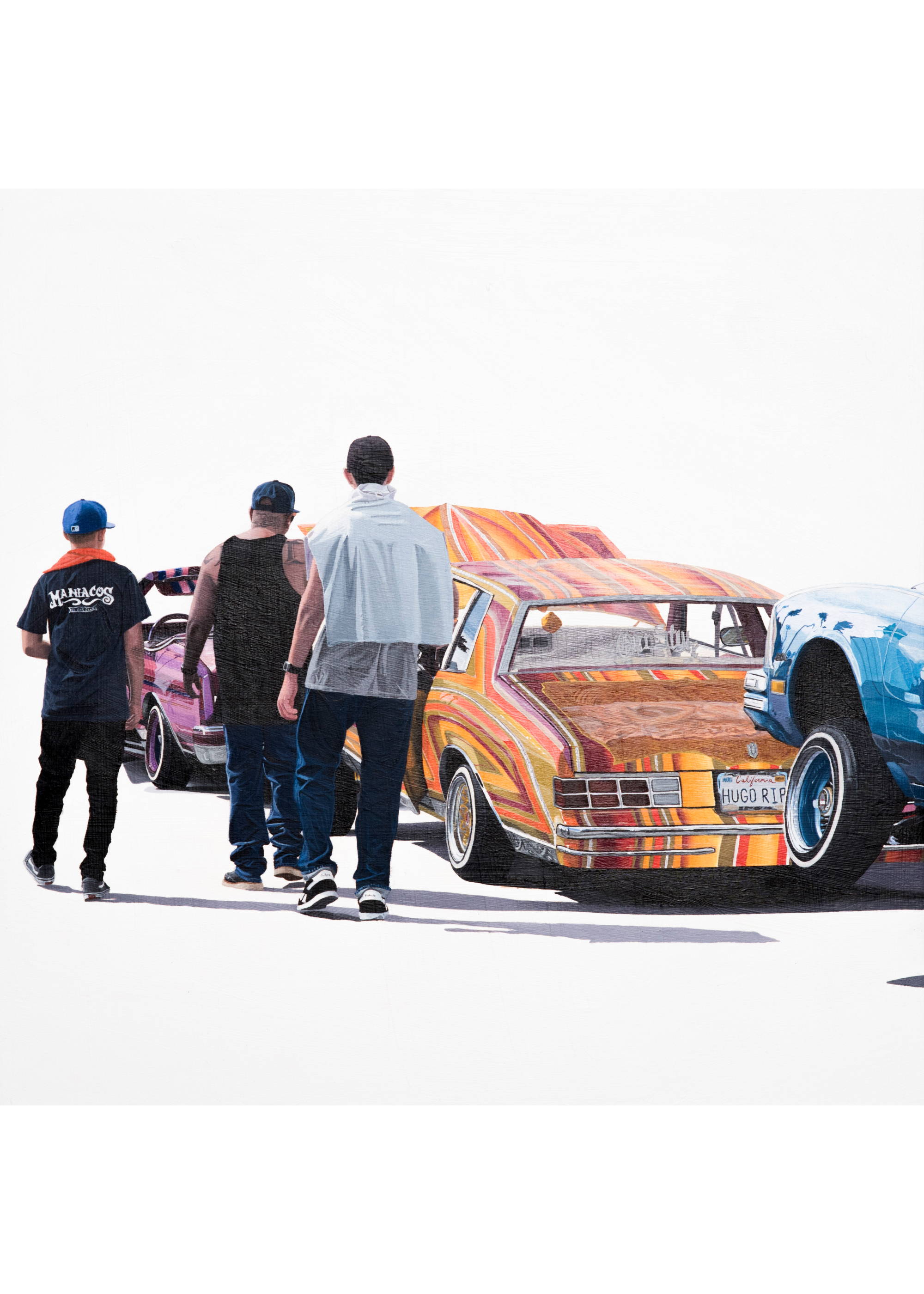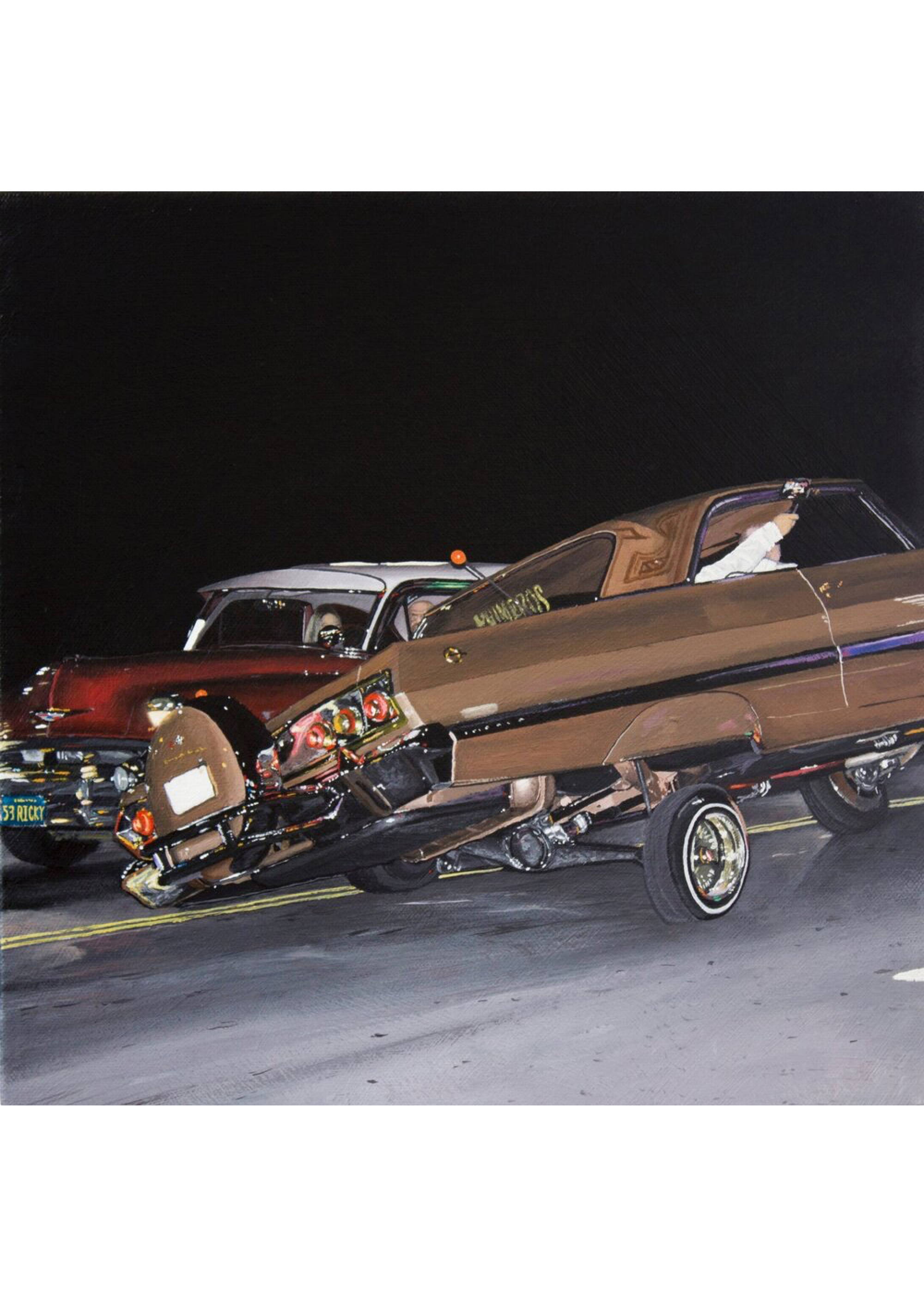 Q: Your AP art teacher sort of convinced you guys to go to Art School, right? How did your time at Otis College shape you guys as artists? 
We actually had a hard time in art school. Before we applied, all we knew was that we loved drawing and painting. We got there, and it was more concept driven. So we were simultaneously working on the type of work that we felt they wanted to see, and the type of work that we were actually in to. It wasn't until after art school that we realized that our work can be both conceptual and relatable.
Q: As twin brothers, have you two always worked in collaboration with one another in your art? What is the process like when you guys are creating together?
We first started to collaborate in our sophomore year of art school. The process is pretty much us bouncing ideas off of each other. When it comes to the painting part, we always stick to what we're good at.
Q: How artistic do you get with the photos you take at shows - which will go on to inform your paintings? Is it quick point-and-shoot style or are you hovering/ waiting for the perfect moments to capture?
It's a little bit of both actually. If we go to a show or cruise spontaneously we usually shoot photos with our phone, but if its planned than we'll shoot with our Canon. It's mostly point and shoot, but sometimes if there's a spot with a lot of action we'd hover for a bit.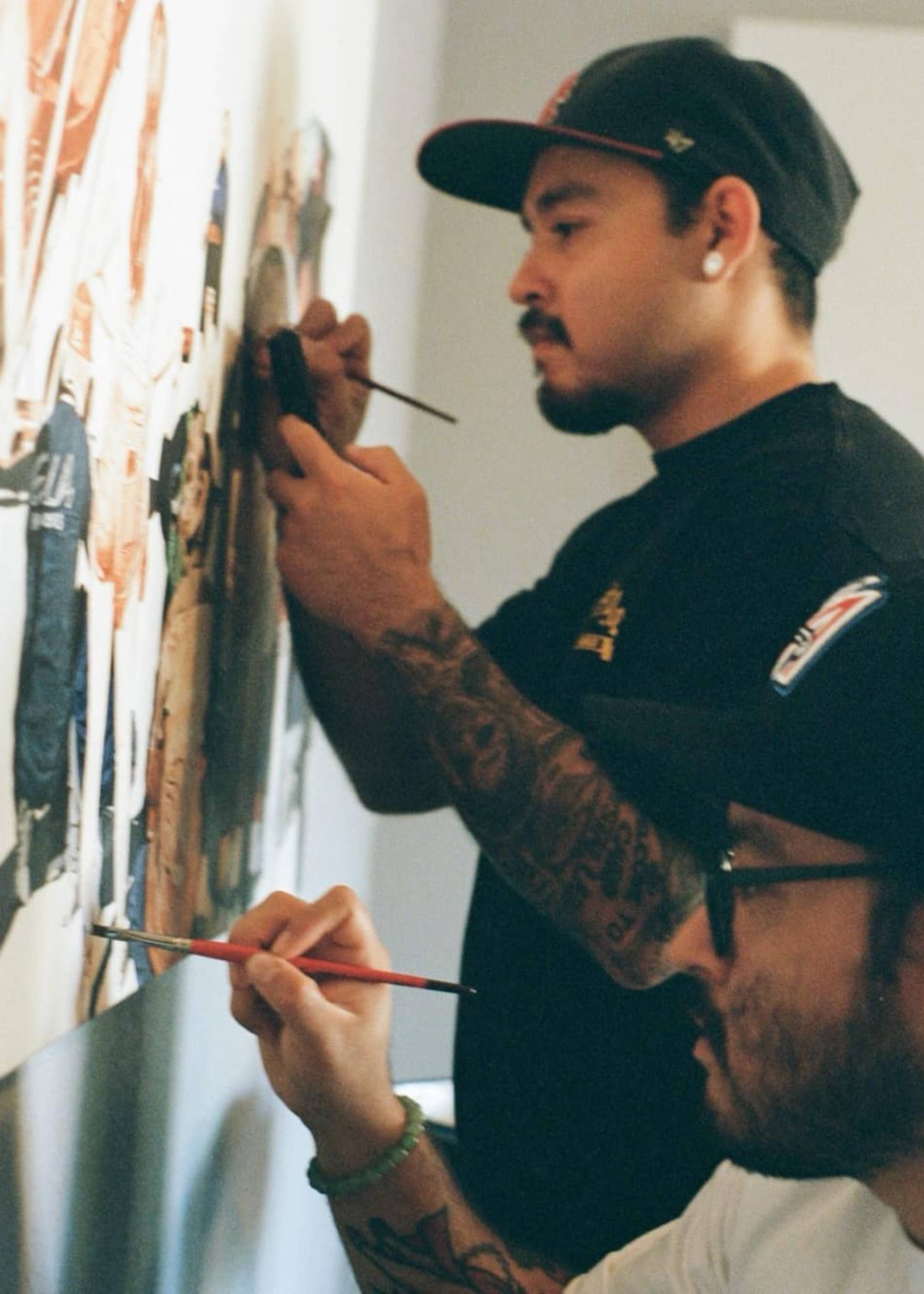 "We already saw Lowriders as a work of art, so we want to elevate the culture by bringing it into the art galleries."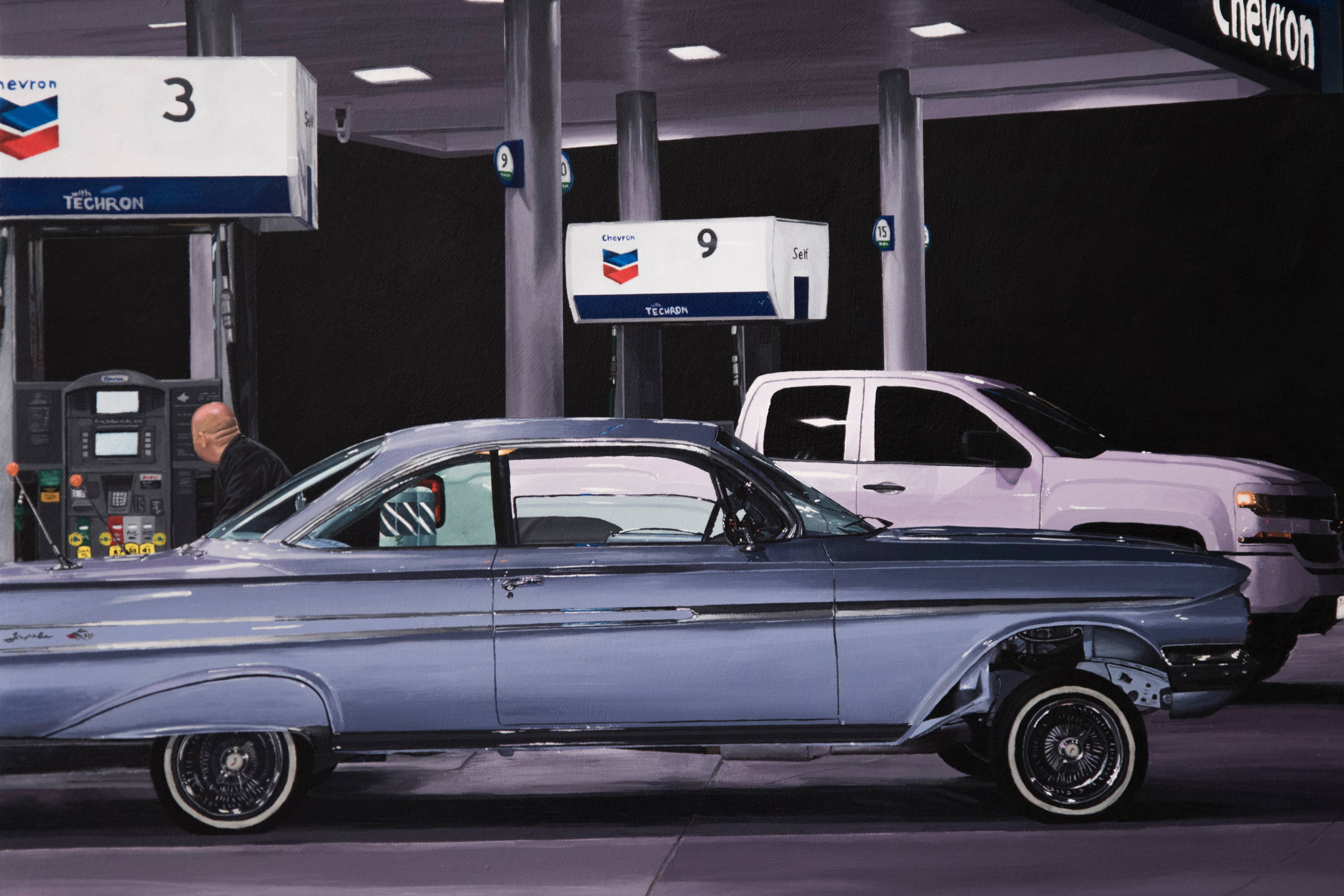 Q: Your dad was in the Low-Rider community as kids, what was that like? What kind of cars did he have around? We know a '68 Impala was in the mix.
It felt normal to us, we thought everybody went out cruising or went to car shows. Apart from the 68, he owned a few Caprices, and now he owns a 61 Impala. We were also around Mustangs because of our Uncle, he's owned quite a few of them.
Q: Did his involvement turn you two into car guys? Any dream cars you'd love to own? 
We don't think the Lowriders turned us into car guys, they turned us into art guys. We see Lowriders as works of art. Our dream cars would be a 1969 Mustang Boss 429 like in John Wick and a 1967 Shelby GT 500 like the one in Gone in Sixty Seconds.
Q: Being raised around low-rider culture, how did this community influence your work on the canvas?
We already saw Lowriders as a work of art, so we want to elevate the culture by bringing it into the art galleries. The only way that we know how to do that is through painting.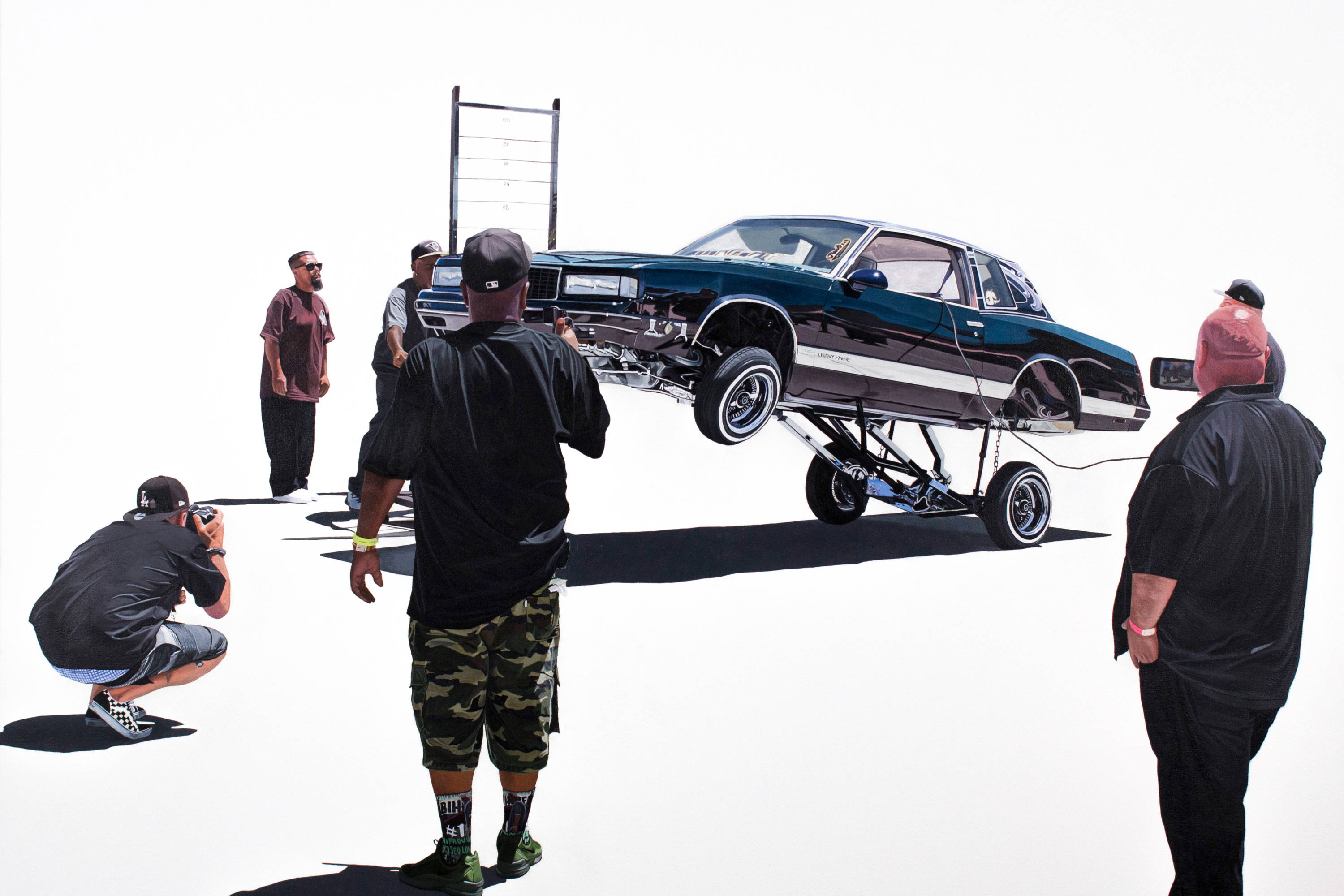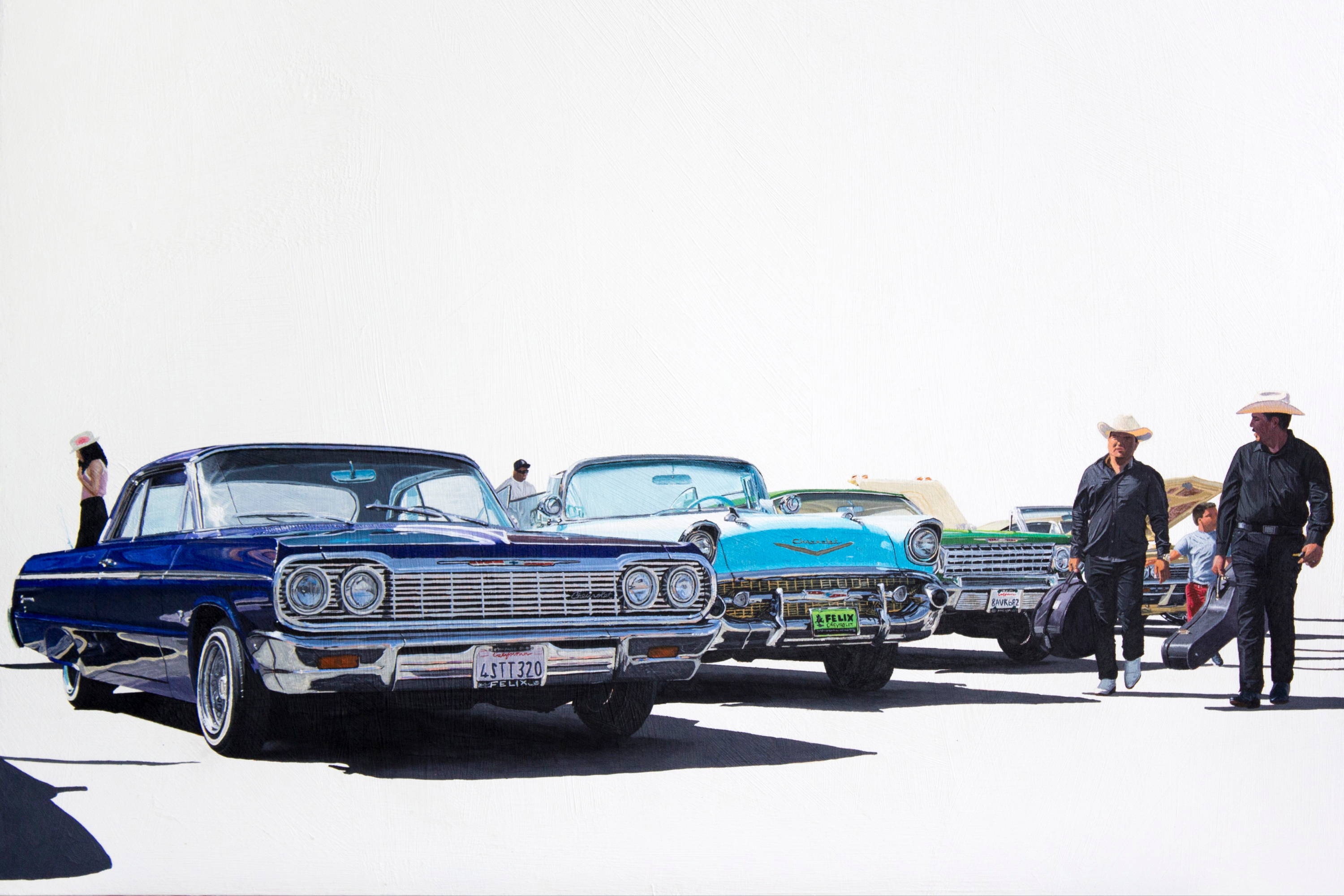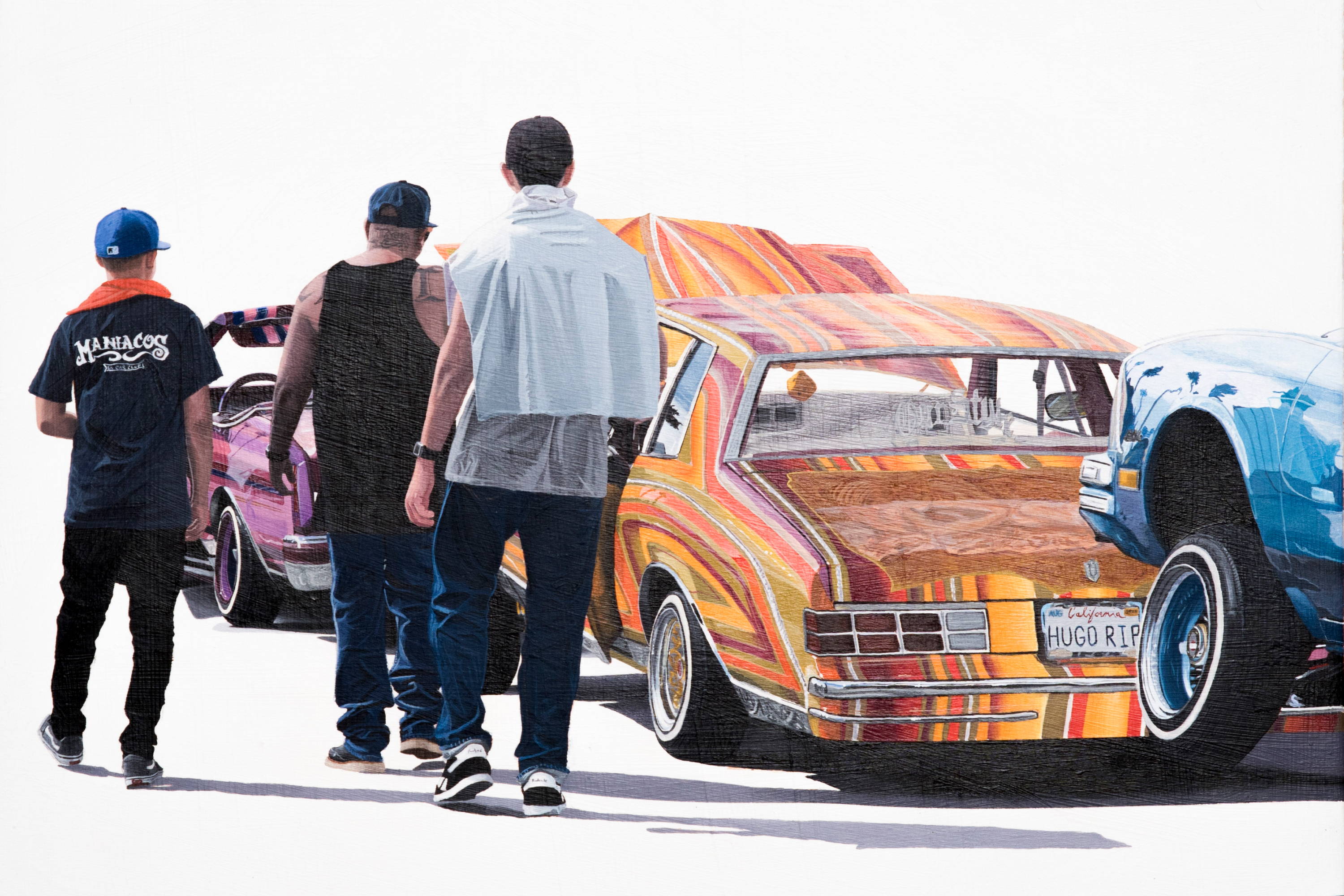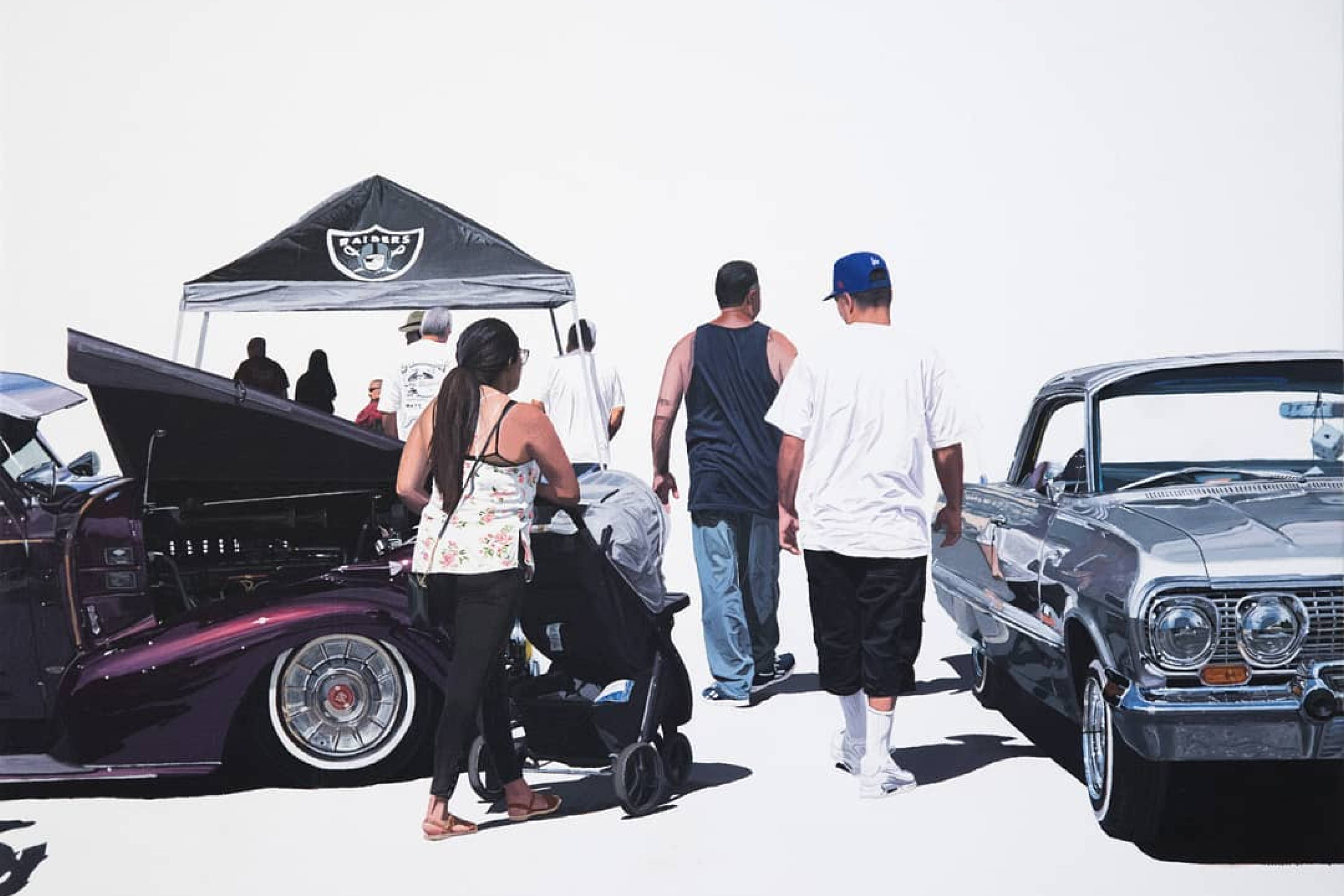 "In our paintings we remove the background and only paint the things that we feel are important, giving emphasis to the people in the community."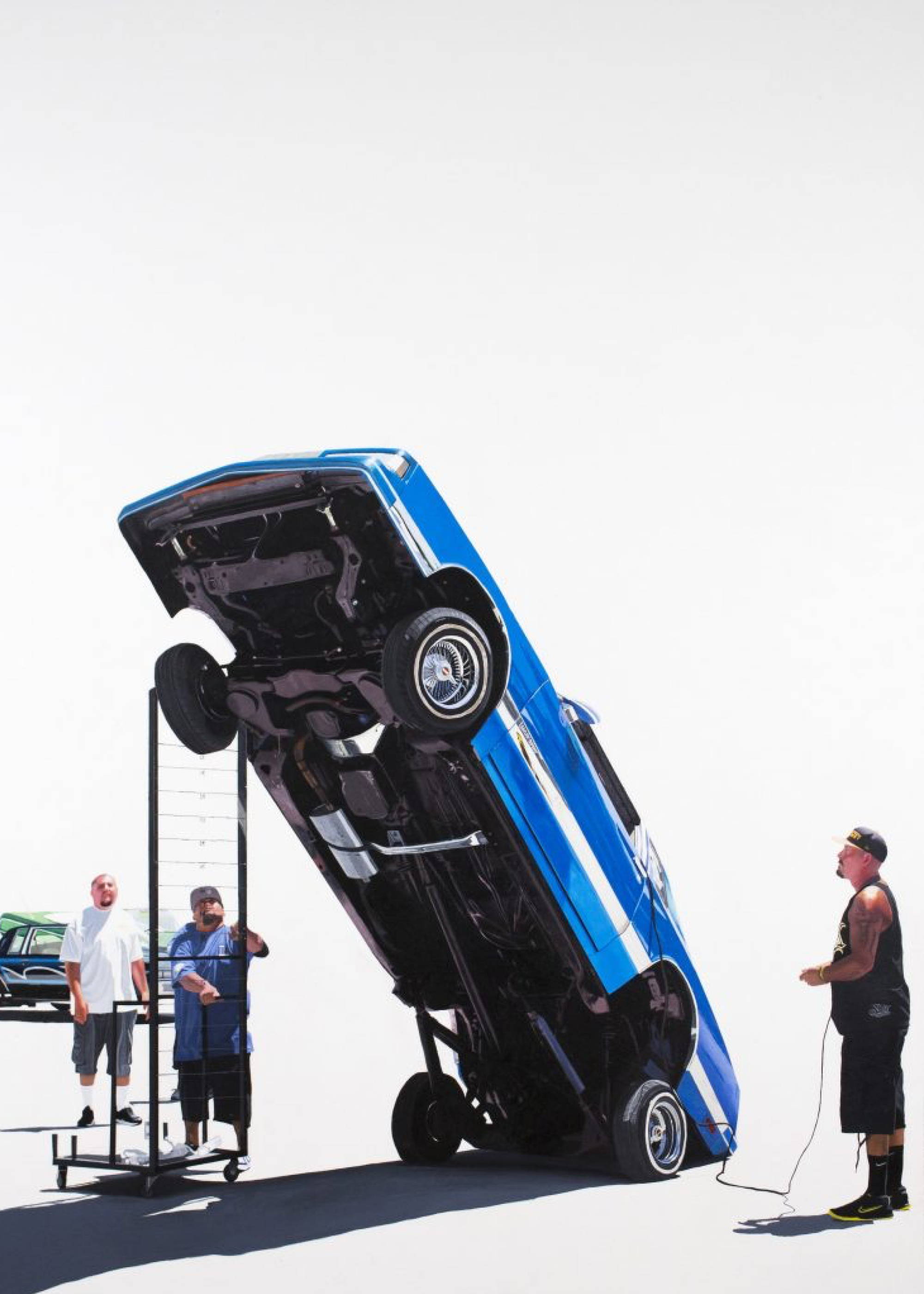 Q: What drew you to documenting car shows through paintings?
A big influence was Mister Cartoon and Estevan Oriol. We loved the way that they were bringing their love for the culture into the art world. They weren't just doing murals on cars, they were exhibiting their work. They taught us that it was ok to bring the culture out of the streets.
Q: Contrasting bright colors, chrome detailing, and hydraulics with the nonchalant looks of bystanders - all set in a white background - seems like such a pure expression of the low-rider scene - not to mention your guys' ability to suspend time with your freeze frame technique. Can you talk about how you landed on your specific style?
We loved looking through Lowrider magazines, and in them they have this section of lowrider car shows, but they only seemed to focus on the cars. Us always going to car shows, we realized that the people were just as important as the cars. So in our paintings we remove the background and only paint the things that we feel are important, giving emphasis to the people in the community.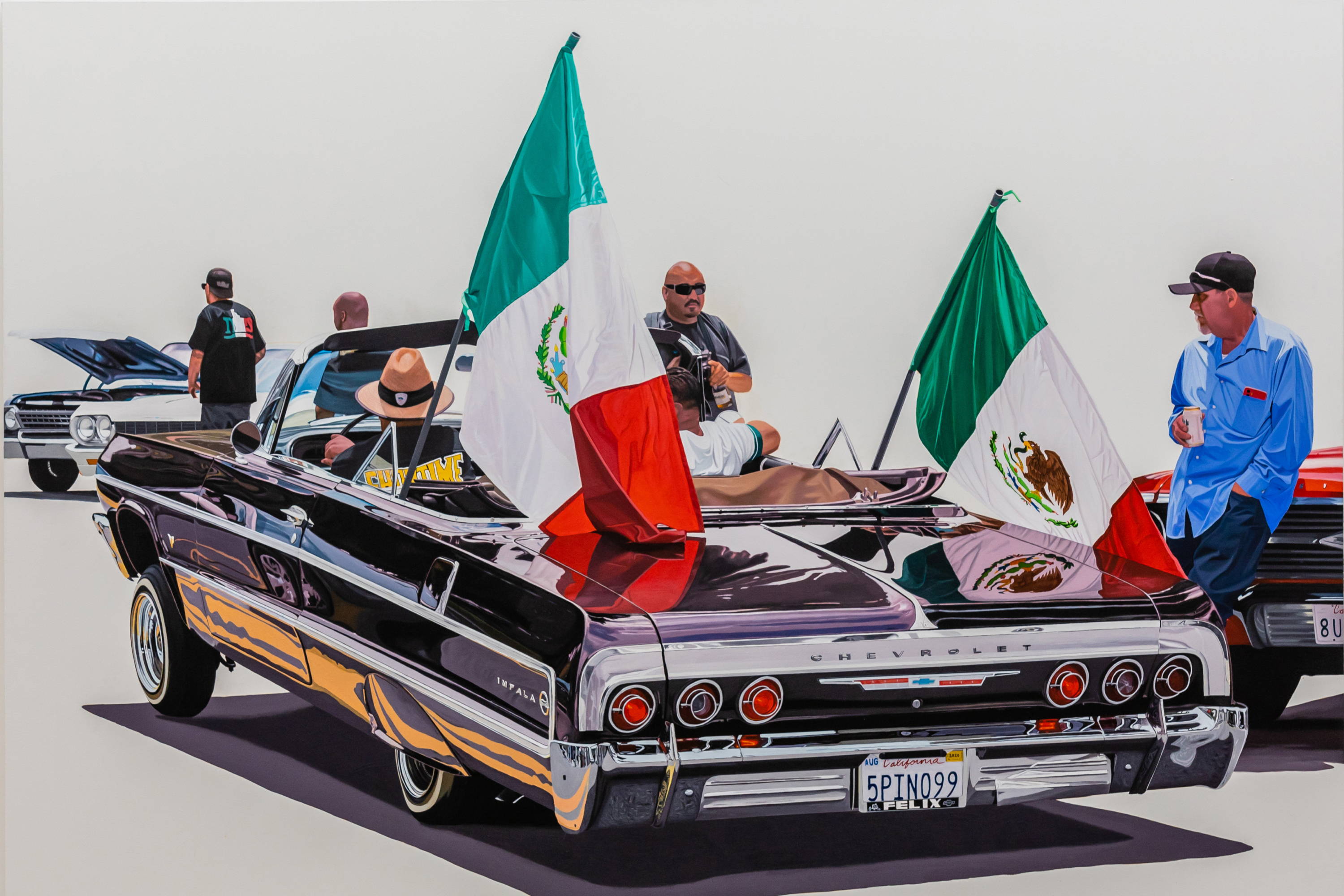 Q: We read that growing up you guys would watch your fair share of wrestling/ movies. Can you rattle off some wrestlers/movies that you liked/were formative to you both?
We really liked the Hardy Boyz, because they were brothers doing the thing that they loved together. Also Eddie Guerrero, because he brought his love of Lowriders into wrestling. We'd say the movie Boulevard Nights was formative. It was cool to see Lowriders cruising down Whittier Blvd, at the time, that was the only movie that we saw that in.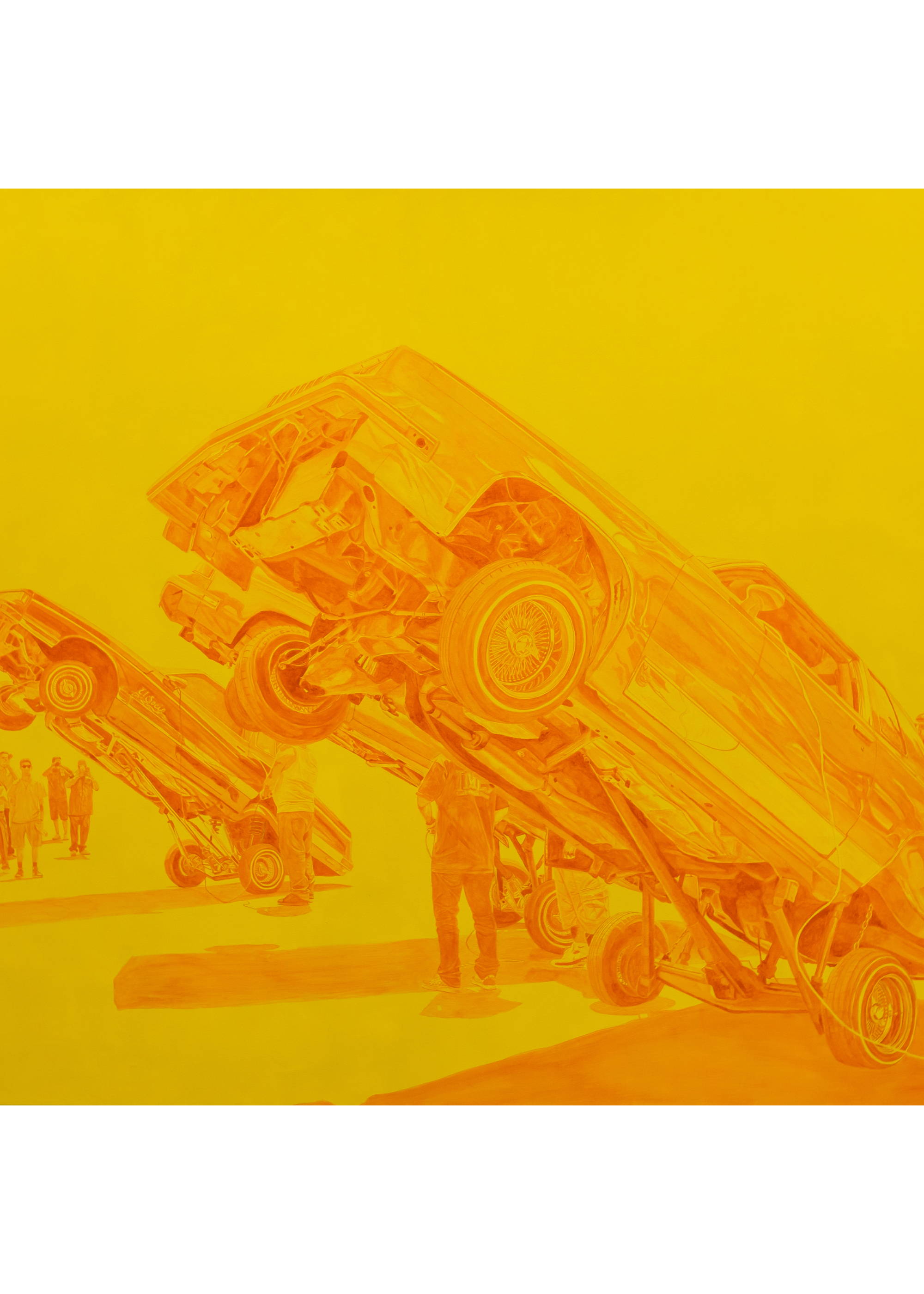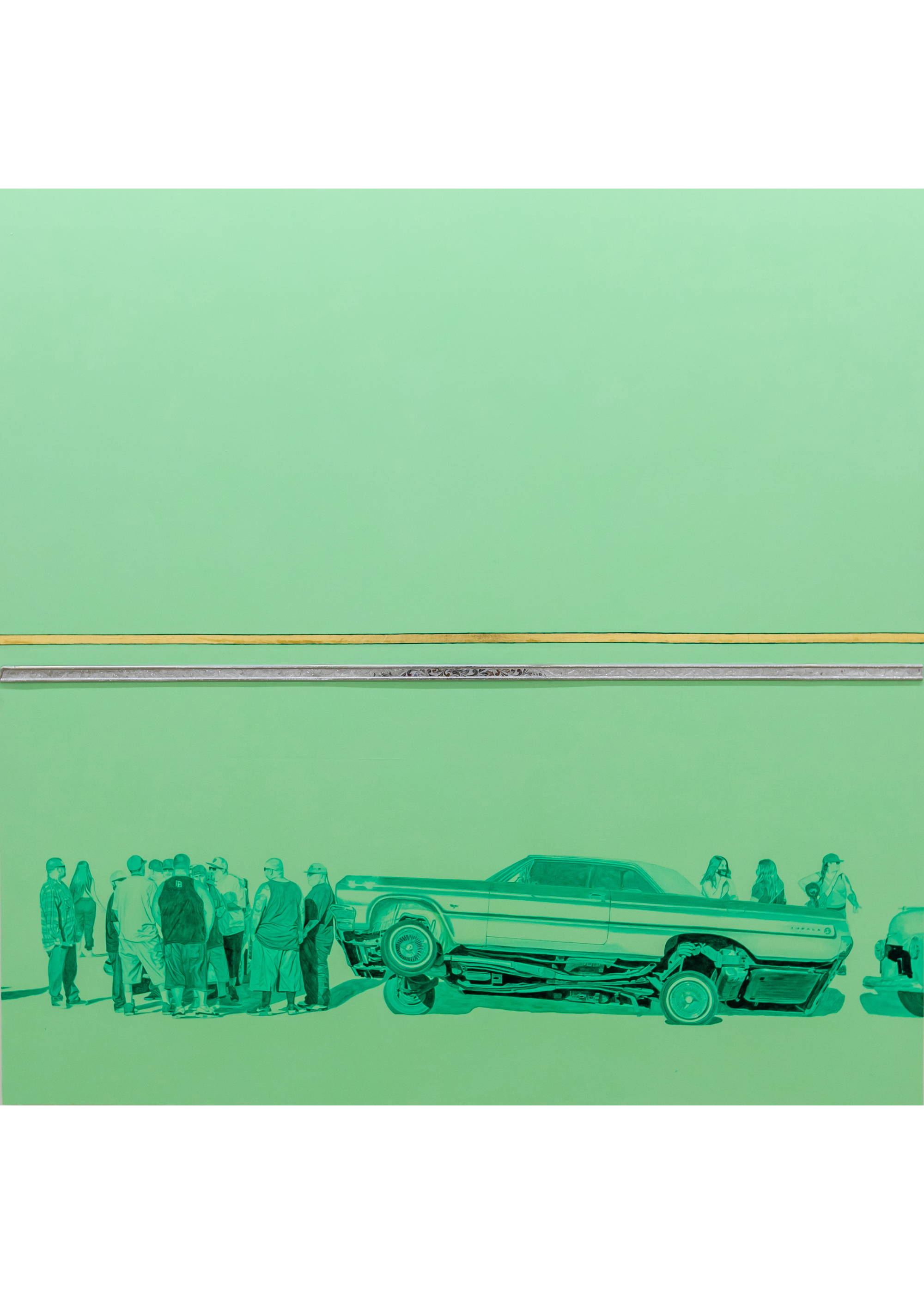 Q: Any advice for the next generation of artists/creatives who want to get their art seen? We heard about your sleep schedule so we're certain worth ethic plays a role.
If you want your work to be seen, put your work out there and reach out to people. Make as much work as you can, good or bad. If you love your work, most likely people out there will think the same. You just have to want it.