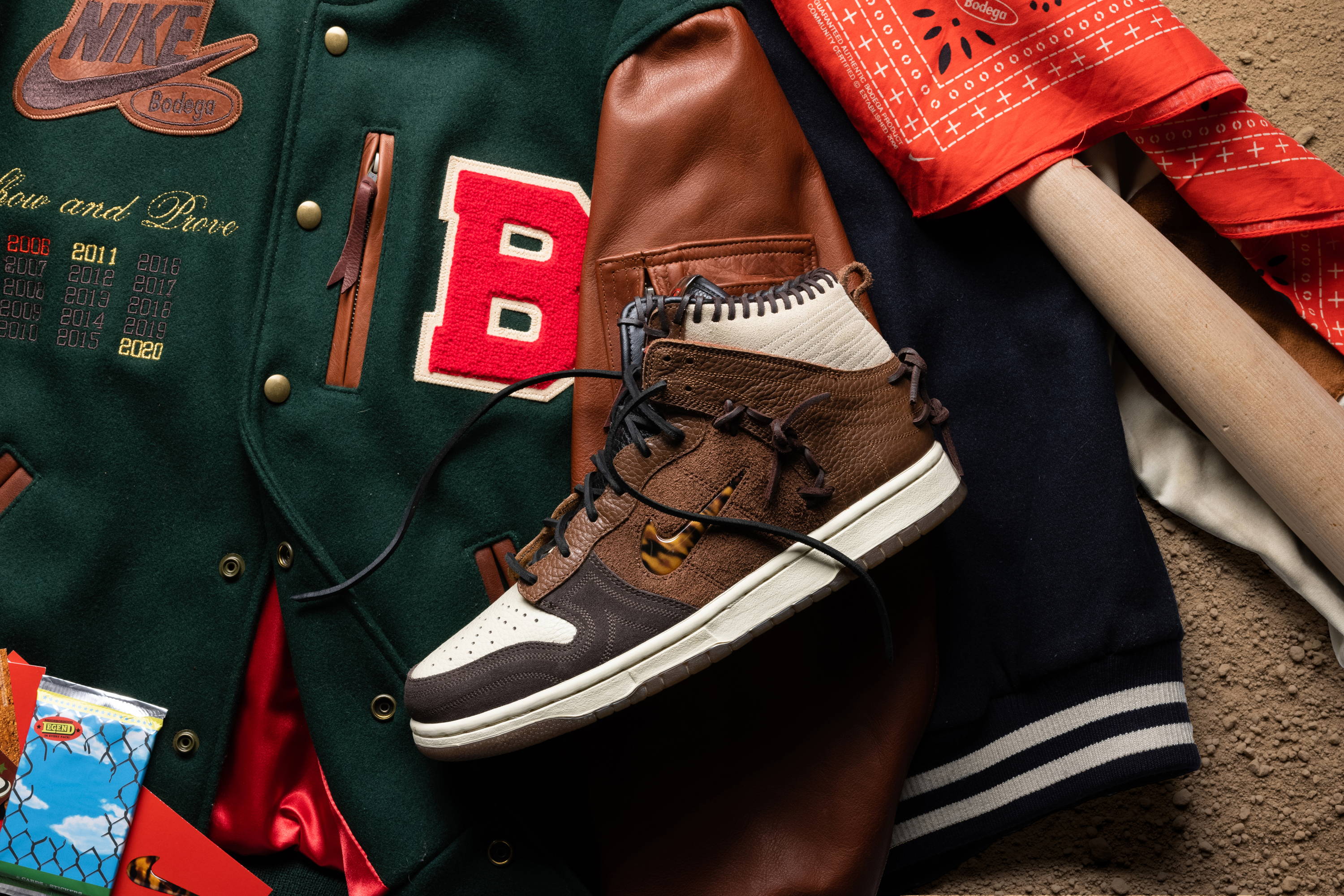 A CLOSER LOOK: BODEGA X NIKE DUNK HIGH LEGEND
Over the past decade and a half, the concept of the special edition sneaker has exponentially exploded. What was once a semi-underground, niche offshoot of the athletic footwear world has become a full-time parallel range of product.
There's a slice of wisdom in the wrestling business that says, if you have a guy that's 7 feet tall and 350 pounds, you have a giant. If you have five guys that are 7 feet tall and 350 pounds, you don't have any giants. When you break this lesson down to its essence, it becomes something that applies to all walks of life. Desensitizing people to something that is meant to be unique and rare makes it increasingly difficult to present anything at all as special from that point forward.
Indeed, in the contemporary sneaker world, it's all too easy for a shoe to be released with great fanfare, only to be swept away by the incoming tide of the next week's releases. Under these conditions, the challenge becomes how to rekindle the feeling of a special edition being genuinely special.
The Bodega x Nike Dunk High 'Legend' is a conscious effort to recapture the mystique and the feelings of discovery that once accompanied every truly great special edition sneaker.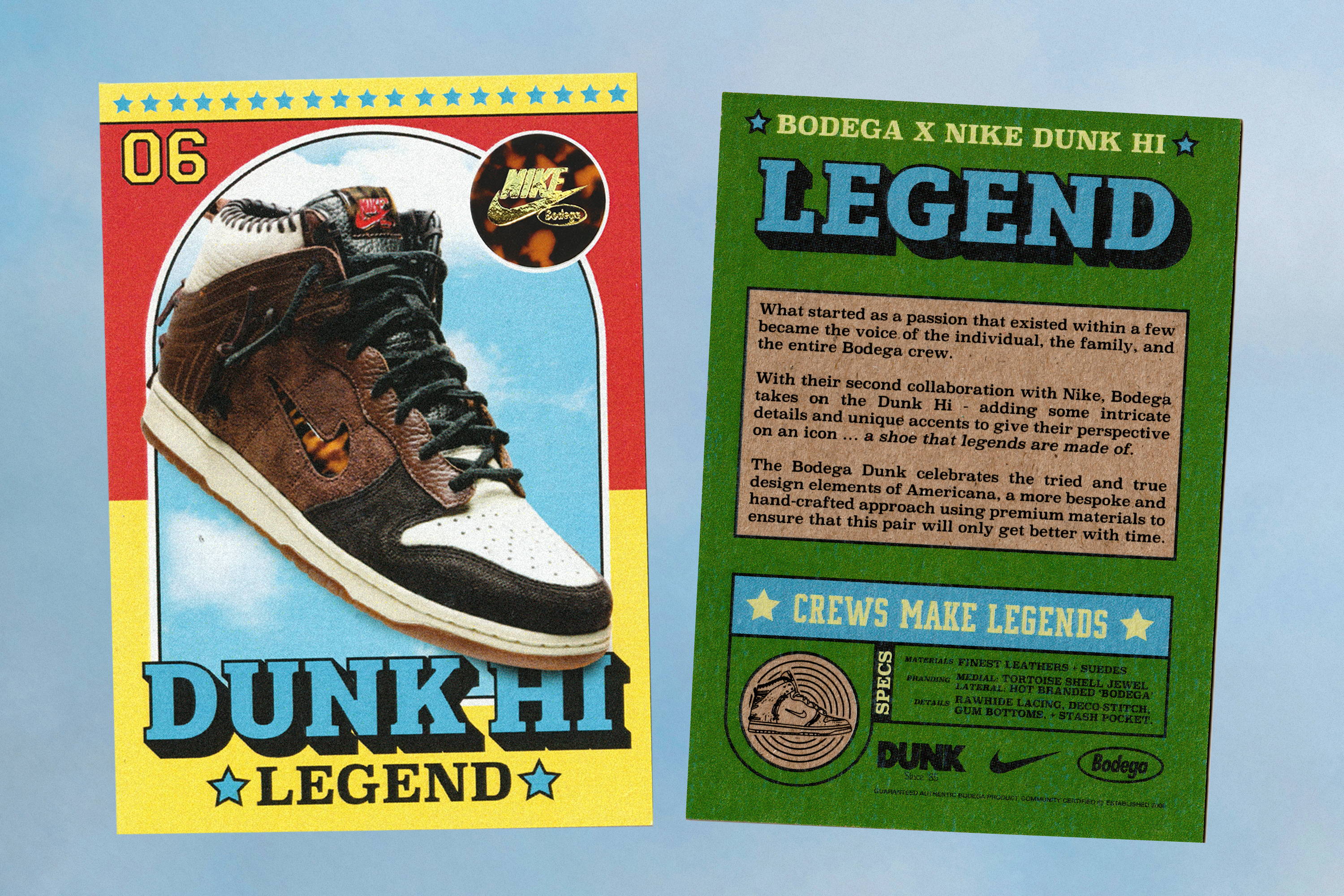 The process begins with the silhouette itself. The classic Dunk was already a perennial favorite, thanks to the myriad of college basketball colorways offered, before serving as the canvas for countless fabled special edition designs. A number of them are capable of being instantly recognizable on the strength of a single word: Shanghai, Pigeon, Raygun, Dunkle, FLOM, Hunter, and Tiffany, among others.
A common thread shared by these past greats is their ability to transform the familiar into the unforgettable. As befitting the Legend moniker, the Dunk Legend defies the transience of scroll through, trending now, click here insta-culture with a sense of time-tested, generations spanning permanence.
The Dunk Legend is defined by raw material textures and colors. The rich quality of pebble leather is paired with both standard and hairy suede, for a lived in look that evokes aesthetic timelessness and physical longevity, with rawhide lacing and boot stitch detailing adding a touch of old-fashioned craftsmanship. Modern elements are incorporated with embossed, branding iron style 'Bodega' wordmark branding placed opposite a tortoiseshell, jewel Swoosh. The feeling of discovery is also given a subtle, literal place in the Dunk's design, in the form of a stash pocket.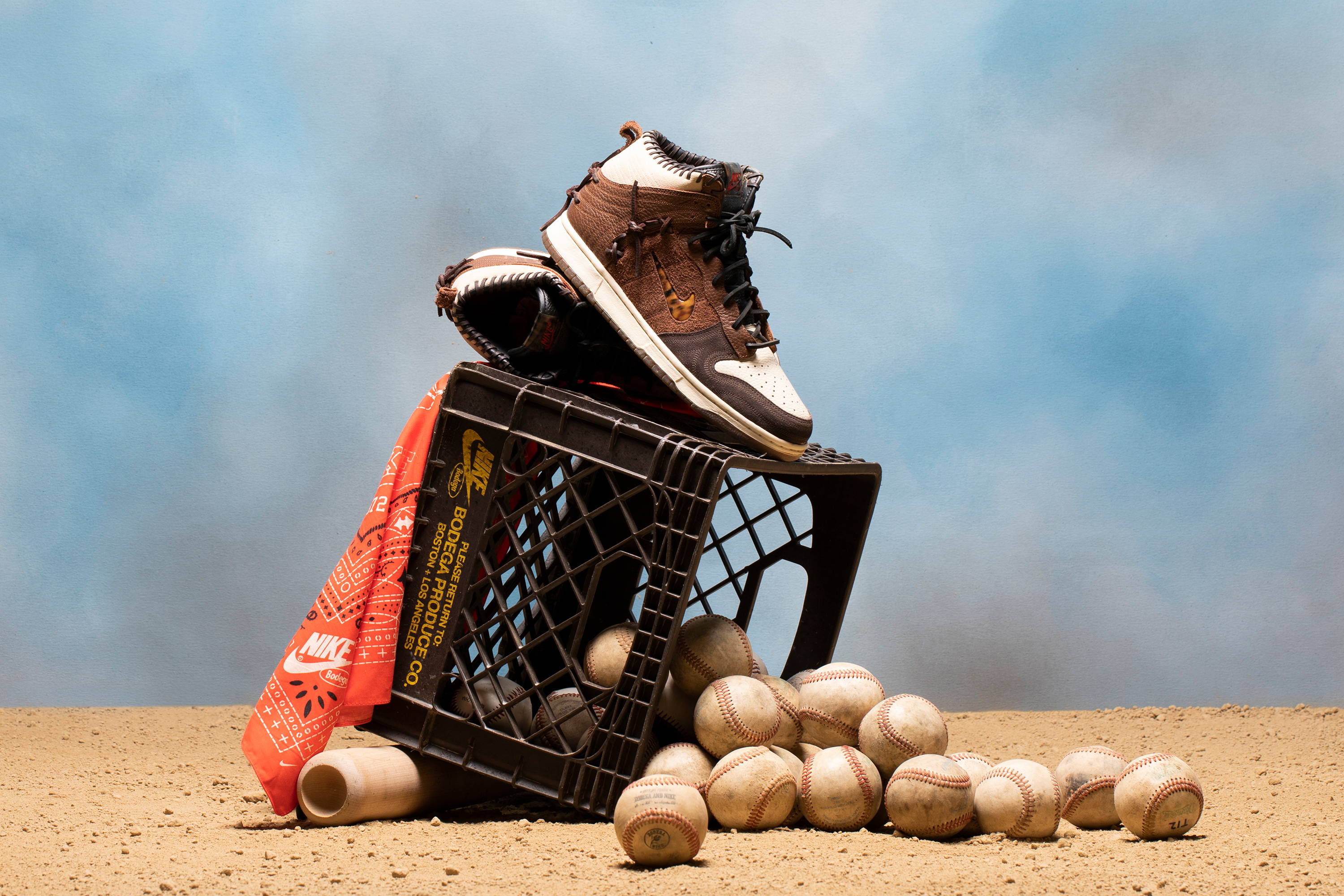 This is a shoe that can be categorized along the lines of classic Americana. Like an old mitt and baseball, or a saddle and boots, the Dunk High SP Legend is something to be kept for years, not fashion seasons. It builds character with every use, and is built to be used over a lifetime. Then, one day, when you're much older, you'll pull your old friend off a dusty shelf, and pass the legend on to a new generation.
The Bodega x Nike Dunk High 'Legend' releases online at 12:00 pm EST.